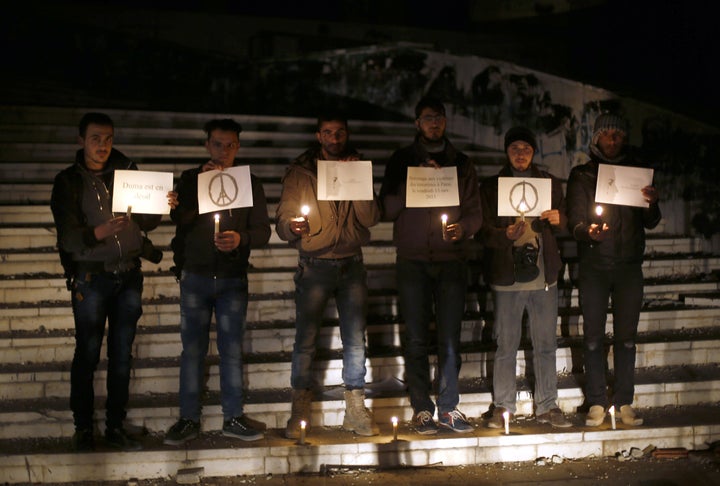 Almost immediately after the Islamic State claimed responsibility for killing at least 129 and wounding hundreds more in a series of terror attacks in Paris on Friday night, a number of conservative groups tied European immigration policies to the attacks. But some experts warn that anti-immigration rhetoric could play into the hands of extremists.
The criticism of immigration intensified after French authorities revealed that a Syrian passport was found near the body of one of the attackers. It is currently unclear how the passport got there, and there is mounting evidence it is a fake, as well as the possibility it was stolen. However, someone carrying the document did travel from Turkey, through Greece and the Balkans, to Western Europe.
Poland's conservative government announced after the passport was found that it would renege on an agreement to take in thousands of refugees over safety concerns.
Other European populist politicians, such as the Netherlands' Geert Wilders, called on their governments to close their borders and deemed Muslim immigrants a security threat.
In France, the leader of the populist conservative National Front party, Marine Le Pen, also called on Saturday for strict border controls and the expulsion of undocumented migrants from France, while a member of German regional government, Markus Soder, spoke out against his country's open immigration policy, arguing that "Paris changes everything."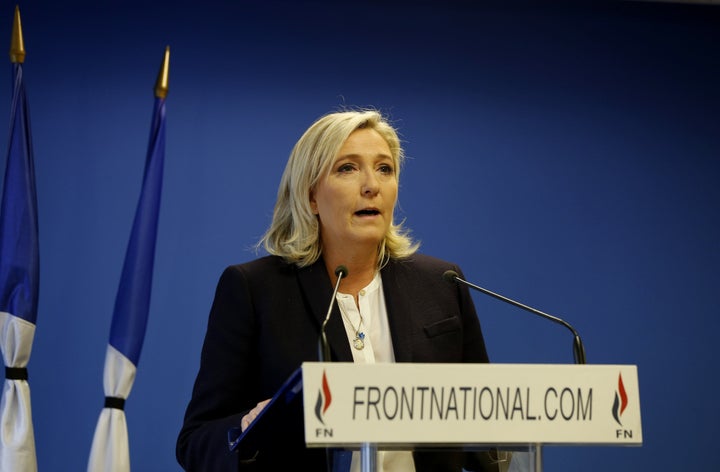 Europe has struggled to find a common policy to address the humanitarian crisis, resulting in a massive influx of largely unregulated migration. Security deterrents such as border fences have done little to stop people seeking safety and asylum, as constantly shifting routes result in new ways for people to enter the continent.
Human rights experts and political analysts warn that the closed-door policies that anti-immigration supporters advocate could cause further radicalization and exacerbate an already dire humanitarian crisis.
"It really is a very dangerous moment for Europe; right-wing politicians are taking advantage of this horrific massacre to try to whip up anti-immigrant sentiment, but it's a moment for Europe to pause and really think about what lies ahead," Peter Bouckaert, emergency director of Human Rights Watch, told The WorldPost.
"It's simply impossible for Europe to shut the door on the flow of people trying to come to Western Europe; they will continue to come," he continued.
European nations are therefore faced with a choice between continuing the current chaos of clandestine arrivals to Europe, or establishing a unified policy to allow the processing and resettlement of refugees, Bouckaert said.
"With a more coherent policy, you are going to be able to have people get safe and legal passage into Europe," he said, "and you are also going to have the security controls you need to avoid these tragedies in the future."
Analysts also raise concern over what implications a backlash against France's and Europe's Muslim populations will have.
"Anti-Muslim and anti-refugee sentiment really play into ISIS' hands," Shadi Hamid, senior fellow at the Brookings Institution and an author on Islamist politics, told The WorldPost. "The more that happens, the more French Muslims feel alienated and are susceptible to extremist recruitment."
"France has long had a problem with integrating its Muslim population, and France does have a disproportionately high contribution of foreign fighters to ISIS," Hamid said. "So there's a deeper issue here and it hasn't gotten better, it's only gotten worse."
The attacks have heightened anti-immigration rhetoric outside of Europe as well, with politicians in the United States weighing in on how to deal with the refugee crisis following the Paris attacks.
On Sunday, Republican presidential candidate Jeb Bush said in an interview on CNN that U.S. aid to refugees should be based on religion -- prioritizing Christians -- while other candidates have called for an outright ban on resettling refugees from the Middle East.
Bush also stated that the war against the Islamic State was a "fight for Western civilization," a statement Hamid said plays directly into the group's propaganda that frames its fight as an apocalyptic war against Western crusaders.
"You hear Republicans saying clash of civilizations and civilizational war, and they don't realize that's exactly what ISIS wants us to be saying," Hamid said. "It's remarkable to me, and just shows a very basic lack of understanding of the threat that we face."
Read More Paris Coverage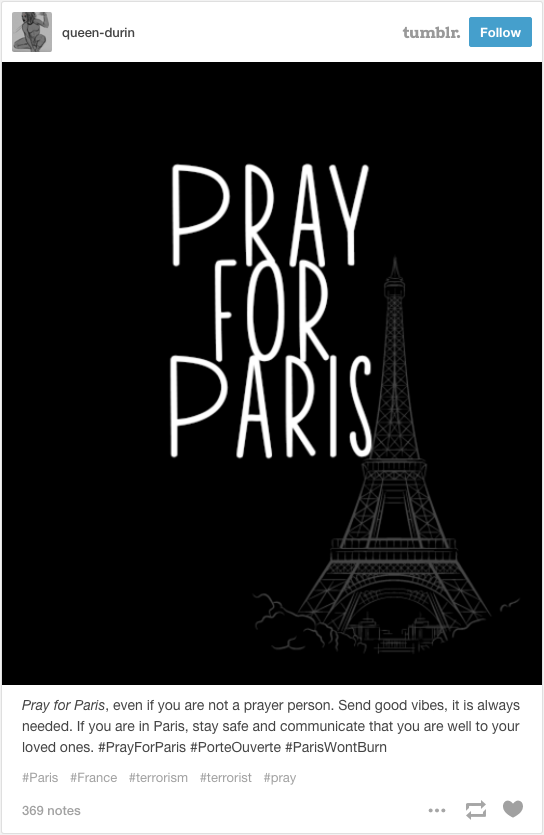 Messages Of Solidarity For Paris
Related
Popular in the Community