The terrorist attacks in Paris Friday night, which left at least 129 people dead and which the Islamic State claimed were retribution for the "war against Islam in France," come amid a rise in religious conflicts in the nation.
France has one of Europe's largest Muslim populations, with an estimated 5 million Muslims, but the community's relationship with the government and broader French society is one of the most tense among immigrant groups in Europe.
In recent months, as the nation has struggled to absorb a growing population of Muslim immigrants, it also has renewed its commitment to promoting, and even expanding, official state secularism.
The French have become known globally for efforts to push religious expression out of public life, feeling faith is better practiced in private and distracts from national unity. Those efforts include a controversial 2004 ban on veils, crosses and kippahs in schools. In 2010, lawmakers banned wearing the niqab, a full-face veil worn by some Muslim women, anywhere in public; three years later, the country launched a controversial 15-point secularism charter that it required to be posted in every state school.
ISIS alluded to deteriorating French-Muslim relations in its statement taking credit for the bombs, shootings and hostage-taking at several major Paris sites.
"Let France and all nations following its path know that they will continue to be at the top of the target list for the Islamic State and that the scent of death will not leave their nostrils as long as they partake in the crusader campaign, as long as they dare to curse our Prophet (blessings and peace be upon him), and as long as they boast about their war against Islam in France and their strikes against Muslims in the lands of the Caliphate with their jets," said the statement. It was translated into French, English and Arabic and distributed on social media.
French Muslim organizations and global Muslim leaders, including the national French Council of the Muslim Faith, were quick to condemn the violence and offer prayers for peace. At the same time, many Muslims have said over years that they feel under attack in the nation.
After the secularism charter launched in 2013, Dalil Boubakeur, president of the French Council for the Muslim Faith and rector of the Grand Mosque in Paris, told BFM TV he thought the law singled out Muslims. "Nobody can cite their religious appearance to refuse to obey rules applicable in our schools," said one of the charter's points, which Muslims interpreted as a reference to veils and other body coverings.
"I fear, as was the case in the 2004 law, seeing Muslims of France stigmatized as a whole and that this ban (on religious symbols) will be perceived as too brutal," he said, according to The Telegraph.
Amid longstanding claims from Islamic groups of growing hostility toward Muslims in France, January's Charlie Hebdo attack caused a spike in anti-Muslim sentiment, with over 55 anti-Muslim incidents and threats reported to police in the weeks immediately following the killings. In the months since, such sentiments have frequently merged with anti-immigrant attitudes resulting from the growing refugee crisis in the Middle East.
Like the U.S., France has also been under pressure from Muslims and civil rights groups over its domestic security measures. The nation passed a surveillance law in May to improve the ability of the country's intelligence services to identify potential terrorists. Despite the law's strong support across the government, some feared it would result in mass surveillance of the country's Muslim population.
Even before ISIS claimed responsibility for the attacks Saturday morning, Muslim organizations -- accustomed to being under the lens after terrorist attacks -- were issuing statements condemning the violence.
"Our deepest condolences are with the people of France. This is an attack on all of humanity," said Nasim Rehmatullah, senior vice president of Ahmadiyya Muslim Community USA. "While we await additional information about the attackers and their motives, we condemn any attempt to justify the killing of innocent lives. We stand committed to restoring peace."
"These savage and despicable attacks on civilians, whether they occur in Paris, Beirut or any other city, are outrageous and without justification. We condemn these horrific crimes in the strongest terms possible," the Council on American-Islamic Relations said in a statement Friday. "Our thoughts and prayers are with the loved ones of those killed and injured and with all of France. The perpetrators of these heinous attacks must be apprehended and brought to justice."
American imam Yasir Qadhi, an assistant professor of Islamic studies at Rhodes College in Memphis, Tennessee, wrote on Facebook shortly after the attacks that if they were "coordinated by Muslims, it is truly sad."
"What possible good will come of these senseless attacks?" he wrote. "Since when have ANY attacks in Western lands helped our Palestinian brothers against Israelis? Or our Afghan and Iraqi brothers and sisters against Western invasions? Or the Muslim refugees anywhere in the world?"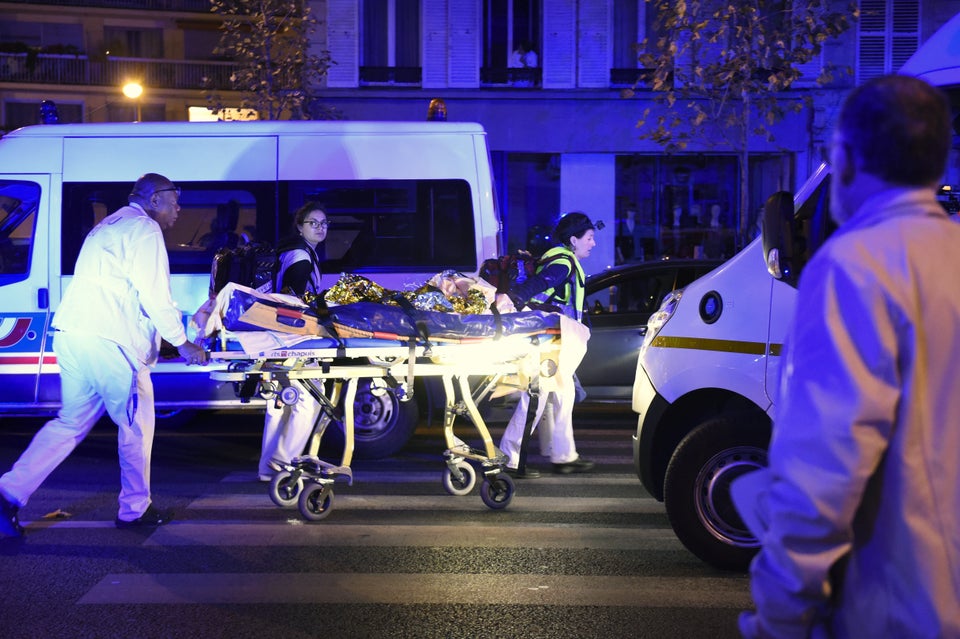 Witnesses React To Paris Attacks
Related
Popular in the Community