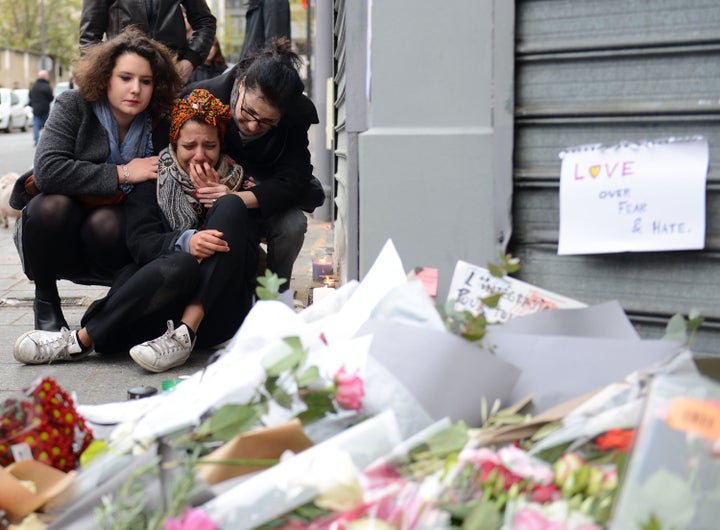 Harrowing details of Friday's attacks in Paris came to light on Saturday as survivors of the bombings, shootings and hostage crisis spoke about their ordeal.
At least 129 people were killed and hundreds more injured when gunmen, some wearing suicide vests, targeted a sports stadium and a string of cafes and bars, and took dozens hostage at a rock concert -- the deadliest attacks in France since World War II.
The chaos on Friday began when explosions rang out during a friendly soccer match between France and Germany at the Stade de France, the main sports stadium for the Paris area, located just north of the city.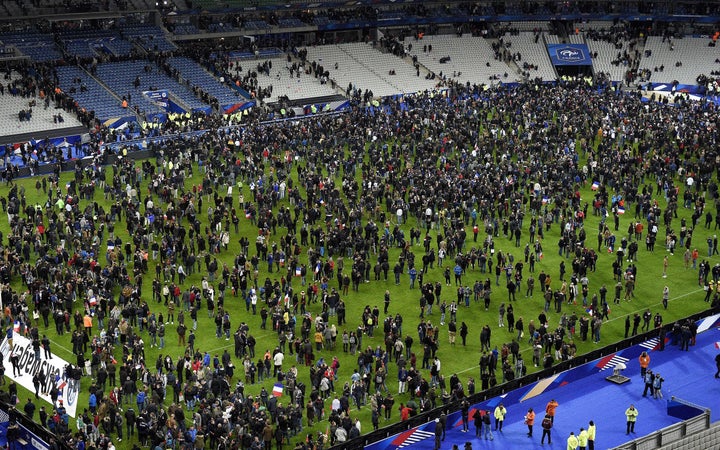 Authorities later said three suicide bombers detonated explosive vests outside the stadium, leaving at least one person dead. One of the suicide bombers had tickets to the match, and blew himself up when he was caught at the entrance with explosives, The Wall Street Journal reported.
While the French president, who was at the game, was quickly whisked away to safety, most were unaware of the carnage unfolding outside. The announcer said it sounded like firecrackers, and the game continued. "People didn't know what was happening," Lucie Bacon, who was at the game, told The New York Times. "They didn't have Internet. The match lasted until the end."
After news began to trickle in of more attacks taking place around the city, confused fans flooded the field. The stadium was put on lockdown, with tens of thousands of fans trapped inside.
Among them were 1,200 emergency workers and volunteers invited by German airline Lufthansa to honor their rescue effort after a Germanwings jet crashed into the Alps in March.
"It was supposed to be an evening of French and German celebration and appreciation after that tragic event," Rainer Ohler, communications chief for plane manufacturer Airbus, who was also at the stadium, told Reuters. The airline later confirmed all of their guests were safe.
While the game was still going, more attacks were underway in central Paris. Gunmen embarked on a shooting spree through a busy neighborhood packed with bars and restaurants. 
"I was lying on the floor and heard gunshots coming through the window and pieces of glass hitting everybody," Charlotte Brehaut, a France 24 journalist who was at Le Petit Cambodge restaurant in Paris' 10th district when it came under attack, told NBC News. "I grabbed hold of the woman next to me to see if she was OK, and she'd been shot in her chest, and there was a pool of blood and I'm not sure if she was breathing. Then I realized how serious it was."
On the other side of the street, similar scenes were unfolding at Le Carillon hotel cafe-bar. Jose Viana, who lives next to Le Carillon, told The Telegraph he saw more than a dozen bodies strewn across the street in front of the two restaurant and bar. He and his wife quickly ushered survivors off the street into their apartment. "We hid inside for hours, fearing what might happen next," said his wife, Maddalena Viana. "It was a terrible, terrible night."
French authorities said at least one of the attackers later blew himself up in another restaurant. Nearly 40 people were killed in the attacks on five establishments in the 10th and 11th districts. 
Meanwhile, a gruesome hostage situation was taking place in a nearby concert hall. 
It began when the show by the American rock group Eagles of Death Metal at the Bataclan hall was interrupted by loud bangs. When concertgoers realized it was gunfire, many rushed to escape, some even hanging from the hall's window ledges, according to a graphic video shot by Le Monde journalist Daniel Psenny.
A survivor named Amelie told Agence France-Presse that she managed to hide in a room near the stage with around 25 others throughout the assault, with the sound of gunfire and people's cries close by. "It was as if people were being tortured," she said. "They were hurt because they were shot."
Inside the hall, gunmen ordered people to lie down on the floor, while they calmly kept on shooting, survivor Jerome Bartelemy said in a BBC interview. The attackers went into the section of the hall for people with disabilities, and started shooting people in their wheelchairs, Helen Wilson, an American who survived the attack, told The Telegraph.
French forces later stormed the venue. "It was a bloodbath. It was a slaughter. Dead people everywhere," Amelie said after she was evacuated. "We're living a nightmare."
By the end of the night, seven attackers were dead. Police said around 89 hostages were killed, and they were still trying to identify all the victims. 
Read More Paris Coverage
PHOTO GALLERY
Paris Attacks
Calling all HuffPost superfans!
Sign up for membership to become a founding member and help shape HuffPost's next chapter