This article was co-written by Mark Lee, Executive Director, SustainAbility and Chris Coulter, CEO, GlobeScan.
How Business Can Use COP21 to Create a Sustainable and Prosperous World
At the end of November, world leaders descended on Paris for two weeks of pivotal negotiations on climate change. Given scant progress at the last major COP (the 2009 Copenhagen summit), and facing increasingly stark evidence of climate disruption, the meetings present international negotiators with a shrinking window of opportunity to act to reduce, stabilize and then reverse the greenhouse gas emissions that cause climate change.
The stakes for this UN climate conference are extremely high, a unique chance to negotiate an agreement that will deliver the needed global transition to low carbon economy. But regardless the outcome, Paris is only the beginning of the journey to climate security. And we believe this arduous process requires the buy-in and leadership of business to succeed.
GlobeScan/SustainAbility 2015 Climate Survey Says Business Has Strong Role Post Paris
The recent GlobeScan/SustainAbility 2015 Climate Survey - based on interviews with over 600 sustainable development experts from academia, business, civil society and government in 69 countries - finds that while the overwhelming majority of experts (92%) believe that COP21 will produce a new international agreement, fewer than one-third (32%) are confident that it will have binding powers, and just 4% of experts think that the outcome of Paris will be a binding agreement that ensures global warming is limited to 2 degrees Celsius. Our survey shows that while experts are confident some deal will be reached in Paris, they also think it will be insufficient to get the job done.
Inevitably, successful implementation of COP21 outcomes will depend on active participation of many actors, but the bulk of leadership must come from national government and business institutions. Expectations are high that climate solutions will flow from the private sector whatever Paris' outcome; 86% of experts surveyed say business will have a very important role going forward, almost as high as the 90% who think national governments contributions will be critical. And we think that the companies that get this right will thrive in coming decades as first movers in a carbon-constrained world.
Expectations for Future Performance
Question: Assuming an agreement is reached at COP21, how important will the role of each of the following organisations be to the effective implementation of the post-Paris climate change framework.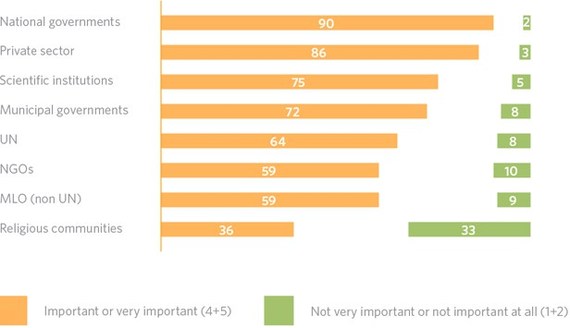 Evolving View of Corporate Climate Leadership
Our 2015 survey also examined which companies are perceived to be leaders and why. Technology and consumer companies dominate the list. While many reasons were mentioned for their leadership, investments in renewable energy and low carbon solutions were the dominant factors. And Unilever, headed by CEO Paul Polman, with its ambitious and widely publicized climate and sustainability goals, was respondents' frontrunner.
Corporate Leadership on Climate Change
Question: Please name up to two companies that you think have made the biggest contribution to advancing solutions to climate change in the past five years.
Source: The 2015 Climate Survey, a GlobeScan/SustainAbility Survey

Interestingly, the landscape of corporate climate leadership has significantly shifted since 2009 when we last asked respondents to rank companies' climate contributions. Only three companies - General Electric, Walmart and Toyota - among the leaders six years ago made the 2015 ranking. One of the most interesting shifts has taken place in the oil and gas sector. Six years ago, BP and Shell were listed alongside Toyota and Vestas for their contribution to climate change solutions, a stark contrast to the present-day perception of fossil fuel companies and the common view that they are failing to respond adequately to climate change.
Three Priorities Going Forward
We hope post-Paris frameworks lead to greater alignment between governments and the private sector as political clarity on emissions targets will spur the most appropriate and ambitious strategies from corporations. While each company is unique, we believe the following three priorities will be key for companies seeking to enable the global transition to low carbon economy:
Invest: Companies need to address the most fundamental impact they have on greenhouse gas emissions and that can best be done by committing to transition to 100% renewable energy for their entire operations as soon as possible. The RE100 campaign is a stellar example of what is required by businesses going forward.
Enable: Companies should identify ways to help their customers (be they business customers or consumers) reduce their carbon footprints, ensuring a multiplier effect across the economy. One example of this is BT, which has committed to reducing its own carbon emissions and to help their customers reduce their carbon emissions by three times the BT reduction as part of their Net Good goal.
Advocate: Leading companies and brands have a particularly important role to engage with politicians and law-makers post-Paris to ensure that national regulations are developed which are clear and transparent and lay the groundwork to incentivize business to innovate towards a lower carbon economy. The Clean Power Plan in the U.S., which was developed after extensive consultations with stakeholders including businesses, is an example of a the type of framework and achievable goals that will need to be adopted by many other governments to spur business action and innovation.
If a fraction of the world's 70,000 multinationals support and act on these priorities following the adoption of COP21 framework, that will provide the beginning of a much-needed transition to a more sustainable economy. Many companies are already addressing climate concerns through a range of strategies including switching to renewable energy, clamping down on deforestation and advocating for a universal carbon price. But much more is needed to achieve successful transition to low carbon economy - stronger commitments, larger investments and more ambitious goals. The alternative is neither acceptable nor desirable.
Related
Popular in the Community