After a coordinated series of horrific terrorist attacks in Paris left at least 129 people dead and 352 wounded on Friday, the world joined together in collective grief and mourning.
It wasn't long before global citizens began calling for another prayer -- not just for Paris, but for the world. As Delhi blogger Karuna Ezara wrote in a viral Instagram post, "It is a world in which Beirut, reeling from bombings just two days before Paris, is not covered in the press. A world in which a bomb goes off at a funeral in Baghdad and not one person's status update says 'Baghdad.'"
Lebanese doctor Elie Fares wrote in his blog, "When my people died, no country bothered to light up its landmarks in the colors of their flag."
They're right. Looking at the average Facebook feed or news site, most people would have no idea that a similar tragedy, also committed at the hands of the Islamic State, occurred just one day before -- but this time in Beirut, killing over 40 people and injuring more than 239. Even less attention was paid to the bombing of a funeral in Baghdad on Friday, killing 18 people.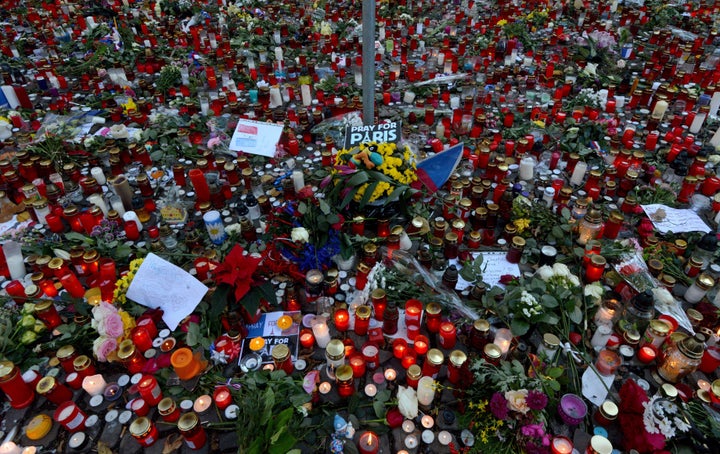 In the wake of horrific acts of terrorism, the people of Lebanon found themselves asking: Where's our flag? Where's our Facebook safety check? Where's our solidarity?
Many commentators have spoken out about the discrepancy in international responses, citing racism and Western bias.
But where does this bias come from? Psychology can shed some light on how we can display compassion for one global crisis, and barely notice another.
As Seppälä explains, this "empathy gap" occurs because it's natural for us to feel more compassion for disasters affecting people and places we feel similar to or familiar with, and for situations and victims we know more details about.
"Research shows that we do feel more empathy for people that we feel are more similar to us," Seppälä told The Huffington Post. "Many people have been to Paris, and can imagine being in a concert hall on a Friday night with an American band. We can picture ourselves there. There are many reasons why we can feel an affinity for Paris -- it's much more similar to us than Beirut in many ways."
It's not simply that many Americans believe the French have a more similar culture -- it's also that French influences are much more visible to Americans through media and cultural exposure.
This helps explain Americans' association with and fondness for Paris. Meanwhile, the general lack of knowledge about Beirut's culture and people creates a sort of psychological distance, making it more difficult for many of us to feel compassion for the victims of a tragedy occurring there.
But we can do something to change that, starting with media coverage. Why are most of us more familiar with Paris than Beirut? Perhaps if we read more human interest stories about those who died in Beirut or had more cultural exchange with Lebanese movies and books, there would not be the same divide.
Another factor in the muted international response to Beirut and Baghdad is what psychologist David Ropeik refers to as "statistical numbness," referring to our tendency to care more about the problems of an individual than the problems of many nameless people. Research has found, for example, that people would rather donate $11 to save one child than $5 to save eight.
We've come to view violent conflicts as an ordinary occurrence in the Middle East, and are desensitized to them -- never mind the fact that the bombings in Beirut represented the deadliest terrorist attack in the capital since the civil war ended 25 years ago. This also explains why many people can care so much about Paris while remaining relatively disinterested in the staggering human toll of the Syrian refugee crisis.
"Between the one real human and huge but abstract numbers, the numbers simply don't carry the same emotional power, and they never will," Ropeik wrote in Psychology Today. "One death will always move us more than one million. This 'fundamental deficiency in our humanity' is an inescapable part of the human animal."
"One death will always move us more than one million. This 'fundamental deficiency in our humanity' is an inescapable part of the human animal."
So what can we do to encourage compassion for all people who are suffering? As a start, we can become more aware of our own assumptions and responses to global events, according to Seppälä.
"We know as human beings that we have the tendency to dehumanize or shut things out when we get overwhelmed," she said. "We can be aware of those tendencies, and we can also be aware that that's what the terrorists are doing to us. They've fallen into that trap and we can remember how important it is for us not to."
Another step is to remember that victims of any attack are unique individuals -- whether they are French, Iraqi, Lebanese or from any other nation. As Ropeik quotes Mother Teresa, "If I look at the mass I will never act. If I look at the one, I will."
Support HuffPost
The Stakes Have Never Been Higher
Related
Popular in the Community