Nobody discusses bus stops in Los Angeles, much less admires them for their aesthetics. They are just 'there' -- a bench, a bare-bones shelter, or a plain metal post and mounted sign with a painted curb. Imagine instead this paragon of utility and beauty on your street corner.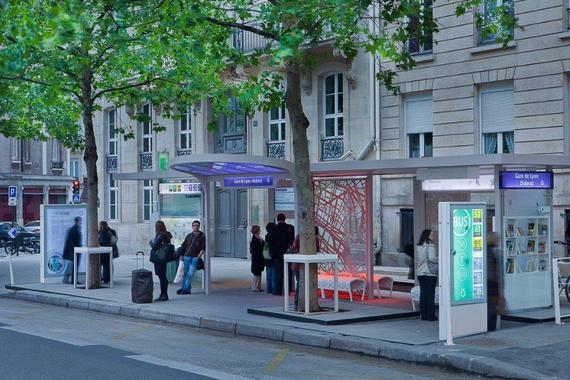 This Paris 'bus stop of the future' (thanks to Human Transit blog's Jarrett Walker for the catchphrase; see here) is the first of 2,000 now being installed on boulevards throughout the City of Light. Its salient feature is that it is a communal gathering place. The street-facing side houses services to facilitate your bus ride, and the sidewalk side makes it easy to stay in the neighborhood.
You can see real-time bus arrival information, navigate the area with an interactive touch-screen map, buy tickets to events, locate local businesses and services, borrow a book for the bus ride from the self-serve lending library, rent a bike, buy a cup of coffee and eat a snack while waiting for your ride, charge your phone and use wifi. A bell announces the arrival of your bus. Nighttime lighting is both beautiful and functional, the ceramic benches and tables are strong and easy to maintain, with a crisp esthetic, and the stop is animated by all of these activities.
Best of all for budget-strapped cities, an advertising agency (in Paris, JCDecaux) pays for the structure and installation, in exchange for the ability to place ads on it. Yes, these bus stops are free to the city.
Marc Aurel designed these place-making structures at Aurel Design Urbain, the studio he runs with his wife Caterina in Cassis, France. In a posting in the Urban_Design Observatory (July 1, 2014), Aurel looks to innovation as a way to overcome stereotypes and renew public spaces.
"Non- spaces are interchangeable and anonymous, discouraging exchanges or encounters. They are completely uninhabitable. The non-space par excellence is waiting areas for public transport. However, it is possible to imagine other uses for these necessary public spaces to incite emotions other than loneliness and boredom."
"...(this station) ceases to be a waiting space, a non-space, instead generating energy, welcoming users and sharing city resources. It becomes a kind of market place. A place where people meet and functions mix to help enhance public life." http://urban-obs.com/osmose-public-spaces-become-living-spaces/

The Osmose station in the photo above, part of Paris' RATP's program to transform bus and metro stations, was an experimental space open to users for six months from May 2012 on Boulevard Diderot. The station was 'enhanced' to move beyond its original function and offer additional services to the local inhabitants. The stop is at the crossroads between several day and night bus lines carrying 15,000 passengers daily.
First, the size was expanded, with 278 sq. ft. of flooring including 115 sq. ft. of covered space, instead of the standard 20 sq. ft.
Next, the design was totally rethought to increase passenger comfort (heating in winter and numerous comfortable seats) and pleasure (changing sound and lighting, concave form, open space with partitions and largely transparent).
Today, the Osmose station is still in use on Boulevard Diderot. The station design has won several prizes, such as the Judge's Award from the Observeur du Design 13 in 2012, the Janus for Prospective Design in 2013 from the French Design Institute judges and the Design Award at the UITP International Awards in 2014. With the approval of the Paris City Council, RATP is now expanding installation throughout Paris.
What do you say, Los Angeles? Ready to re-colonize our city streets with place-making transit structures? At no cost? Let's try a pilot program with the Paris 'bus stop of the future.'
REAL LIFE. REAL NEWS. REAL VOICES.
Help us tell more of the stories that matter from voices that too often remain unheard.