After nearly 3 decades of pursuing her passion for singing, singer/songwriter Paris Carney is ready to independently shine through her new project and persona, "O'Neill Hudson." In the following interview, I talked with Carney about her musical roots, creating and performing with her family, and finding her independent voice in a new musical endeavor.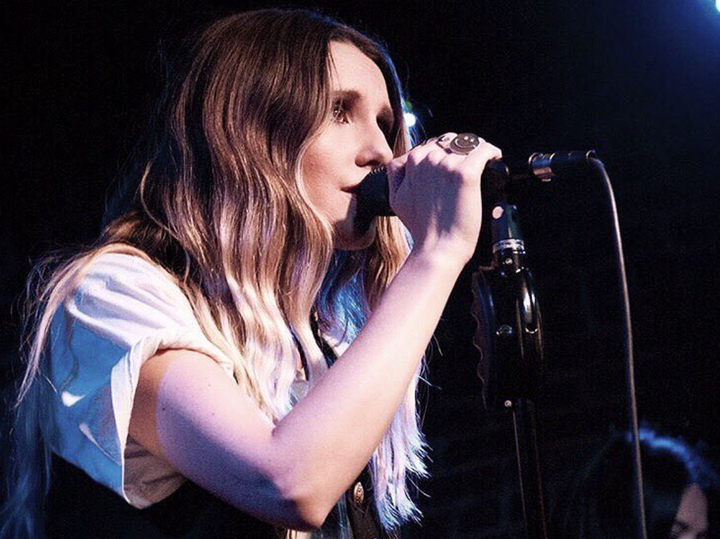 Paris Carney found her knack for singing before some children learn to talk. "I started singing when I was two, which is kind of ridiculous," remarking on how unusual it is to pick up that craft at such a young age. Paris, 30, grew up in New York City where her father was a jingle writer. She and her two older brothers, Reeve Carney, 34, and Zane Carney, 32, would professionally perform demos of their dad's jingles as kids. "That was really my passion--singing." She credited the early exposure to music to her enduring love for performing.
Growing up, she involved herself in music any way she could in pursuit of this passion. With a giggle, she listed off her résumé of eclectic singing gigs she had as a kid. "Barber shop quartets, local jazz harmony [shows], vocal jazz, a few musicals…really dorky stuff in middle school and high school." Later, she went on to attend The New School in New York where she studied vocal jazz for a year. Then, around 2006, she headed out on tour with her fellow-musician brothers and their rock/jazz group Reeve Carney and The Revolving Band. "My older brother Reeve was signed to Interscope Records, and he hired me to sing background for him. That was a four-year period of touring and recording Reeve's record."
Paris eventually left the band. "That was a really crazy transition because I had no idea what I was going to do on my own." She moved to Los Angeles where she met her husband, Greg Garbowsky, who was playing bass guitar for the Jonas Brothers at the time. She was invited to perform backup vocals for the group's 2012 tour.
After Nick, Joe, and Kevin Jonas pressed pause on their music careers, Paris produced an independent electronic-pop record with her husband in 2014. "I kept hearing from people I really knew, 'when I hear that music, it doesn't sound as emotive as you are as a singer.' And I was like, wow, that's really annoying! Because I didn't know how else to write…this is what's happening and what's current." Carney ended up releasing a few tracks from the project, including what she describes as the 'angsty' single "It's Always the Quiet Ones" and "Astronaut." These songs offered her some exposure and she developed an audience.
But the feedback from her friends stuck with her. "Eventually, I got to a place where I was just like, 'you know what, I have to try writing in a different way. There was something more that I had to do." Since that epiphany, Paris "serendipit-ly" met her friend Wendy and the pair began writing a new set of songs two years ago.
Thus, her O'Neill Hudson project was born.
So, why the name O'Neill Hudson? Paris explained the personal link she had to the namesake. "My middle name is O'Neill. I always felt a connection to that name. When I was little I wanted to tell people my name was O'Neill because I thought it was really cool." Paris was given this middle name after a good friend of her parents, Norris O'Neill, passed away shortly before she was born. Hudson, on the other hand, was the name her parents picked out for her if she had been a boy.
But the pseudonym is more than a smooth-sounding combination of names to Paris. "When I started writing this project, I knew it was going to be a new sound and a new journey. So, I wrote it all based on being 'O'Neill'," she explained. Paris was creating a degree of separation from both her projects in the past and her personal identity. Paris elaborated on this thought—saying that "when your identity isn't connected to the music, in a way, it feels more private." So, somewhat ironically, by creating her music under a completely separate identity from "Paris," she feels more free to create music that is more personal to her.
This separation factor is a key element for the singer's project. As mentioned earlier, Paris spent a lot of her music career writing and performing with her older brothers. "It is such a gift to be able to create together and have that outlet as a family," Paris said about growing up with her musically-inclined siblings. "I see that we think the same way. When I'm going through something, I know that we can relate a lot since we share the same background. They definitely inspire me."
However, she didn't write any of her new material for O'Neill Hudson with Reeve or Zane. In fact, they haven't heard most of what she's written for it at all. "I really felt like I needed to have something on my own. I wanted to work with a new set of people that didn't know me." Paris believes that taking on this project independently has brought her and her brothers closer together. "It's made our relationship stronger. It forced a separation between music and family. I know I will always have that outlet with them, I really wanted to keep this [project] separate this time."
The first glimpse of O'Neill Hudson that Paris has shared is her single "Lucky," a powerful and heartfelt ballad inspired by her husband, Greg. She got her inspiration for the song while Greg was on tour during parts of 2015 and 2016. "I already knew this, but I was thinking about how blessed I was to have him as my partner," she said of her husband. The lyrical brainstorming for the single began with phrases "I hit the jackpot with you" and "How did I get so lucky? I don't deserve you, honey" that Paris wrote in the Notes section of her phone. She later sat down with her friend Wendy and wrote the entire ballad in about an hour.
Reasons very personal to Paris made her extremely adamant about creating this track. "I didn't know a healthy relationship," speaking on her parent's marriage and eventual split. "My husband, how could he be this loving and forgiving? I really do feel like the luckiest girl in the world." Paris hoped that when she wrote this, others would listen and feel the same way about their partners. "I just want this to be a love anthem. It's such a gift when you meet that person that's right for you." She gushed that she will even shed a tear when she listens to "Lucky."
"My absolute dream is for people to think that my music is genuine. That is the message I want to bring." In addition to expressing her independence and personal side, this is a goal Paris hopes to accomplish with O'Neill Hudson. Paris said that "Lucky" encompasses the vibe that she hopes so share through the project, and listeners can expect a "romantic indie-rock" sound from what's to come. "Everything for the most part is real instruments recorded live," Paris said, which is different from her 2014 electronic releases. Paris mentioned a lot of "serious ballads" are in the works, too. "That's where my home is—ballads. I love to sing them; I love to write them. But there are a few upbeat tracks sprinkled in as well."
Paris will be revealing a very raw side of herself through O'Neill Hudson. "You're definitely going to see vulnerability, realness, authenticity, romance, longing." She explained that many of the songs on the project, like "Lucky," were based off of her experience away from her husband while he was touring. "In the past, my music was about how I felt wronged by society, but this time, it'll be a little lighter and freer."
Keeping this project to herself has been a highlight for the "Lucky" singer. This notion of independence and separation rooted within O'Neill Hudson is thrilling to her. "It's so empowering. It's like this is my own little secret," Paris eagerly noted. Aside from the individuality, "the idea of creating music and performing live feels the most real and authentic, despite the name change," according to Carney. "I'm most excited to be connecting with people—and I hope and pray—that they connect with these songs in their own way, too." She's interested to see how listeners take her stories and make them their stories. With a pause and a deep breath, Paris remarked, "I LOVE music. That's my heart and soul. And just being able to release it…I feel so excited."
Carney is still thinking about how and when the rest of the project will be released. Right now, she is thinking about putting out another single followed by an EP. "[The EP] would have 'Lucky' and another single, and three more songs." If not an EP, she's considering the possibility of putting together a full-length record instead. Paris also revealed that once a few more songs are unveiled, she hopes to tour with her new O'Neill Hudson material.
After all her explanation of her hopes and plans for O'Neill Hudson, Paris summed everything up with this compassionate concept: "The most important thing to me in music is to make people feel something. When I listen to a song, I am transported to that place…whatever the song is talking about. And I think, 'can I relate to this? Is this something that my story has similarities to?' I just really want people to feel that when they listen to my music."
Check out O'Neill Hudson here and stay tuned for the rest of her releases from the project.
Popular in the Community