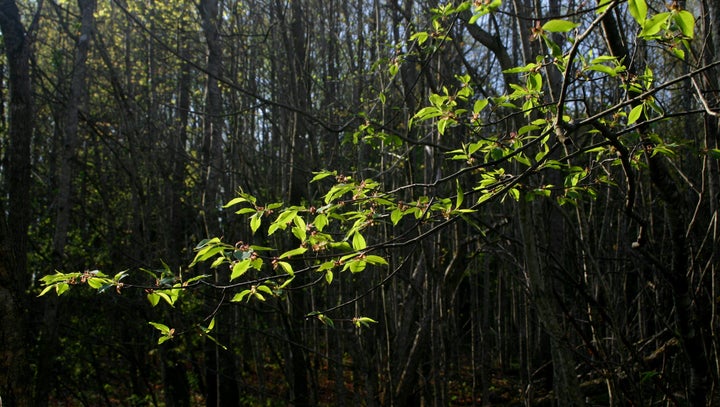 With yesterday's announcement from the Trump administration, it now appears our county's commitment to the landmark Paris climate agreement is in question. It shouldn't be. The Paris agreement is notable for many reasons, including recognition that every nation must contribute and every climate solution must be used, including techniques like carbon capture in forests that provide appealing "win-win" opportunities for our country.
Given today's politically polarized dialogue on climate change, it is no surprise that newly empowered conservative political leaders in Washington chose to re-examine this historic commitment that took effect last fall. After all, the new administration and Congress have been scrutinizing federal policy on a number of issues subject to political conflict in recent years, such as immigration and health care.
Yet, this re-evaluation of the Paris agreement could have turned out to be positive for the longer term if done right. The Paris agreement and the United States' "Nationally Determined Contribution" under that agreement align well with many conservative principles for problem solving. For example, the Paris agreement:
· Requires fast-growing nations like China to participate
· Gives each nation flexibility to craft its own Nationally Determined Contribution, and leaves room for countries to refine and evolve their climate strategies over time
· Recognizes the opportunity to capture carbon through forests, which could be leveraged to create jobs in rural areas in the U.S. and around the world
While all of these items are important to conservative principles, I want to focus on the last item—the potential role of forests in reducing carbon emissions—as a uniquely powerful opportunity to build consensus for climate action that also helps create jobs.
If you're wondering why forests are involved in an agreement to address climate change, let me explain how forests offer a powerful climate solution. Forests act like natural carbon scrubbers for our carbon emissions thanks to the process of photosynthesis, through which trees draw carbon dioxide from the air and release oxygen. Better yet, forests convert atmospheric carbon into positive outcomes like wood products, soil, and all of the many other public benefits that our forests provide.
While tropical forests have received some attention in past climate agreements, Article Five of the new Paris agreement gives unprecedented recognition to the role that all forests can play in capturing and storing climate-warming carbon emissions.
Better yet, we can increase the amount of carbon captured by U.S. forests with financial incentives that help keep forests as forests, encourage management to capture more carbon in trees and soils, and support tree planting projects from inner cities to remote forests damaged by fire and extreme weather. Creating policies and incentives to encourage use of wood products instead of more energy-intensive building materials can also help. Together, these climate-friendly actions can create jobs in the forest sector, including parts of rural America hurting economically.
A ground-breaking climate strategy completed in the waning days of the Obama administration, the Mid-Century Strategy for Deep Decarbonization, projects that U.S. forests and other natural lands could eventually capture 30 percent or more of our carbon emissions with the right actions and investment, like those described above. The Mid-Century Strategy provides a potential roadmap to achieve these additional reductions.
But as we work to capture more carbon in our forests and forest products, we must also protect forests from climate change. New science from the U.S. Forest Service has warned that our forests face increasing threats like fire and pest infestations that will worsen with climate change. Unless we act, U.S. forests in some vulnerable regions could turn from being carbon-trapping "sinks" into a source of emissions within a few decades.
This is another opportunity for government at all levels to partner with private landowners by proving scientific guidance, technical assistance, and financial incentives to make forests more resilient to climate change. Making forests "climate-ready" will not only protect stored carbon and future potential, but also protect the economic engine of forestry. Relatively new efforts like the U.S. Department of Agriculture Climate Hubs are one example of how this can be accomplished.
The opportunity for forests to power climate solutions and our economy demonstrates that fighting climate change can appeal to all Americans, if we keep an open mind. Similar "win-win" opportunities exist to create Climate-Smart Cities, like using trees and greenways to shade cities from heat waves, connect walking and biking routes with better public transit for lower carbon emissions, and creating natural buffers to lessen climate-driven flood risks. This kind of civic investment benefits our country in many different ways and creates important job opportunities.
So even while this extremely disappointing decision about the Paris climate agreement seems to set us on a damaging course for the planet, it is not too late to fully understand its flexible and pragmatic approach. With the long exit ramp for leaving the agreement, there is still time to build stronger political consensus on climate change and put our nation's ingenuity to work on climate solutions that help our economy. That should be something we all can agree on.
Related
Popular in the Community