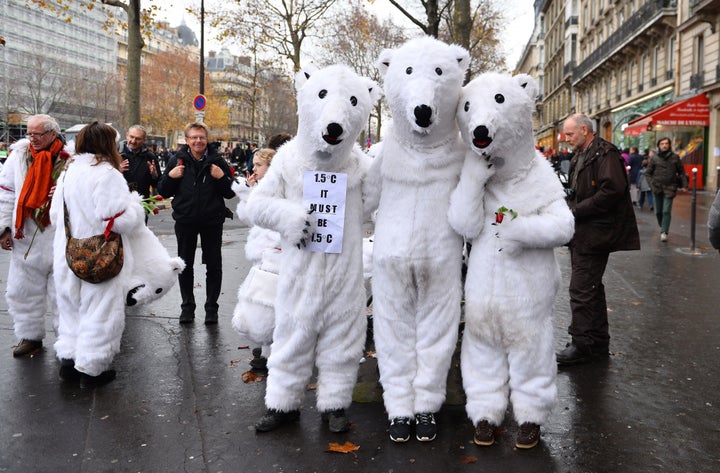 It could be a tale of redemption.
The historic climate deal announced in Paris on Saturday provides big businesses -- long the villains when it comes to any environmental progress -- with the economic incentive to transform their operations to be completely powered by clean, renewable energy. The 31-page treaty calls for ambitious pledges to reduce greenhouse gas emissions, commitments that are slated to be reevaluated and strengthened in five years. That means the transition to an economy powered by solar, wind and other renewable energy sources can't happen gradually.
It needs to happen fast. And it's going to be expensive.
"I'm hoping we could see trillions -- not just billions -- pouring into the low-carbon economy worldwide every year," Mindy Lubber, president of the sustainability nonprofit Ceres, said in a statement. "But, of course, far more work is needed by governments, the private sector and other parties to turn this document into significant, on-the-ground change."
That's where businesses come in. Capitalism, in its most basic pursuit of profit, has been the major driving force behind the destruction of the environment. Energy firms reap stupendous profits from burning fossil fuels that warm the planet and alter the climate. Thanks to a litany of economic incentives, oil, gas and coal have long seemed to be the best options for companies watching their bottom lines.
That can all change. It has to. And it's already starting.
In September, an unlikely coalition of corporate giants -- including Starbucks, Walmart and Goldman Sachs -- announced deadlines by which they plan to be completely powered by renewables. Other companies have set their own examples. Danish toymaker Lego is building a massive offshore wind farm to help achieve its goal of being 100 percent renewable by 2020. In February, Apple committed $848 million -- that's $48 million more than the United States government has set aside in the Paris deal for loans to developing countries -- to construct a vast solar farm to power its new headquarters.
The discrepancy between the financial commitments made by the world's most valuable company and the world's biggest economy demonstrates how big the private sector's role is in implementing the Paris accord. The last two global climate pacts failed largely because negotiators lacked the political willpower to agree on aggressive carbon cuts. This time was different. In the months ahead of the 21st Conference of the Parties -- or COP21, as the Paris assembly was hashtagged -- a variety of big businesses publicly backed a strong deal. The financial turbulence that comes with unpredictable, extreme weather and other effects of climate change became apparent. Their support no doubt pressured negotiators to deliver on an ambitious deal.
But corporations must stay committed to the ideals they espoused before the treaty was finalized.
One crucial part of the deal is a clause mandating that countries reassess, and ideally embolden, their emissions targets in five years. In that time, companies must make a choice that will define their places in history: Do they urge the federal government to adopt more aggressive goals? Or do they lobby to keep things as close as possible to business-as-usual?
"To deliver climate policy that meets the needs of reality, governments must insulate the policymaking process from the corrosive influence of big polluters, both here at the UNFCCC and at home in national governments," Tamar Lawrence-Samuel, a researcher at the watchdog group Corporate Accountability International, said in an email. "Only then will climate policy truly value people over profits."
Related