This past week, I learned why I will never be as cool as a French woman.
And by that I mean, I went to Paris Fashion Week. Over eight days, I discovered that fashion can be so beautiful it can literally make you gasp, that street style photographers are more aggressive than women at sample sales and that there is no such thing as too much bread.
So, what is Paris Fashion Week really like? Is it as glamorous as you think? Yes. Is it exhausting? Yes. From the breathtaking shows like Valentino to the drool-worthy street style to the baked goods, here is what Paris Fashion Week looks like through my eyes.
The minute I arrived at the airport, I could tell I was in France because of the overwhelming aroma of Chanel No. 5 at baggage claim and the number of ladies who still managed to look chic at 5:30 a.m.
On my drive into the city, I kept noticing two things: The insanely warm breeze coming from my window (it was like 50 degrees!) and the beautiful architecture and landmarks. I passed the Eiffel Tower and managed to snap this photo ... from my taxi.
So, what was the first thing I did when I arrived at my hotel? Eat a crepe (obviously).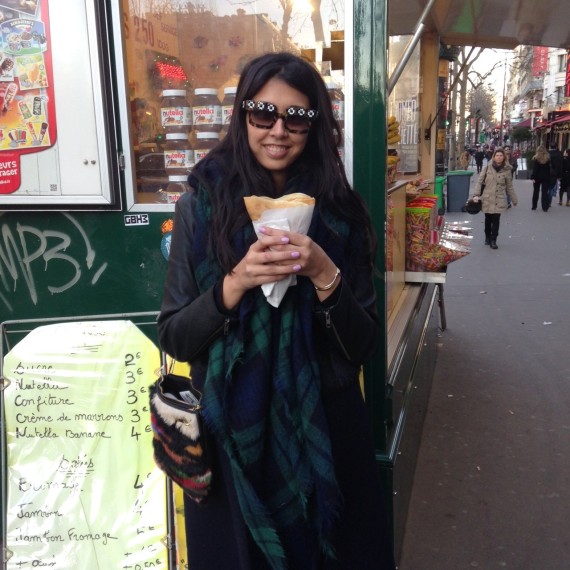 Paris Fashion Week officially kicked off on Tuesday, though it is mostly up-and-coming designers that show on the first day. My first show in Paris was Cédric Charlier, which was held at the Palais des Beaux Arts. I got very lost on my way there, but I did stumble upon some pretty gorgeous sights when I was trying to find my way.
Thankfully, like New York fashion shows, Paris shows all start 25 minutes late, so I made it in time with a few moments to spare. Cédric Charlier was also the first show where I noticed the messy hair trend.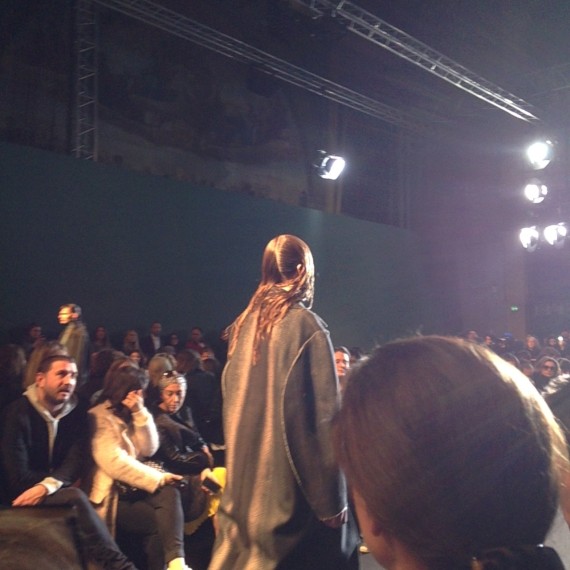 I started my day with a coffee in my hotel lobby. I stayed in the second arrondissement at La Maison Favart, which is arguably the cutest hotel in Paris.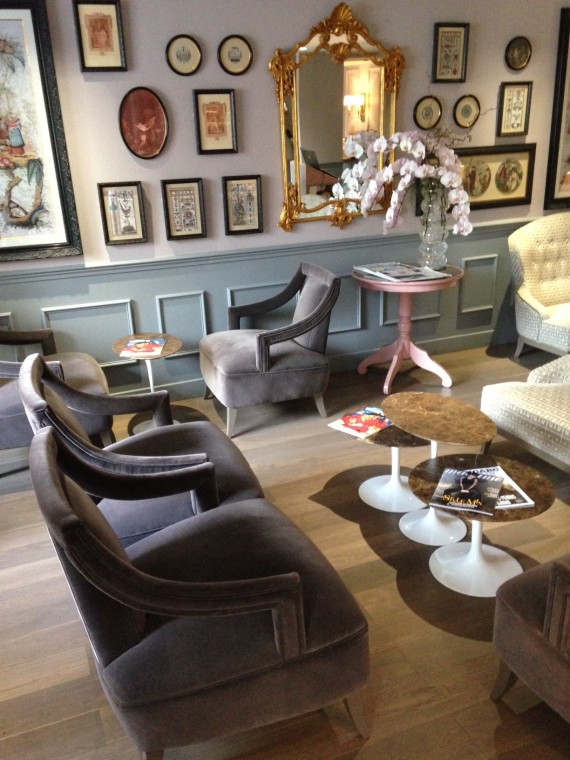 After my café au lait, I was off to the shows. The first one of the day was Guy Laroche, which was held at Le Grand Palais. I was taken aback by how grand the venue was. Let's just say, Lincoln Center doesn't compare.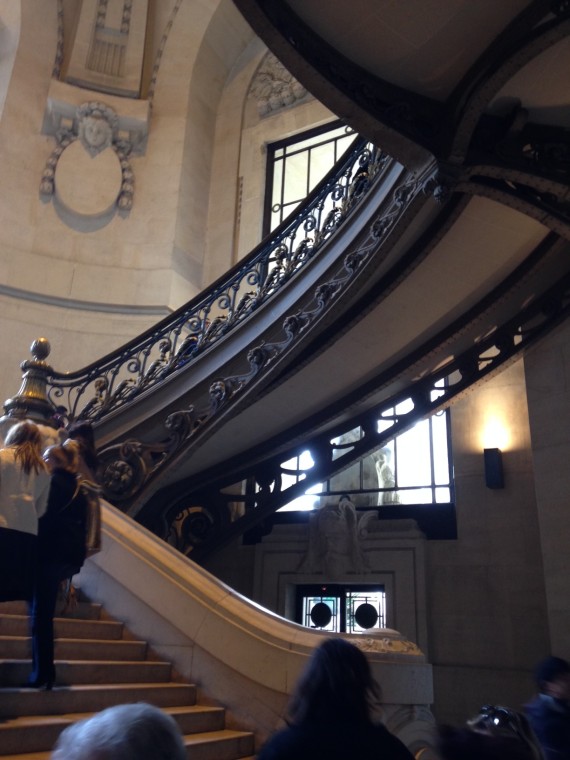 I sat front row which meant I got some great snaps. I loved all the lacquered leather and Mongolian sheep fur coats in the collection -- these are definitely going to be two big trends come fall. Though not all looks were quite so wearable...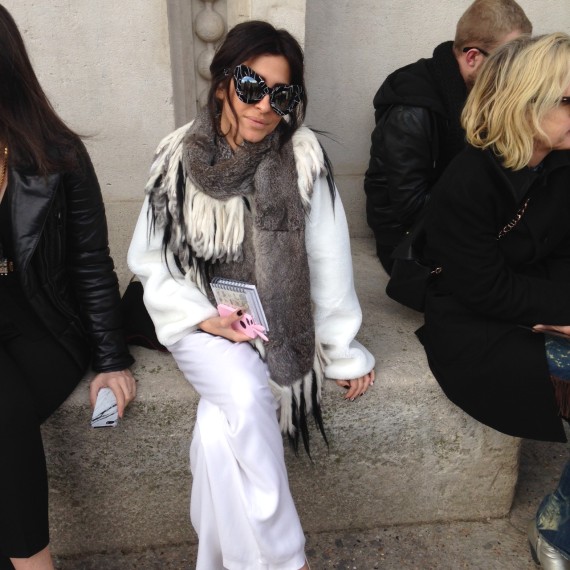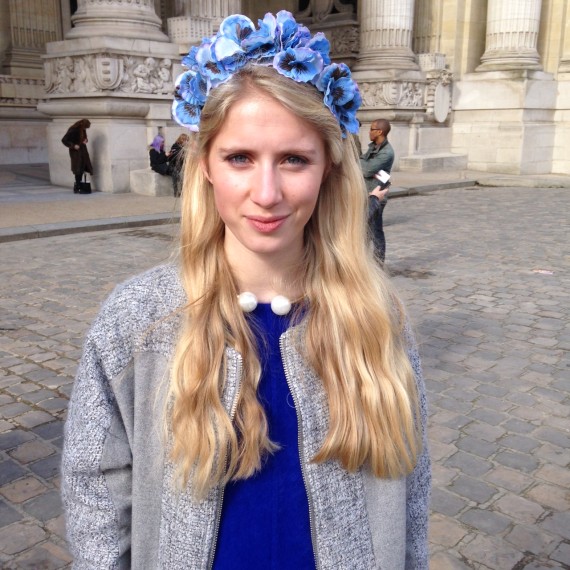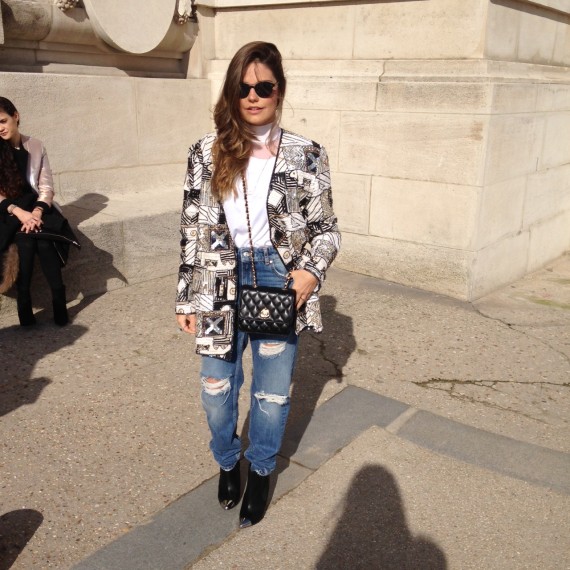 Next stop was Dries Van Noten, which turned out to be one of my favorite shows of Paris Fashion Week. I loved the offbeat color combinations and metallic floral motifs throughout.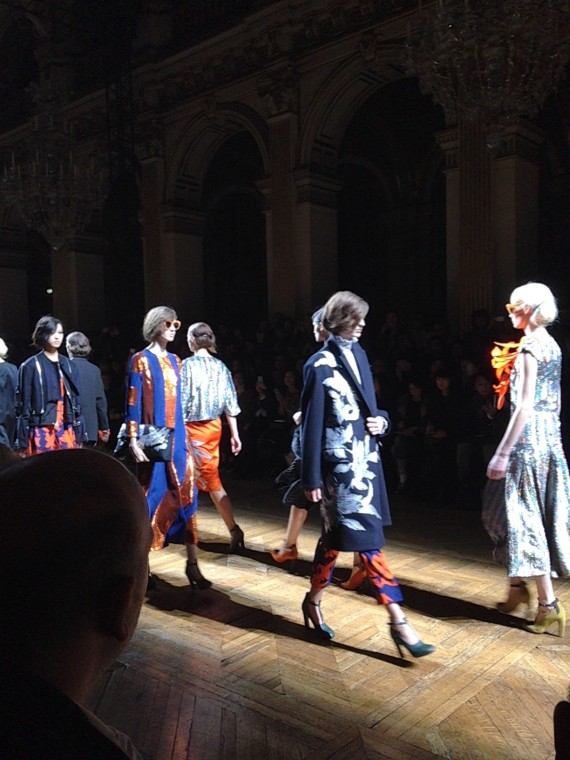 Oh, and I sat right behind Anna Wintour, who sported her sunglasses throughout the entire show.
That evening, I headed to Vionnet at the Jardin des Tuileries. It was a very elegant show and each seat had a note card with the show-goer's name handwritten in calligraphy topped with a single flower.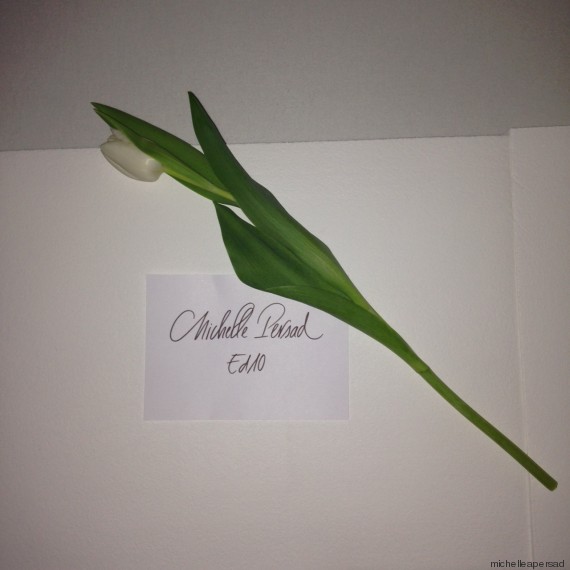 I started the day with a few pain au chocolat and then headed to Carven, one of the shows I was most excited to attend.
Before I went inside, I managed to grab a photo of this stylish lady outside the venue.
After Carven, I walked around a little bit before my next show and found Le Petit Palais, a stunning museum with a beautiful garden.
Next, I went to Rick Owens, which is always exciting, as Owens is constantly pushing boundaries and experimenting with unusual silhouettes. This season, he sent "real women" down the runway again, which was such a nice change of pace. I was lucky enough to go backstage and get a better understanding of the makeup, created by Lucia Peroni. The look was very natural and meant to evoke "otherworldly beauty."
My first show of the day was Issey Miyake, which was the most original of the entire season. Designer Yoshiyuki Miyamae began the show with a few models holding flat semicircular portfolios that they unfolded and converted into items of clothing. That's right. Models got dressed ON the runway. This elicited loud applause from the audience at the beginning of the show, a real rarity in the fashion world.
After Miyake, I headed to Isabel Marant, my absolute favorite designer, and saw her fall/winter collection. Karlie Kloss walked, there were furry boots and Paris-born model Caroline de Maigret sat right in front of me. So overall, it was great. On my way out, I ran into Vogue Japan Editor-at-Large Anna Dello Russo, and took this photo of her looking very Anna Dello Russo.
I finished my day with steak frites and profiteroles from Le Relais de l'Entrecôte (which I highly recommend if you are ever in Paris).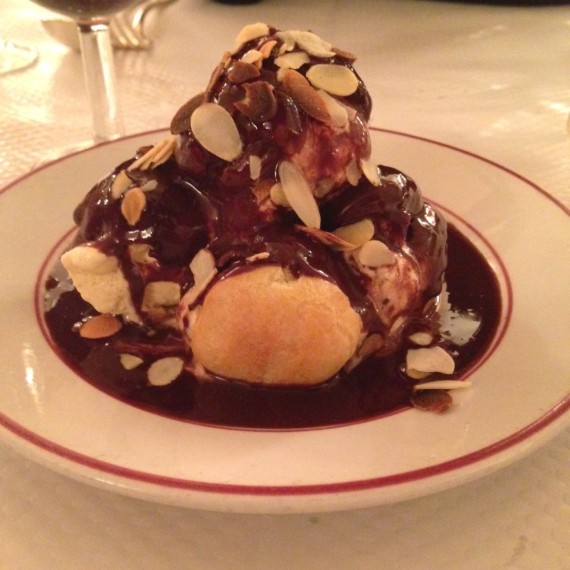 First up, Tsumori Chisato, who showed a collection full of bright colors and tropical references.
Then I went to Viktor & Rolf. The entire collection was very wearable, but still really innovative and interesting. It was also one of the busiest shows I went to the entire week. There was wall-to-wall people and hoards of street style photographers outside the venue.
I woke up on Sunday morning and it was the most beautiful day outside...
... which meant it was time for sandals.
After I got dressed, I headed over to Andrew Gn, where I saw a lot of sheer dresses with plunging necklines.
I worked up an appetite walking to the show, so I made a pit stop at the Angelina tea room, which boasts some of the best hot chocolate in the world. (Yes, it was as good as it looks).
Then, I ran to go and see Chloé and John Galliano, where my phone promptly died.
I started my morning with a quick trip to Ladurée, because you can't go to Paris and not have a macaroon (or five).
Then, I headed to Emanuel Ungaro (in the pouring rain), listened to the Christmas music he played down the runway and ran to Elie Saab.
Though it was a dreary day, Paris still managed to look so pretty.
At 8 p.m., I went to the Saint Laurent show. There was probably 100 people waiting outside to take photos of people as they arrived. Though each show typically lasts somewhere between six to eight minutes, designer Hedi Slimane sent 54 looks down the catwalk (versus the typical 35-38), making it one of the longest shows during Paris Fashion Week. While the clothes didn't hit the mark for me -- the velvet dresses and metallic motifs didn't scream high-fashion in the way the house usually delivers -- the special effects made the night very memorable.
Tuesday was my favorite day in Paris. I started with a trip to the Guerlain Spa, where I got one of the most magnificent facials of my entire life -- very necessary after a week of running around and not always taking my makeup off at the end of the night.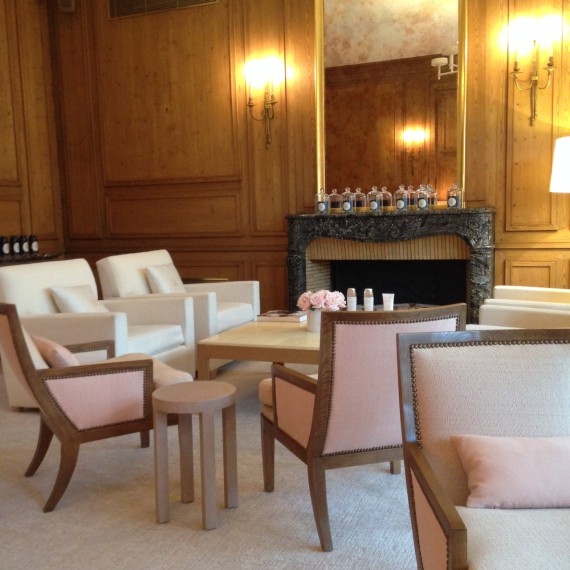 Then, I headed to the Valentino show and spotted Olivia Palermo and her dreamy fiancé Johannes Huebl.
The Valentino show reminded me why Paris Fashion Week is always referred to as the best of all the Fashion Weeks. The collection was refreshing, inspiring and so damn beautiful. There were subtle nods to the '60s, and designers Grazia Chiuri and Pierpaolo Piccioli managed to make very modern looks that stayed true to the established fashion house's aesthetic. The loud applause at the end of the show just reinforced my feelings.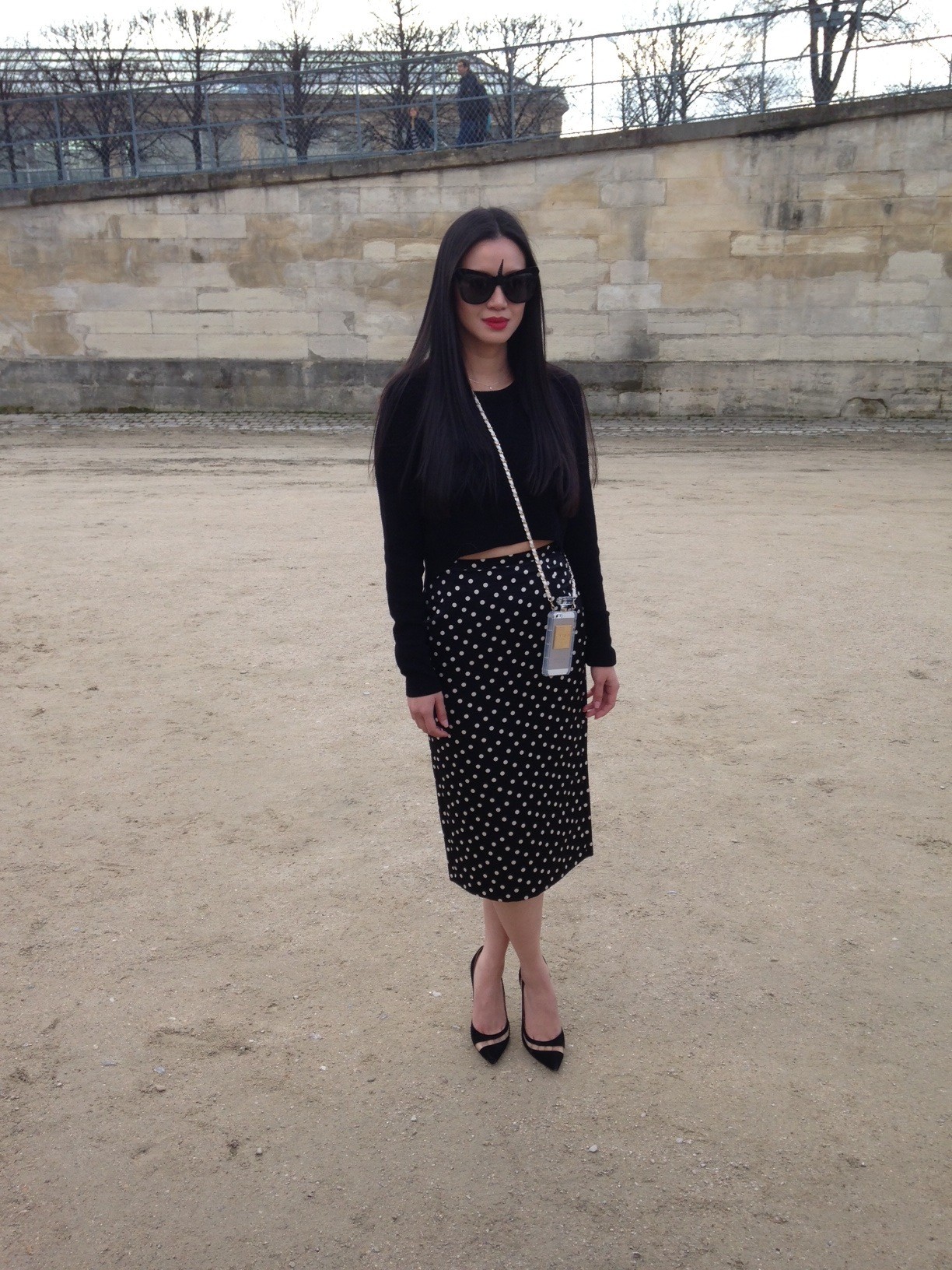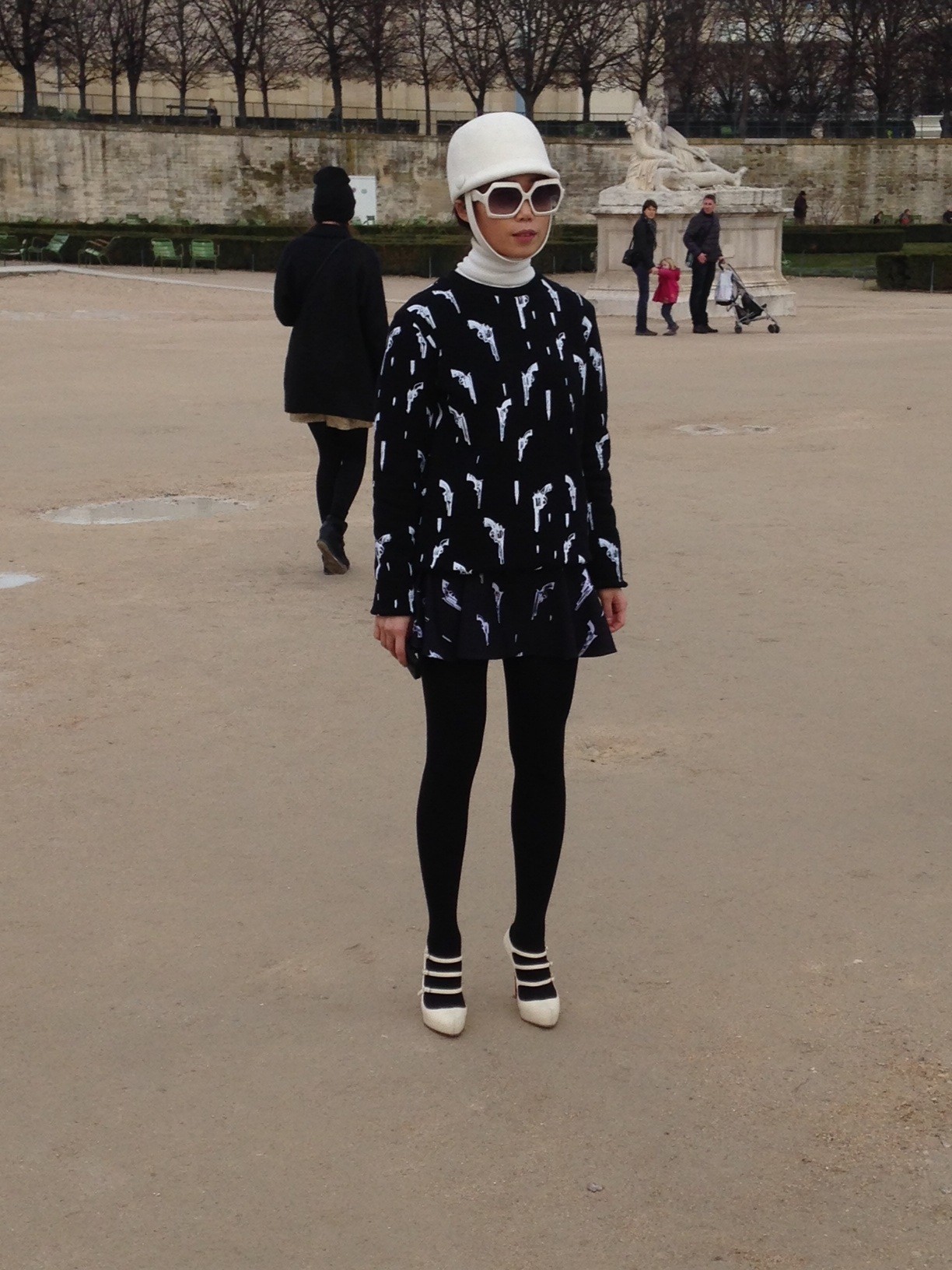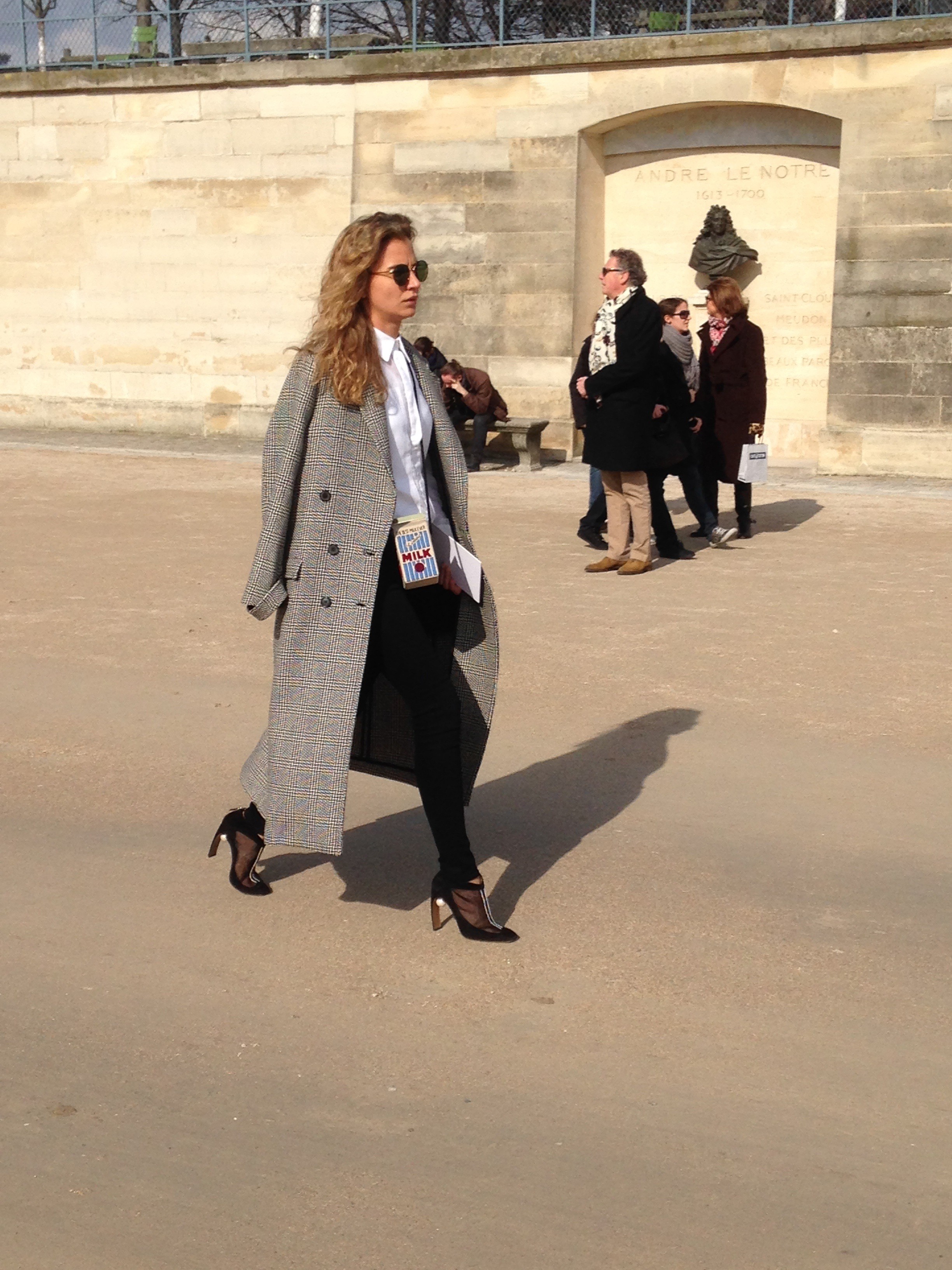 On my last day in Paris, I walked around and did some research at French pharmacies and at Monoprix (which is France's version of Target). I was able to talk to some beauty experts and find out some French beauty secrets (more on that later).
Before I caught my flight, I managed to get in one last pain au chocolat.
As I rode to the airport in my taxi, all I could think about was how much I want to move to France. Paris, tu me manques.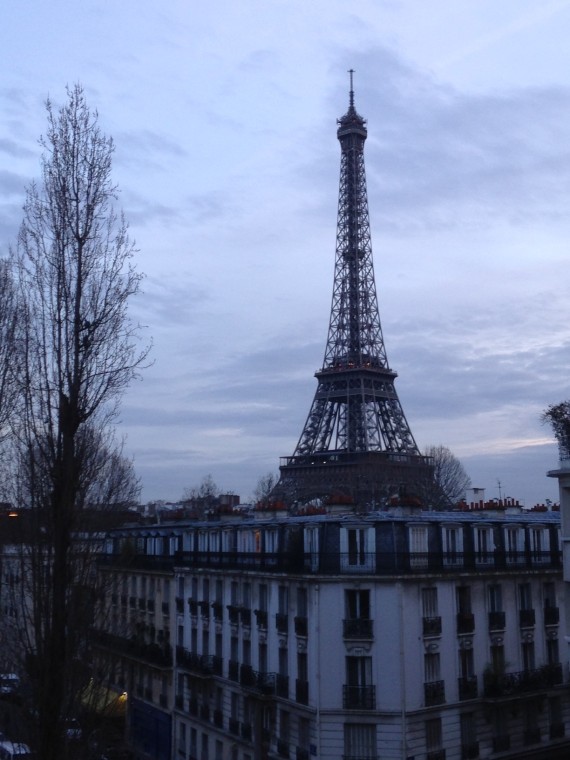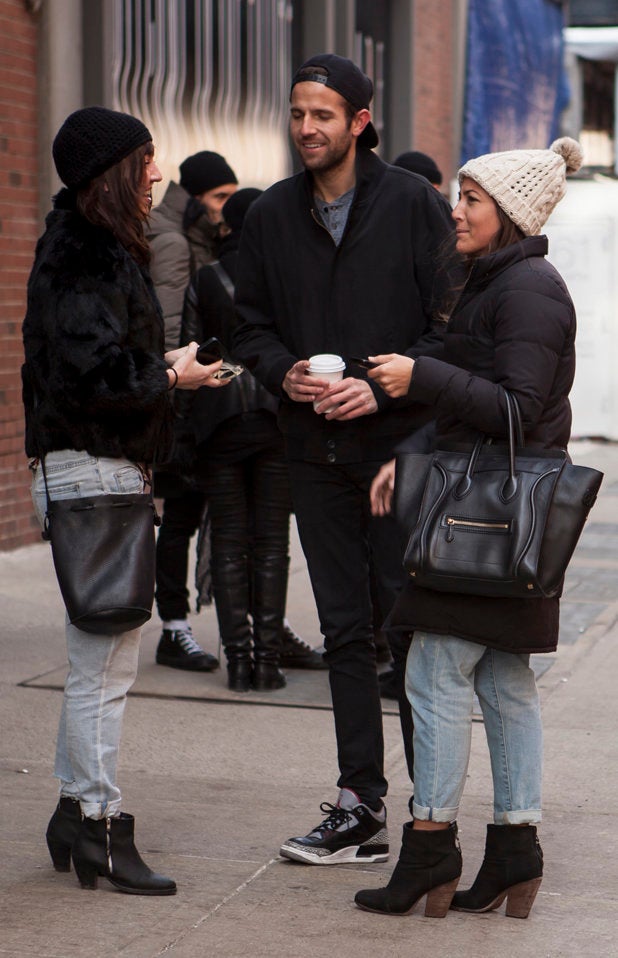 New York Fashion Week: Day 4 Street Style