SWAT teams raided a kosher grocery store in eastern Paris, killing a gunman who had opened fire and taken at least five hostages. Reuters reports that four hostages were killed. The New York Times reports that five hostages were injured, and another five freed. The gunman's accomplice reportedly escaped.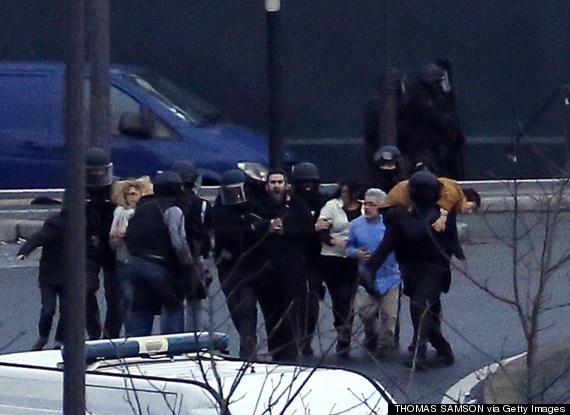 Members of the French police special forces evacuate the hostages after launching the assault at a kosher grocery store in Porte de Vincennes, eastern Paris. (Credit: Thomas Samson/Getty)
The standoff came as a separate incident unfolded in northern France, where two brothers who are suspected in Wednesday's rampage at the satirical newspaper Charlie Hebdo were killed after taking a hostage at a printing plant. According to police, the gunman at the market had threatened to kill the hostages if police storm the printing press.
The AP reports that Amedy Coulibal, the prime suspect in the grocery store attack, was closely linked to Cherif Kouachi, one of the brothers suspected of attacking Charle Hebdo. Coulibal and Kouachi were reportedly involved in a 2010 plot to free an Algerian convicted of bombing the Paris subway in 1995, according to CNN.
A police official told the Associated Press that a man opened fire in the market and declared "you know who I am." The assailant is alsoa suspect in yesterday's killing of a policewoman on the southern edge of Paris. On Thursday, police released a photo of Amedy Coulibaly and his suspected accomplice, Hayet Boumddiene.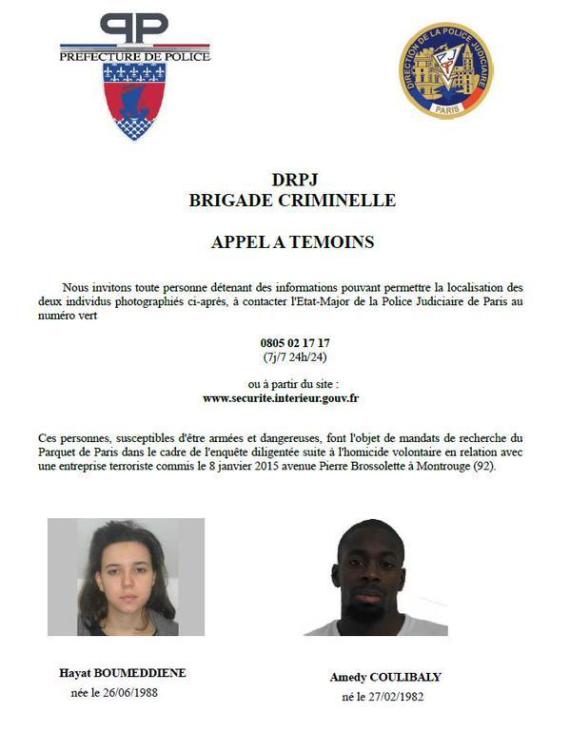 The Guardian has background on the two suspects here.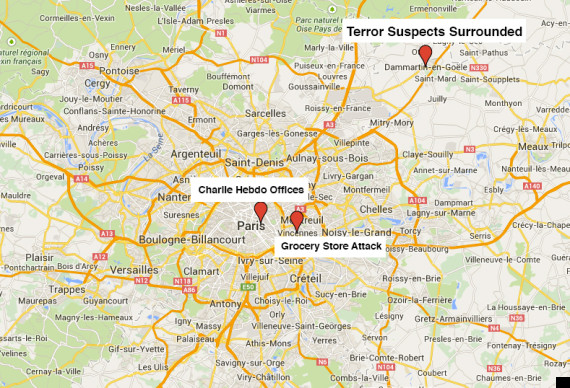 Locations of the grocery store, the standoff in Northern France, and the Charlie Hebdo offices
Watch a live stream of the scene outside the grocery store here:
This is a developing story....check back for updates.
Photos from the scene below: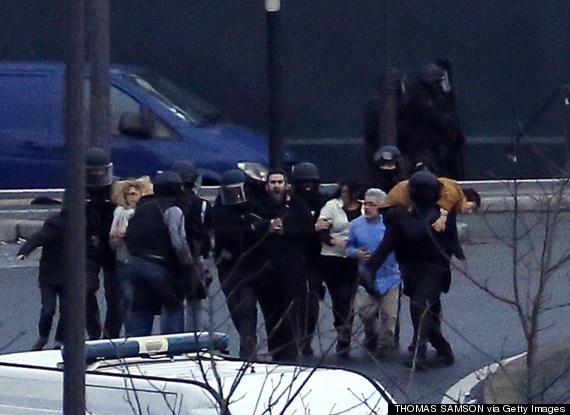 Members of the French police force take positions near the grocery store (Credit: ERIC FEFERBERG/AFP/Getty Images)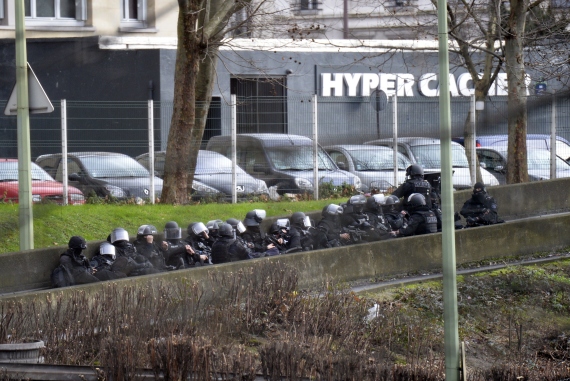 Members of the French police forces taking position by the kosher grocery store in Saint-Mande, near Porte de Vincennes, eastern Paris, where at least one person was injured when a gunman opened fire at the kosher grocery store and took at least five people hostage. (Credit: ERIC FEFERBERG/AFP/Getty Images)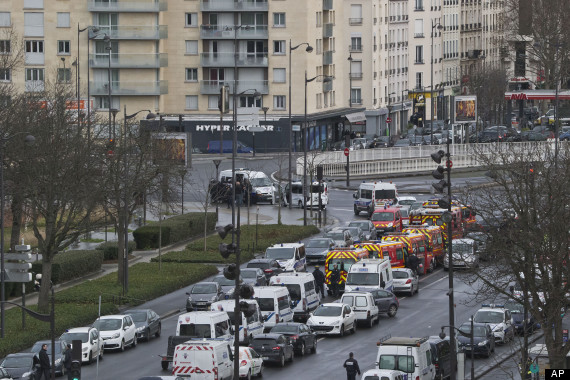 French police officers gather near a hostage-taking situation at a kosher market, visible in the background at left, in Paris, Friday, Jan. 9, 2015. (Credit: Michael Euler/AP Photo)
Calling all HuffPost superfans!
Sign up for membership to become a founding member and help shape HuffPost's next chapter