Ahh, where to stay in Paris? So many choices, so few nights. I visited the City of Lights for the second time after my cruise this summer. Wouldn't it be wonderful to spend an entire month, or season, in Paris? Well, August is a perfect time to try that.
I lucked out and stayed at six different hotels in three different arrondissements during my two-week stay. It was a wonderful way to have as many different experiences as possible in one of my favorite places in the whole wide world.
Before I share my hotel finds, it might help to explain arrondissement, often thought of a municipal district, division, or neighborhood in Paris. Paris is divided into 20 arrondissements and their areas are clearly defined. The center of Paris is, not surprisingly, the 1st Arrondissement, on the Right Bank of the Seine and home to the Louvre. Now picture a spiral going clockwise (somewhat like the yellow brick road or the reverse marking of a nautilus shell) and you'll find 2nd, 3rd Arrondissements and so on. For that extra special feeling of foreign travel, arrondissements are written in Roman numerals on street signs.
Depending on whether you are planning a romantic engagement or just want to savor a neighborhood, there's an arrondissement for you. The central, or first eight, arrondissements are where Paris' most famous sights are situated. I could get a pretty good sense of the 7th Arrondissement since I stayed at three different hotels there. It always amazes me how one corner of a neighborhood can be a completely different experience from another corner.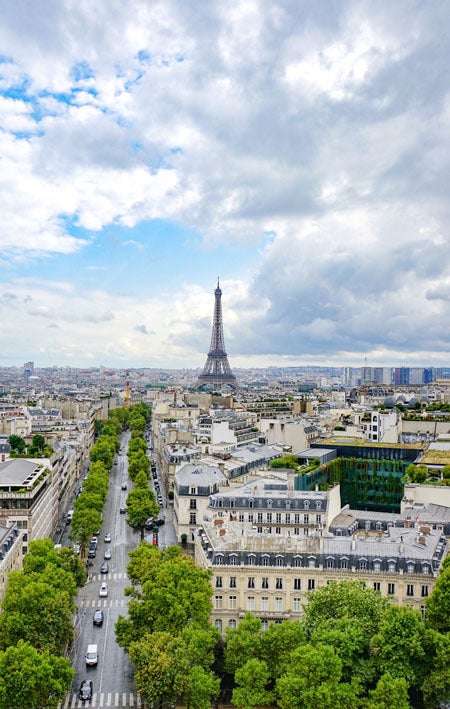 Four Seasons Hotel, George V, Paris
Located in the 8th Arrondissement, the Four Seasons is steps from the Champs-Elysées, Paris' famed boulevard. The Four Seasons is filled to the brim with fashion, art, people watching, and luxury living. But it reigns supreme in the real reason Paris is filled with visitors year-round: food! (OK, we'll call it "cuisine.") There's Le George that serves Mediterranean fare in a space that is decidedly Parisian. Le Cinq, a three Michelin star restaurant, favors classic French dishes and, it goes without saying, fresh regional ingredients. For a more contemporary taste, there's L'Orangerie, whose tables are set in the Marble Courtyard.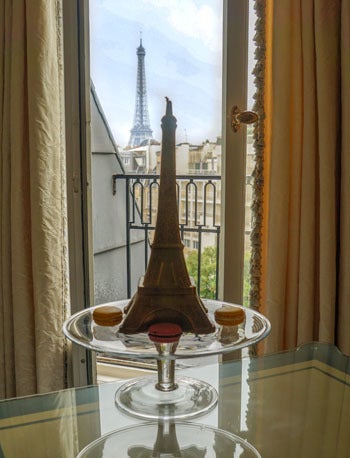 My sightseeing was mostly at the hotel, and the 12,000 flowers delivered each week is a sight to behold. That's when the Four Seasons turns into a living garden, whose theme changes each month. It was difficult to leave this lap of luxury, but I did manage a dash around the corner for the panoramic view of Arc de Triomphe.
You can't go wrong at a Four Seasons, and the one in Paris is a standout – quite romantic and special. If you are planning to propose or have an equally special occasion on the calendar, it's worth the treat. You won't be disappointed.
Good things come in small packages, and that's L'Hôtel, the smallest five-star hotel in Paris. In the 6th Arrondissement and the St. Germain-des-Prés neighborhood, L'Hôtel is my idea of heaven. The ambience of this 20-room establishment is intimate and the surroundings are serene with the Bohemian vibe you'd expect from the Left Bank. My room, the best in the hotel, was a treat – complete with a charming balcony where I ate breakfast and drank in a view of the Parisian skyline.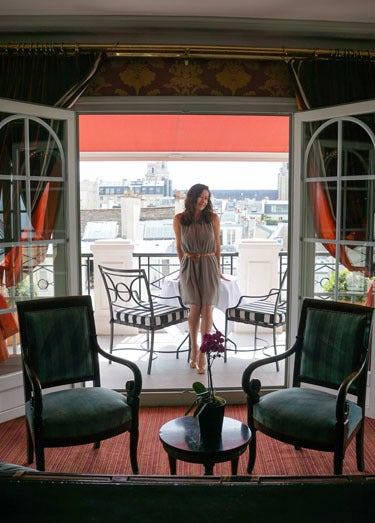 Fun fact: noted writer Oscar Wilde, actor Marlon Brando, writer Jorge Luis Borges, and French actress and singer Mistinguett, lived at L'Hôtel, back when it was called Hôtel d'Alsace.
Not necessarily best for last … but there's a Michelin Star restaurant, too. This hotel is extraordinaire!
Le Narcisse Blanc & Spa and the Eiffel Tower are in the 7th Arrondissement, the Palais-Bourbon area. This is an affluent part of Paris with its government buildings, UNESCO headquarters, and the Musée d'Orsay, among other icons. The Palais-Bourbon refers to the National Assembly. Needless to say, there are swarms of visitors combing the Parisian streets here. Le Narcisse Blanc & Spa is a perfect spot to replenish from a day of touring.
The hotel is named after the same muse, Cleo de Merode, who inspired some of the greatest artists of her time, including Klimt, Lautrec, and Proust, among others. Her nickname, Pretty Little Narcissus, is courtesy of a friend. The result of Cleo's influence on the hotel's design is the tasteful blend of history and today with romanticism and luxury.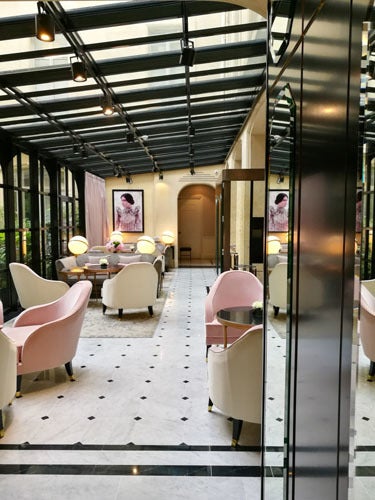 I adore unconventional design, architecture, and European charm, especially when it comes to a Paris hotel. Le Narcisse Blanc Hotel delivers classic Parisian elegance from the lobby to the guestroom. I love the attention to intricate details, down to the design of hand-made faucet handles. The opened door-sized windows letting in the fresh Paris summer breeze. As I sat on the window ledge watching life pass by, I wish I could understand the native tongue of the passing pedestrians.
Sometimes, the difficult part of the travel is leaving the hotel.
Situated in the 7th Arrondissement, Le Cinq Codet gives a shiny spin on Left Bank hotels with its modern take on the classic Parisian architecture. And that's just the exterior! The interior is very cool, from the windows to the stairs, no corner is overlooked. The hotel refers to it as a "loft and design atmosphere."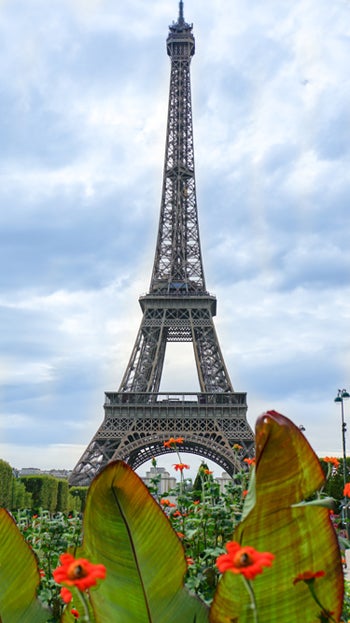 The Prestige Suite offers a private terrace, which has a spectacular view of La Tour Eiffel. Sundari Spa offers double massage rooms (ooh-la-la!), hamman, and an outdoor Jacuzzi, among other amenities.
Le Cinq Codet's sits in a posh neighborhood, and it was a wonderful experience to grocery shop in the upscale area. And like many neighborhoods but infinitely and always interesting, streets change drastically in ambience and character from one block to the next. I really enjoy that about Paris.
Castille Paris is in the 1st Arrondissement. In addition to the Louvre, these sites include Tuileries Garden, the Royal Palace, and Vendôme Square.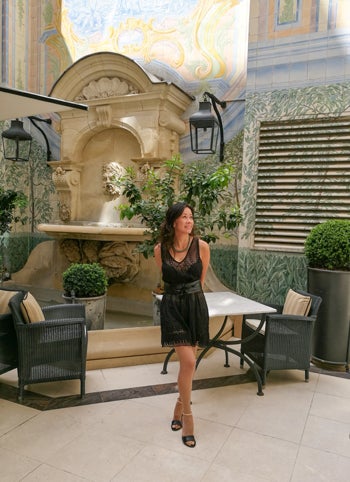 The best views in Castile Paris are from the Opera wing. The Opera wing is more modern in style than the rooms in the Rivoli wing, which is 1930s in style. I enjoyed my Duplex Suites and felt like I had my own little apartment in Paris. Again, I wanted to stay in, opting to go to the local bakery for a baguette so I could enjoy my split-level suite. There's even a window box of flowers outside the window. How much more Parisian can you get than that? Add to that, Castille Paris is close to the headquarters of the fashion industry gold standard, Chanel. [Sigh]
In the 6th Arrondissement, Hotel Bel-Ami has claim to a great location! Yes, there's the proximity to Jardin du Luxembourg, the Odeon Theatre, and Saint-Germain des Prés, Paris' oldest abbey church … but I had the three best meals within walking distance of Hotel Bel-Ami, thanks to the helpful concierge. I had noticed an ever-present line in front of Relais de l'Entrecôte, and asked why. The concierge was excited to share with me – they only have one dish there, steak and fries (steak frites) but it's the best steak ever. Ever.
The line was long the night I wanted to dine. I walked up to the hostess and asked about the wait time. She answered, "Do you want to dine outside or inside?" I responded, "The shortest wait please," and was seated immediately. Remember this dining tip when in Europe.
Hotel Bel-Ami is in quiet area. Its manageable size made it easy to navigate and there weren't many tourists. The rooms have a modern design spin with pops of bright colors in the furnishings. There's a spa as well as a fitness center to tempt you away from sightseeing. But do get out. Walk a lot, look at everything, and listen to it all. It's Paris!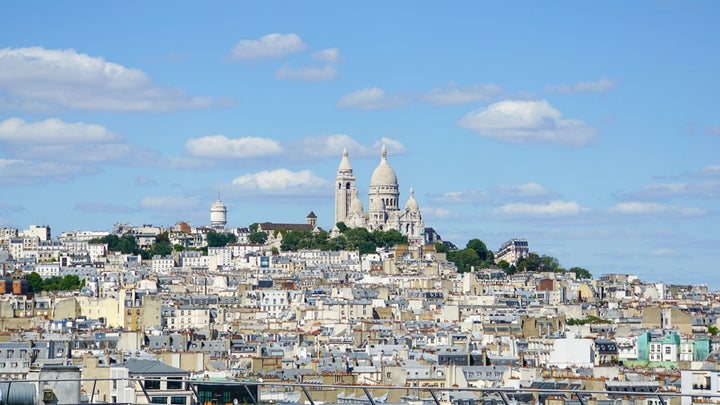 and the rest of the story …
I'm asked if Paris is full of tourists. My answer is it depends on the arrondissement you choose to stay and explore. This trip allowed for exploring only four of the twenty. I hope this piece helps you navigate around Paris hotels when choosing your home away from home while you are there.
Looking forward to exploring the other arrondissements on my next Paris trip and sharing with you.
Related
Popular in the Community