Paris in August is a ghost town! The streets are deserted and the feeling is eerie. The roads going out of the capital today? Well -- that's another story! Packed and fuming, many families are starting their annual summer vacation stuck in traffic. Hundreds of miles of bumper-to-bumper crawling on French highways are a familiar sight on August 1st. Tempers will flare and moods will be aggravated on this first day of the holly vacations.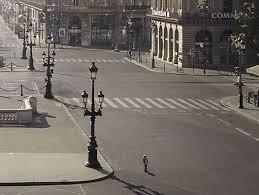 Did you know that French workers get five paid weeks off? On top of multiple holidays along the year, breaks, and what is called "bridges" (ponts) between those days -- for example if a national holiday falls on a Thursday, nobody in their right mind would consider working on the Friday before that weekend, making it a four-day break. Those are numerous during the year.
If you plan to visit the French capital this month, a few things you need to know about some oddities, some restrictions, some good plans and some annoying bits. French still take off in July as well, or between July 15 and August 15, but August is still the favorite month to take off for most families -- as kids don't go back to school until the beginning of September, and the weather is assured to be nice wherever they chose to go during that month.
The past few weeks have seen ungodly temperatures soaring in France. In a country where air condition commodity is seldom used, or even available, everybody suffered for a few weeks in upper 90s and even some 100 degrees temperature seen in some spots. Fighting off with fans (in shortage now), wet sheet in front of windows, ice cubes baths, and soaking in the cities' fountains, exceptionally open to such endeavors for that special occasion by mayors all over - still the heat is winning.
No worries, if many small shops, such as local butchers, bakers, cheese and fruit shops are closed for the month, there is never going to be any shortage of food in Paris! After all, we're talking about the capital of good food! Some outdoor markets will not take place, just because of the difficult logistics of keeping food fresh in such high temperature -- but supermarkets, small and large, will be open, and are air conditioned!
In the past month, Paris had nothing that Texas or Florida did not have: heat, heat, and heat. When the temperature reached 40 degrees Celsius (or Centigrade), the tempers were not even flaring up, as it would have been too exhausting, but the melting of minds and bodies was in fact unbearable to witness.
I would highly recommend that you check with your hotel before you leave, if you are staying in a budget place, there may not be any AC available.
Things to do in August in Paris.
Yes, there will still be fries and crèpes, surly waiters, and very hot transit system. The good thing is that you will hardly have any lines anywhere: the Eiffel Tower, the Louvre Museum both become more accessible -- most museums are air conditioned, so there is your excuse to go!
Outdoor cinema: at the Parc de la Villette, until Aug. 23. French and international movies, in their original version, to include Woody Allen and Baz Luhrmann films. Wednesday to Sunday at dusk. You can even rent a beach chair for seven Euros. The last movie of the summer will be "Moulin Rouge".
Go to the beach! That's right: three riverbank spots along the Seine are transformed with sand and beach attire for the Parisians to get a tan! Also until Aug. 23. Paris Plages, located along the quay Georges Pompidou, at the Villette basin (with boats, archery and ball games), and at the City Hall esplanade. Especially recommended for children, as many activities are organized for them. Organic-only ice cream is sold on the beaches. Free access.
A few outdoor swimming pools will be open as well, but a word of advise for American males: you are only allowed to wear a Speedo-kind of tiny bathing suit at those pools! French hygiene regulation at work! No swimming shorts, no Bermuda shorts, no surfers attire, no shorts at all! I have a few American friends who would never dare! LOL!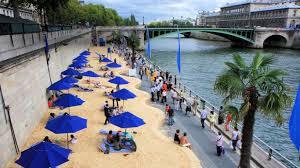 Go out in a park at night: because of the recent heat, the city decided to keep open four major parks at night, a rarity in Paris. Until the end of August, on Thursday, Friday and Saturday nights, the following green oasis will be open: Monceau Park, Montsouris Park, André-Citroën Park, and Buttes-Chaumont Park. How very romantic!
A few museums will be entrance-free for August: Modern Art Museum; Victor-Hugo and Balzac Houses; Bourdelle Museum; Carnavalet Museum; Cernuschi Museum; Marechal Leclerc Memorial; Petit Palais; Zadkine Museum; and the Museum of Romantic Life.
Other museums (but not Le Louvre) are free on the first Sunday of each month, all year long, including the majestic Musée D'orsay, and the Picasso Museum. There are still ways to get inside the famous Louvre Museum, the largest art museum in the World, for free!
-If you are 18 or under.
-If you are 18 to 25 and reside in the European Union (27 countries.)
-If you are under the age of 26, free access to the permanent collections after 6 p.m. on Fridays.
-If you teach art, art history, plastic arts, and can prove it.
-If you are unemployed or collecting welfare, and can also prove it.
-Handicapped visitors and their accompanying helper have free access all year.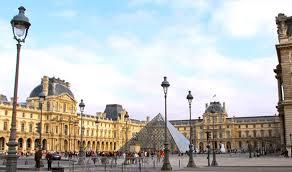 On the French National Day (please don't call it Bastille Day) on July 14, the museum is free for all, but you've just missed that for this year!
For the first time this year, the City has decided to stop offering free parking during August - so if you rented a car for your vacation, be aware of this new fact - meters now need to be fed. But frankly, I would not recommend to rent a car in Paris - with buses and métros everywhere, the city grid is immensely enough to get around.
Walking is definitely the way to see the city - and you'll always have Uber, and taxis.
The aging French crooner Charles Aznavour had a perfect song for the summer month, called Paris au Mois d'Août (Paris in August) - you can listen to it here.
The movie "Paris au Mois d'Août" (1965) in which he acted, is a nice little French romance flick to watch before you take your trip! In the 1950s and 1960s a lot of French movie plots revolved around the concept of French husbands left behind trying a summer fling in the city, while their wives were at the beach with the kids. Hum, no comments!
Questions? Comments! sidoniesawyer@gmail.com.
Visit my website for more stories.
Related