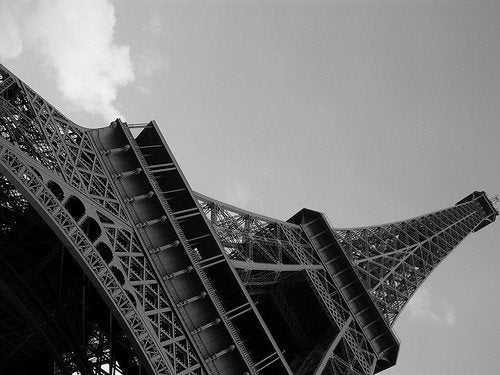 At night, we wander down a side street on the ile de la Cite, damp streets and lamplight on walls, stained glass windows, a gate leading to an inner garden courtyard. This Paris is the one I fell in love with when I was nineteen years old and a university student at the Sorbonne. My love affair with this place has lasted almost all of my life. I once wrote a note to my parents when I was seven reading, "When I grow up I want to be an artist and live in Paris and never get married". Well, I write, I live in Paris and... I will never get (re)married.
I have loved a lot over the years in this city. I have cried, laughed, photographed, sat in corners of my favorite café near the marche d'Aligre... enjoyed yet another late night bike ride or taxi as we head down the quai from the Place de la Concorde to my home near the Jardin des Plantes, passing the buildings, the night lights reflecting in the river... it is magical. I love how this city never ceases to amaze and surprise me with its hidden corners, its Berthillon ice cream flavors of framboise with rose water and deep bitter chocolate, its changing moods, like those of the beloved.
Each season has its magic, and living next to the Jardin des Plantes, I stroll down the alleys of green, then rush through fall leaves, always taking in my favorite field left to grow wild. My daughter's school is housed in the most glorious building in the city, an old sixteenth century brick and stone edifice, with its chapel tower near the Pont de Sully. Then, disturbingly, a police officer sirens his blaring presence and attempts to destroy the beauty. Someone is rude. At times I believe I will grow tired of how French the French are, how Parisian the Parisians are, especially when they complain. But then I stay, come back again, leave and return, feeling both at home and ever the expatriate... that is simply how it has always been and always will be.
My greatest love affair in this city was not with a man but with the city itself. It saw me through the mid to late 1980s, when I was very young and writing, working just to make the rent and to write. I knew almost no one then, but I always had the city itself. I grew up here into an adult in many ways, had my child here, loved Frenchmen, and an American expat like myself.
In fact if a man I loved did not love Paris, I think I could not really deeply love him. The city means too much to me to be derided or criticized. Paris is the lover you always come back to, even if you have been unfaithful for years, by living in Rome or London, New York or Oslo. Those other passions were worthy, but they eventually lost out to the city of lights.
For we, the lovers, Paris is long walks and handholding, a café discovered and a sunset watched from the banks of the Seine. It is picnics in the summer, music even when you want to sleep, the never-ending stories which bring people here with dreams which are fulfilled.
Sartre wrote that France was a woman, and I would add that Paris is the beloved lover. A less romantic soul may not agree. But Paris must be earned. And when it has been, the return home to this golden city of lights, welcomes you like the embrace of the lover. And nothing is better than that.
Related