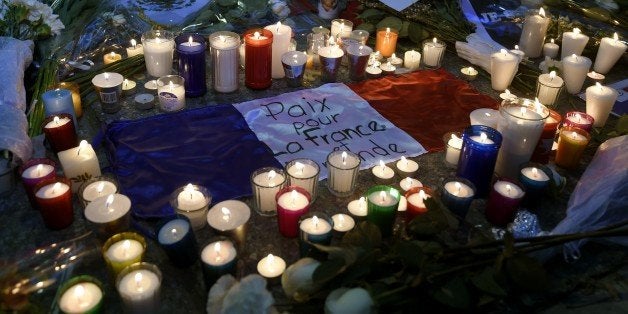 Eight months after the terrorist attacks in Paris in January of this year -- attacks during which the Kouachi brothers killed 12 people at the offices of the satirical weekly Charlie Hebdo and Amedy Coulibaly murdered an unarmed police woman and four patrons at a Jewish supermarket -- something strange happened.
When the literary group PEN announced that it would be honoring Charlie Hebdo, who had attracted the ire of religious fanatics for its drawings of the Muslim prophet Muhammad, with its Courage Award, a group of writers sent a letter to the body to protest this distinction. The letter had been spearheaded by the authors Teju Cole and Francine Prose, who both teach at my former alma mater of Bard College, a place which, at least when I went there, adhered to the rather more open dictum of Walt Whitman which called on artists to unscrew the locks from the doors, unscrew the doors themselves from their jambs.
While adding the rather ludicrous caveat that "the murder of a dozen people...is sickening and tragic" the letter attacked Charlie Hebdo for engaging in "expression that violates the acceptable" and accused the publication of "being intended to cause further humiliation and suffering" to "the section of the French population that is already marginalized, embattled, and victimized, a population that is shaped by the legacy of France's various colonial enterprises." The letter also said that, by bestowing the award, PEN was awarding a publication "that intensifies the anti-Islamic, anti-Maghreb, anti-Arab sentiments already prevalent in the Western world." So, to put it more succinctly, the journalists at Charlie Hebdo had been imperial valets who had brought it on themselves.
(Cole had written an earlier piece for the New Yorker that rather speciously claimed that Charlie Hebdo had "gone specifically for racist and Islamophobic provocations.")
In addition to Cole and Prose, among the largely Anglophone signatories were Russell Banks, Eric Bogosian, Peter Carey, Junot Díaz, Francisco Goldman, Rick Moody, Joyce Carol Oates, Michael Ondaatje, Luc Sante, Charles Simic and, strangely, the New York Times opinion page editor, Clay Risen.
I don't think I had ever been ashamed to be a writer until that moment. It was a scandalous display born out of ignorance of the role of Charlie Hebdo, the function of satire, and the history of modern France as a whole. It was obvious from the nature of the letter that few, if any, of the signatories had probably ever read Charlie Hebdo before the attacks, and had instead formed their opinion on a handful of out-of-context cartoons culled from the publication's 40 plus year history.
The authors seemed oblivious to the fact that satire's function is to sting, not cause guffaws, and that by far the most frequent targets of the publication's cartoonists -- artists such as Jean Cabu, Stéphane "Charb" Charbonnier and Georges Wolinski (all slain in the attack) -- were France's rancid political elite and, especially, the right-wing Front National founded by Jean-Marie Le Pen and now run by his daughter, Marine. One of the cartoons most often used to demonstrate Charlie Hebdo's supposed racism, that of French Justice Minister Christiane Taubira, a women of Afro-Guyanese descent, as a monkey, was in fact mocking far-right attacks against her, not Taubira herself. [For her part, Taubira gave a moving eulogy at the funeral of Hebdo cartoonist Bernard "Tignous" Verlhac.] The signatories simply threw to one side the publication's long history of attacking Catholicism, Judaism and, indeed, organized religion of any sort. They seemed unaware of the series of articles Charlie Hebdo's slain economist, Bernard Maris, had written on the effects of austerity on Europe's most vulnerable, especially in Greece, or that the magazine had spoken out in furious dissent against the 2008-2009 and 2014 Israeli assaults on Gaza.
As the French academic Olivier Tonneau wrote shortly after the attacks in response to the venomous social media slander against the paper's slain staff, "if you belong to the radical left, you have lost precious friends and allies."
(Nor were the PEN signatories alone in libeling the dead. The U.S. journalist Glenn Greenwald wrote that Charlie Hebdo was "not just offensive but bigoted" and engaged in "a stream of mockery toward Muslims generally" and "the vast bulk of their attacks are reserved for Islam and Muslims.")
Now, 11 months after the Charlie Hebdo attacks, in La Ville Lumière 129 more lay dead. They were black, white, brown (black, blanc, beur in the French phrase), men, women, Christian, Muslim, atheist, straight, gay. They were committing no other crime than sitting out to have a drink on a warm autumn night, going to see a football match or going to see a rock band play. That scurrilous display of those writers can't help but return to my mind.
Today, it is the false narrative, advanced by both left and right, that last week's attacks were the result of France's so-called "Muslim" problem, with a focus on the supposed radicalization taking place in the banlieues, as the poor, heavily-immigrant suburbs which ring many French cities are known, and a blow struck against the "white" city of Paris.
Having come to France through a somewhat roundabout route of years working in Haiti and the Democratic Republic of Congo, and having only lived in heavily-immigrant neighborhoods (Château Rouge in the 18th arrondissement and Bagnolet, just beyond the périphérique ring-road from Paris proper), I have perhaps a different perspective on this than some foreigners. I've spent a fair amount of time in the banlieues of Paris, and covered the November 2007 riots in the suburb of Villiers-le-Bel from the ground. Though they have plenty of problems -- unemployment hovers around double the national average, with that for 21- to 29-year-olds ever higher -- a propensity for radical Islam is not one of them.
The so-called "problem youth" I met in places like Villiers-le-Bel and Clichy-sous-Bois (itself the site of riots a decade ago), were about as far away from Islamist as one can get, drinking alcohol, smoking hash, racing up and down the boulevards on their scooters to a soundtrack of French and American hip-hop music.
The pool of these people who would gravitate towards radical Islam was -- and is -- very small, and those who become jihadis are the same ones who would go shoot up a school or movie theater in the United States without the religious trappings, alienated losers with no life and few opportunities, scorned by many, often including their own families, not because of their ethnicity or religion, but because they are viewed as dangerous malcontents. Somehow a burqa-clad Marianne, the female national symbol of France, does not seem a realistic fear to me.
That isn't to say religion plays no role in France's current anguished self-examination, but to see this series of attacks on Paris -- which ISIS in its "communiqué" referred to as "the capital of prostitution and vice" with all the venom of a nerd being left alone at the school dance -- as a political statement by an oppressed minority is thoroughly absurd. Among the Muslims who have emigrated to Europe and their offspring, there are good people and bad people, strong and weak, secular and fundamentalist.
They are, in short, like people everywhere else. The image, somewhat massaged by both apologists of the left and blowhards of the right, that France's Muslims are bearded salafists heading to the mosque to listen to some deranged imam's calls for jihad, scorned by society, is so far off the mark as to enter the realms of science fiction, as is demonstrated by how many Muslims caught the terrorists' bullets while out at the bars last Friday night.
The immigrant and Muslim communities of France and especially Paris are an integral part of the city and help give it much of its pizzazz and joie de vivre. In my heavily-immigrant neighborhood of Château Rouge, virtually all the bars were owned by Algerians and Tunisians, who were quite happy to quaff a pint at the end of the day. And though France's anti-freedom of expression "hate speech" laws can often be selectively enforced (witness the case of the anti-semitic comedian Dieudonné, which I wrote about here), none of that exculpates such an attack, nor does it excuse discourse on France by a clutch of writers who barely know the country at all.
There has been a bizarre grief contest on social media suggesting, alternately, that if one mourns the dead in Paris and the attacks against the city, one could somehow not mourn recent terrorist attacks in Lebanon and Turkey, those dying in the civil war in Syria, or those being killed by Boko Haram in Nigeria, and that the media had "ignored" such stories, even though they all have received -- and continue to receive -- extensive coverage in every major paper in Europe and North America. Perhaps if people spent less time circulating fake Buddha and Bob Marley quotes they would have noticed.
A Brazilian friend of mine currently based in India (a country that knows a little something about religious-inspired terror) introduced me to the perfect term for both the critics of Charlie Hebdo and those whose mockery and critiques of the genuine pain of so many after the Paris attacks appeared to reveal nothing if not a collection of curdled souls: Catastrophe sommeliers.
After any major example of man's inhumanity, religious fanaticism or simple tragedy, they would appear portentously at the world's side, napkin draped over their arm to decide who, what, where and for how long it was proper to mourn, or whether one was allowed to mourn at all.
And as for me? It would be nice to move back to Paris someday, if I can ever get the money together. In terms of the letter-signers, Michael Ondaatje used to be one of my favorite writers, and I rather liked Francisco Goldman but I'll never buy another book by either man again, and am thinking of getting rid of the ones I have. Most of the rest always struck me as wildly overpraised, so no great loss there.
Though Paris is in deep mourning and will likely remain so for some time, a nation that survived the horrors of a Nazi occupation, World War II and the slaughter of the Paris Commune will certainly wash off the blood, shake off the broken glass, kick the shell casings into the sewer where they belong and get back to doing what it does best, acting as a crossroads for men and women of all faiths and all backgrounds to sample its various charms.
Behind the Bataclan concert hall, where 89 died, an image has already been posted up of five people raising a glass of wine in mute salute under the words Paris encore debout (Paris is still standing). Charlie Hebdo's cover after the attacks was a beret-wearing French caricature guzzling bubbly, which then pours out of copious bullet holes in the figure's body, along with the words ils ont les armes, on les emmerde, on a le champagne (They've got the weapons, fuck 'em, we've got the champagne).
The spirit of Paris, of Charlie Hebdo and the spirit of those lives -- so many of them so young -- snatched away last week can never fully leave us. They will be with us as people drink and eat and laugh and flirt on the cafes along the Canal Saint Martin, the sunlight filtering down through the leaves of the trees as their branches move in a delicate ballet from even the faintest breeze.
They will be with us as people from dozens of countries gather at the Marché Dejean in my old neighborhood to sell their wares and to seek new opportunity in their adopted land. They will be with us in the crowded basement clubs in Oberkampf where people know what it is to be young and full of possibility.
They will be with us as one looks down from the Basilique du Sacré-Cœur in Montmartre at dusk and sees a magnificent, multicultural city spread out beneath them, a thousand possibilities therein yet to be discovered. And they will be with us wherever people feel their hearts are free, and full of love for their fellow human beings.
It is a love that those who attack this beloved city and its culture, whether with kalashnikovs or keyboards, would be fortunate to one day know.
Popular in the Community