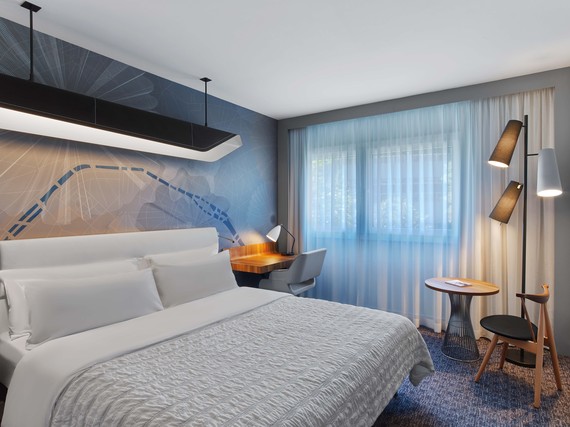 Built in 1972, and once owned by Air France back when airlines owned hotel chains (Pan Am and Intercontinental, Swissair and Swissotel, etc.), Le Meridien Etoile was then, and remains today, Paris' biggest hotel, and the second-largest in all of France (only the Disneyland Paris' Newport Bay Club in Marne-la-Vallee, at 1098 rooms, is larger). So how does it manage not to feel huge?
After a multi-million dollar redevelopment ("refurbishment" doesn't do justice to the scope of the project), it's also Paris' "newest" hotel (notwithstanding that the Paris Ritz, which isn't quite fully operational after its unfortunate fire, also underwent a major renovation).
Decor has something to do with the small hotel feel. The custom furnishings borrow inspiration from mid-century modern designers (Greta Grossman, Charles and Ray Eames, and Warren Platner), and make the rooms read more architectural than corporate.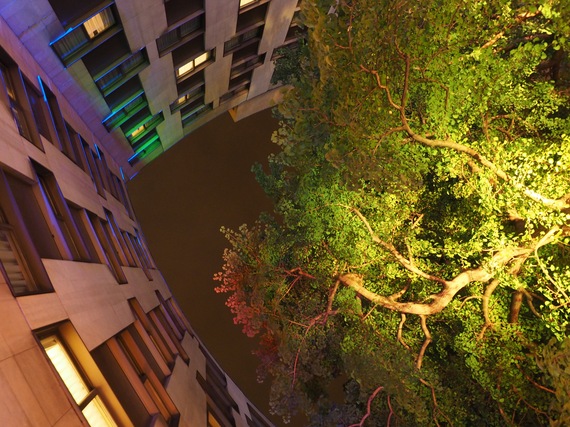 The elliptical shape of the Brutalist nine-story building, with its inner courtyard, seen here at night, belies the hotel's size.
I was shocked to learn half-way through my stay that my room was just one of 1,025 others. All the rooms showcase the same calming color palette, with grey and light blue predominating and provide excellent lighting (including high-intensity bedside reading lights) along with lots of different ways to charge electrical devices at the desk and both sides of the bed (including US-and European-standard electrical plugs and USB outlets), essential these days not just for business travelers.
Yet, even though this is primarily a business hotel, somehow it doesn't feel like it.
Off the large lobby, with numerous intimate seating areas, a jazz club, popular with guests and locals, adds a taste of Paris as does the original Paris-themed artwork throughout the building.
Another plus: the location, a five-minute walk from the Champs-Élysées and the Arc de Triomphe in the 17th district, and just five minutes' walk from the Metro and the Gare de Neuilly-Porte Maillot rail station, served by the airport express bus from both Orly and Charles de Gaulle airports.
And then there's the value: I found winter rates as low as 170 euros ($190) on the hotel's website, although for other check in dates I found better rates, oddly, on Tingo.com and similar third-party hotel booking sites. However, I did find a 50% off deal for a second adjoining room, if you're traveling with children 21 years or younger, on the hotel's website.
Either way, these are great rates for a well-located, well-run, and "new" Paris hotel.
Usually when I stay in a hotel at least one little thing annoys me. Maybe a sink got clogged, housekeeping skipped my room, or the shower's water pressure trickled instead of gushed (all three things happened not long ago at a chic London hotel). But when I checked out after my recent two-night stay at the Le Meridien and the front desk clerk asked how I enjoyed my visit I could honestly answer "parfait."