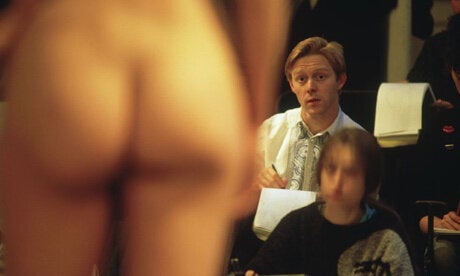 Scroll down for NSFW photos
The Guardian is reporting that life models in Paris are so angry they are not getting the respect they deserve, they went on strike -- naked.
Paris is now being accused of showing such philistine ingratitude to its life models that scores went on strike yesterday, taking to the streets to pose naked in freezing temperatures to shame the state.

In front of the tastefully decorated Christmas trees outside Paris city hall's culture department, the naked and goose-pimpled models demanded a pay increase, proper contracts and, most of all, respect for their craft as they held trade union banners in the pose of Delacroix's Liberty Leading the People.

The disrespect shown to the models was "proof that something is badly wrong with French society", shouted one shivering male model through a megaphone. Artists, students and art teachers sat sketching them in support.
ANI reports that the protest started because life models were angry they were suddenly denied their tips.
The protest had started after Paris city hall, which runs an array of life-drawing classes, banned the tradition of the "cornet", which is a piece of art paper rolled into a cone and passed round for tips as a model gets dressed after class.

The models, who have to survive on a minimum wage with no fixed contracts, holiday pay, security cover or job security, said the tips allowed them to survive.
Times of London writer Charles Bremner has written in his blog that the Deputy Mayor in charge of culture has been sympathetic to the demonstrators.
Chrisophe Girard, Deputy-Mayor in charge of culture, was sympathetic to the demonstrators, who put their clothes back on to talk to him. The city banned the tips because students were complaining and because it's against French law to tip public servants, which is what the models technically are. Girard was nevertheless sympathetic to their cause and promised to seek a ruling from Christine Albanel, the Culture Minister, on a statute for them. The Deputy Mayor was himself once a model. He posed for pocket money when he was an art student in Angers.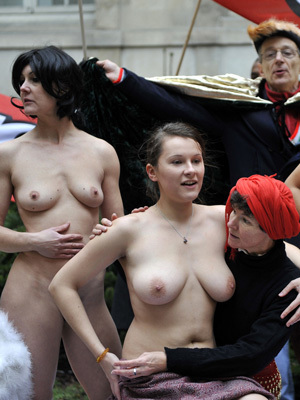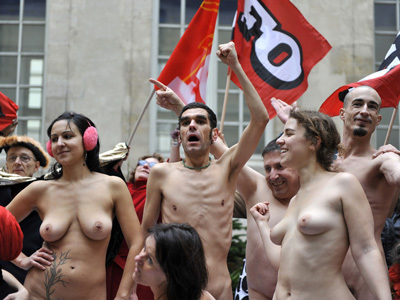 Photos courtesy of the Associated Press
Related
Popular in the Community