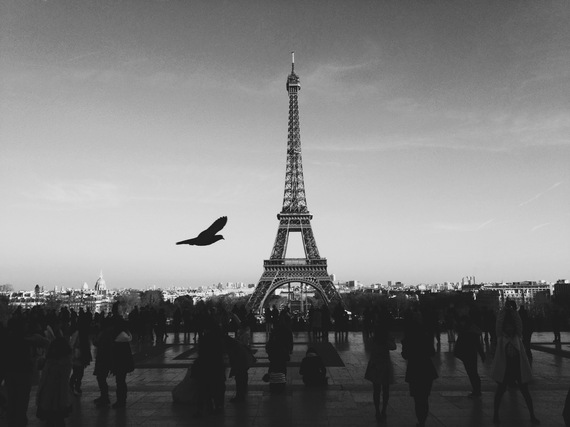 Paris to me is sacred. And I'm sure you have a place that is sacred to you. I have no answers regarding the unbelievable loss, no political statement to make. But I will say this: my life's work is dedicated to human rights, to the core belief that every voice matters, that every human being matters, and that there is always a light that can be found in the darkness. And Paris has always been a light for me.
Les Misérables is my favorite story. I've seen every iteration and run of the musical, multiple times. I've read the novel, both in English and 19th century French (ahem, ok, still working through that version). Victor Hugo, its author, was a novelist and a human rights activist, and among the many reasons I cherish this story, is the vision it gives me of a tiny light in the darkness, a flickering candle in the dead of night, a glimmer of redemption amidst utter injustice, a triumphant moment of love over unspeakable suffering.
I am giving a talk on Human Rights Work in the 21st Century: Innovation, Technology, and Social Impact three days after the attacks in Paris. As I was looking over my remarks in preparation, the symbol that was already spreading around the globe, thanks to digital technology, kept coming into my mind. The Eiffel Tower encircled by a peace symbol. I thought about John Lennon and his plea to imagine a world of peace. I thought about someone I went to school with, also a lawyer, who practiced anti-corruption law and played soccer, who died in the attacks.
How I feel about Paris is how many people feel about Paris, and how others feel about other places too. And I would feel the same way if my beloved California were attacked, or Cambodia, or Chile, or Rwanda, or London, or Washington D.C., or New York. These are places where I have loved and lost, where parts of me have lived and died. Places where I've advocated for the rights and freedoms of others, developed my foundational value that we are all worthy, and equally and intrinsically valuable.
There are no easy answers to questions like why the Paris attacks happened, and how we can prevent violence like this from occurring again, if there are any to be found at all. And in horror, war, grief, and anger, there are no simple ways out. But I do know this: the illusion that we are separate could be the cause of all conflict and strife in this world; the farce that someone's life matters less or more than yours, that we are not all connected. As Paul Farmer says, "The idea that some lives matter less is the root of all that's wrong in the world." We must be willing to speak out, to sing out, for ourselves and others, for freedom, equality, and humanity, even if our voice shakes.
Right after the attacks, evacuees sang the national anthem as they were being ushered out of the Stade de France. The next day, a musician played "Imagine" on a piano outside of The Bataclan. Amidst the devastation and carnage, Paris is forever beautiful. Forever strong. Forever a lyrical place of wonder. Forever about life and love. Hate cannot have her.
"Do you hear the people sing Lost in the valley of the night? It is the music of a people Who are climbing to the light." ~Les Misérables
When I think about Paris being desecrated, draped in tragedy, I'm filled with sadness. We must also grieve Beirut, and Baghdad, and senseless violence everywhere. It should make us angry, and make us sad. And we shouldn't put away our grief, we shouldn't turn away from it. Stuffing grief away tends to force it to break out in other ways. We should channel it into fighting for humanity.
"Those who do not weep, do not see." ~Victor Hugo My classmate who died in the attacks was a bright light to his friends and family. Be a light like he was. Carry on his flame.
In the darkest of nights, the City of Light will shine, because it's a city that celebrates life. Among the great joys in life is having dinner at an outdoor cafe in the 5th arrondissement, perusing bookstores in the 6th, wandering along the banks of the Seine, or floating down it in the Bateaux Mouches. This is part of the great shock of such meaningless violence in a place of such enchanting bliss. I have lived some of the greatest days of my life in Paris. I have loved there, had some of the most profound love story moments of my life there. That is Paris, for me, and for many others. So hate, you cannot have Paris.
"We love you Paris, you are what love is to all of us." ~Atticus Can we then also see each city and place, as someone's most sacred place? Each person as someone's daughter or son, father or mother, friend or lover? Life is sacred, fragile, and ultimately, fleeting. Can we find solace in the acts of bravery and kindness that happen amidst the horror, and the wisdom of those who came before us, of souls like Gandhi and Martin Luther King, Jr., of those who have fought for justice, empathy, and love?
"Where there is love there is life." ~Gandhi There is no wishing away someone's grief, no way to understand the exact pain of others. There is only compassion and solidarity. There is only a vision and a dream of liberté, égalité, fraternité. MLK, Jr. dreamt it, John Lennon imagined it. Can you see it too?
"Darkness cannot drive out darkness, only light can do that; hate cannot drive out hate, only love can do that." ~MLK Jr. We all come to every event from our own different backgrounds, patterns, stories, and histories. We all look at the world through our own lens, often unaware that we are seeing things through a filter. Those filters can make it difficult to see others' perspectives and can make it tempting to react with fear and hate at a time like now, instead of with empathy. So instead of focusing on what you hate in this moment, support what you love. Because the world needs you, the world needs you to support what you love. We don't have time to waste. People are dying everyday due to hate. Maybe they always will. And this haunts me. I am tormented by the things I cannot do, the ones who cannot be saved, the trauma, the injustice, the abuse, the racism, the sexism, the bigotry, the devastation. But this can eat us alive if we let it. Instead, I try to focus on what I can do. The faces and stories of people, near and far, and their rights to freedom, futures, and dignity, guide me back. The little moments of light. Let what you love guide you back too.
I dream of the next time I will meander through Le Marais, gaze at the great masterpieces in the Musée d'Orsay, eat at my favorite restaurant in the 2nd, sit in the sun outside Le Louvre, stand in the midnight shadow of the Tour Eiffel as it sparkles, a beacon in the night, in the magic and mystery of my favorite city, in the embrace and marvel of a place I love so much, the City of Light.
"Even the darkest night will end and the sun will rise." ~Victor Hugo I mourn the tragedy in my beloved Paris, for my friends and everyone there, for a city and community that lives forever in the most treasured recesses of my heart. And somewhere else is someone's Paris. So be a light in the darkness. Be a candle in the night. Be a glimmer of shining hope against a dark sky. And start now, because the world needs your light.
Calling all HuffPost superfans!
Sign up for membership to become a founding member and help shape HuffPost's next chapter