An ultra-Orthodox Jewish newspaper in Israel appears to have edited out female world leaders from a photograph of Sunday's anti-terrorism rally in Paris, Israeli media reported.
More than a million people gathered in Paris on Sunday to honor the victims of the attacks on the Charlie Hebdo offices and a kosher supermarket in the French capital last week. Presidents, prime ministers and royals from around the world flew in to show their support and posed arm-in-arm for a picture that became a symbol for the sorrow felt across the world in the wake of the attacks.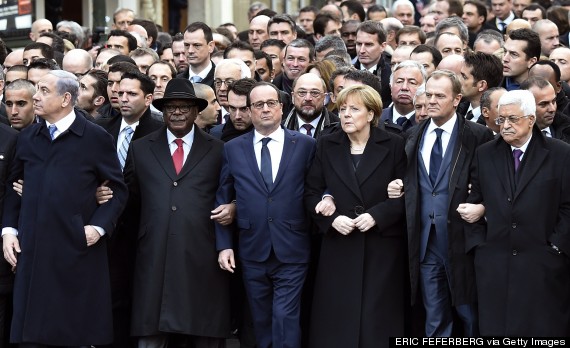 World leaders march during the unity rally Marche Republicaine on Sunday in Paris (Eric Feferberg/AFP/Getty Images)
Israeli site Walla!, however, noted that when ultra-Orthodox paper HaMevaser (The Announcer) ran the iconic photo, female leaders including German Chancellor Angela Merkel and Paris Mayor Anne Hidalgo were all of a sudden missing from the scene.
HaMevaser's editing decision is not all that surprising, wrote Allison Kaplan Summer in the Israeli newspaper Haaretz. Kaplan Summer said that ultra-Orthodox communities regularly limit the appearance of women in public, including sometimes cutting their images from publications or advertisements. "Sometimes, astonishingly, they even refrain from printing women's names, not just their photographs," Kaplan Summer wrote.
In fact, it's not the first time in recent years that an ultra-Orthodox publication has cut a female leader from a photo in its print. The New York-based paper Di Tzeitung decided in 2011 to erase then-U.S. Secretary of State Hillary Clinton from the image showing American leaders during the raid on Osama bin Laden's compound, The Telegraph noted.
HaMevaser's editorial decision is not the only controversy surrounding the photo of Sunday's march. While the angle of the image that was originally circulated suggested that the world leaders were surrounded by fellow protesters, the footage later distributed by French television showed that there was a large gap between the leaders and the general public.
The Independent noted that while the decision to separate them is understandable as a security measure, it did lead many on social media to mock the deceiving presentation.
Related
Popular in the Community