As the Islamic State cheers and takes credit for one of the most deadly terrorist attacks in modern France, emotions are running high in the nation -- especially among its 5 million-strong Muslim population, which is accustomed to being under watch and threat after extremists who also call themselves Muslims wreak havoc.
According to news reports, worshippers at the Grand Mosque of Paris in the city's 5th district and Muslim centers across the country were bracing for backlash as a few reports trickled out of anti-Muslim acts.
Muslims were preparing to be "collateral victims of terrorism," Muslim news site Saphirnews reported. Over the weekend, red crosses were painted onto a wall of an eastern Paris mosque, the website said. And slogans reading "France, wake up!" and "Death to Muslims" were written on the walls of other mosques around the city, according to French daily Le Parisien.
At the same time, some French citizens -- banned by police order from demonstrations in Paris until Thursday -- were expressing their support for French Muslims and Muslims worldwide on social media and organizing interfaith gatherings.
"Terrorism has no religion or nationality," wrote Grand Mosque demonstration organizer Samia Edd Cardi, a Muslim and tech entrepreneur, on the event's page, which also gathered atheists and Christians who said they would attend. Cardi did not reply to a message on Facebook from The Huffington Post, and the Grand Mosque of Paris did not return a message requesting information about the event.
At the Cathedral of Holy Trinity in Paris, imams from around the globe are scheduled to gather for a meeting of the World Union of Experts of Islam for Peace and against Violence, which was already planned ahead of the attacks but is now taking on even more urgency. Bishop Pierre Whalon of the Convocation of Episcopal Churches in Europe will host the meeting.
"After this heinous attack, we may wish for God to come down and wipe out our enemies. Instead, Christ on the cross, completely powerless at the last, shows us that it is only love that can overcome hatred, evil and even death," Whalon, who is based in Paris, said in a statement.
A 10-day series of interfaith events had also been scheduled in Paris from Nov. 12 to Nov. 22, including a Sunday march. It was not immediately clear if it would go on after the temporary ban on demonstrations, or how the events would change in reaction to the attacks.
The attacks should not stop "our determination to work for peace, solidarity and knowledge" of each other, the Islamic-Christian Friendship, an organization involved in the interfaith effort, wrote on its website.
Within hours of Friday's attacks, Muslims in Paris were already on high alert for reprisal incidents. Many feared the actions of the Islamic State would be blamed on all Muslims, though the terrorist group has killed indiscriminately throughout the Middle East and left thousands of Muslim, Christian and Yazidi refugees fleeing for their lives.
"I am worried some French people will think Islam did this, that all Muslims are terrorists," Kaber Bouchoucha, 24, told the Guardian.
Anti-Muslim sentiment had already been on the rise following the attack on the offices of Charlie Hebdo in January. Anti-Muslim incidents rose 281 percent in the first three months of 2015 compared to the same quarter last year, according to the National Observatory of Islamophobia.
"Already people in France look at us badly," Bouchoucha told the Guardian. "There already is racism and this will make it worse."
But in the midst of anger, many around the globe pledged solidarity with Muslims who are as appalled by Friday's attacks as anyone else. On Twitter, the hashtag #MuslimsAreNotTerrorists was trending over the weekend with thousands calling on the global community not to conflate Islam and terrorism.
"Sacred love of the fatherland, guide and support our vengeful arms. Liberty, beloved liberty, fight with your defenders," goes the song. "Under our flags, so that victory will rush to your manly strains, that your dying enemies should see your triumph and glory."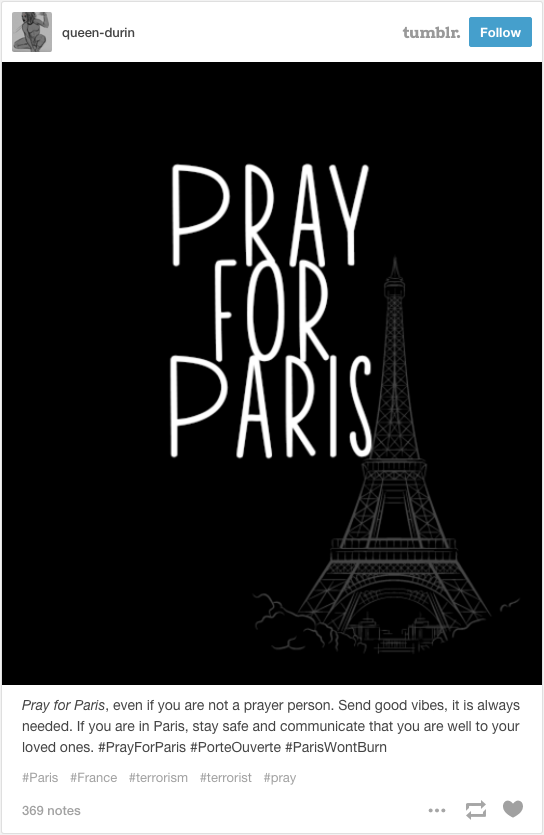 Messages Of Solidarity For Paris
Related
Popular in the Community