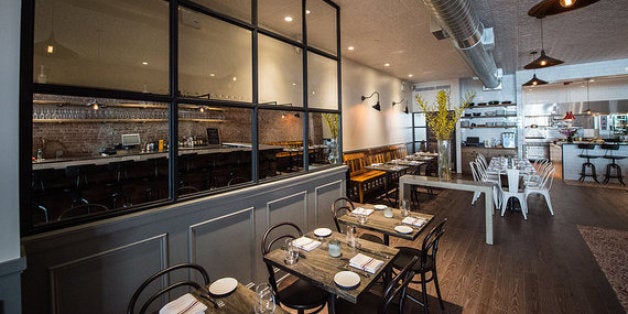 Translations of French into English can be awkward when it comes to restaurants, like those failed attempts opened by celebrated absentee chefs Alain Ducasse, Louis Outhier, Jacques Maximin, and Claude Baills. One enchanting exception is Racines, the year-old offshoot of two Paris wine-centered restaurants of the same name (on Rue de l'Arbre-Sec and Passage des Panoramas).
The décor of the NYC branch evokes those of its predecessors, and the style of cooking is fresh, modern and wholly personalized, in this case by Chef Frédéric Duca (below), a native of Marseilles, who's worked at top restaurants like Le Martinez in Cannes and Hélène Darroze in Paris, receiving his own Michelin star at his restaurant L'Instant d'Or in Paris in 2013.
Racines NY does not call itself a wine bar, but partner David Lillie, owner of Chambers Street Wines, and owner/sommelier Arnaud Tronche's cache of ever-changing natural, organic and biodynamic wines underpins the thrust of the little Tribeca restaurant, with two cellars stocked with more than 800 labels, 9,000 bottles, and 40 reds and whites available by the glass (starting at $9). Indeed, the restaurant's name does not refer to the French neo-classical dramatist Jean Racine but to winemaker Claude Courtois's signature "Racines" blend.
The slip of a dining room is not unlike many in the neighborhood--a mix of white subway tiles, wooden floors and tables, exposed brick and duct work, and hanging lamps, with a small open kitchen, with marble counter for four people, where Mr. Duca and his staff work their magic. Photos of French vintners dot the walls. It's a pretty place, unpretentious and convivial, and somehow the noise level is not too high, given the soft surfaces here. My wife and I talked our heads off amiably all night.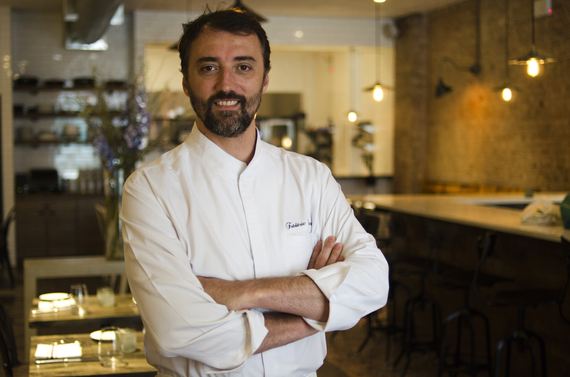 You may dine at the bar on charcuterie and small bites, but the menu in the main part of the room is where you'll discover just how inventive Mr. Duca can afford to be, largely because his techniques are so indelibly grounded in the principles of traditional French cuisine. Thus, a dish of sautéed snails are as French as you'd ever wish, with watercress and roasted garlic accompanied by saffron potato croquette ($12). Sea scallops are flash sautéed and served with sunchokes, hazelnut, juniper and orange ($35), and in his rendering of a perfectly steamed egg with polenta, Comté cheese, and a lush foie gras sauce ($12, with black truffles $20 supplement) you taste just how precise his cooking is, with every element in elegant balance.
Squid is velvety, sided with chickpeas, tangy preserved lemon and an olive vinaigrette ($12), evoking Mr. Duca's Mediterranean roots, and he does an impeccable fregola sarda risotto ($19), rich and buttery, tender and aromatic.
It is often argued that a chef shows his true talent in simply roasting a chicken, which, frankly, is not all that difficult these days, if you begin with a full-flavored chicken. Where Mr. Duca shows his spark is in cooking the chicken to bring out those essential and to serve it with complementary black trumpet mushrooms, salsify and an "oxy" sauce, based on a chicken stock enriched with a slightly oxidized white Roussillon Grenache ($29).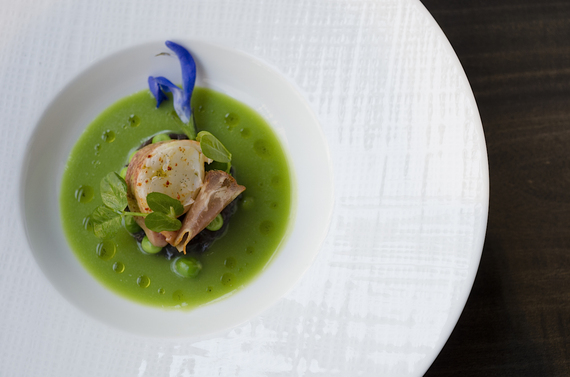 There is, of course, a fine cheese plate ($18), and, as throughout the meal, Mr. Tronche is here to match the perfect wine to his and your liking, such as the 2012 Camin Larreyda Costat Darrèr from Jurançon he proposed the night I dined there.
Desserts ($11) all provide the same kind of simple, straightforward delectations, from a coffee parfait with candied orange, mint and chocolate sauce to a chocolate and caramel tart and a pommes Tatin with cinnamon crème anglaise and madeleine cookie. Nothing fancy, just delicious.
Mr. Duca is not trying to dazzle his guests, and that is his most admirable virtue. Instead of over-thinking dishes and listing too many of them for such a small kitchen, he instead focuses with a laser's intensity on every element of each dish--its texture, the correct temperature, when to add other ingredients, how to season. "Lovingly prepared" and "cooking from the heart" are clichés in culinary writing, but to say that the cuisine of Mr. Duca is so definably his is to pay him the highest praise.
I suspect that if I lived in Tribeca, I would be at Racines once a week, especially on those nights when I just wanted a very good meal with very nice people serving very good wines. Racines is a restaurant to cherish.

Open Mon.-Sat. for dinner. The $75 five-course menu is a terrific bargain.
RACINES NY
94 Chambers Street (off Broadway)
212-227-3400
http://www.racinesny.com