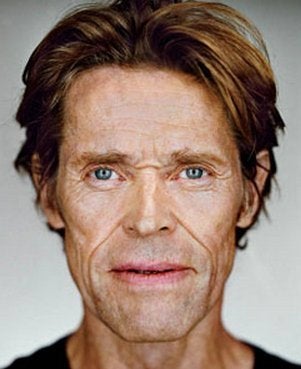 Portraits are back. Not that photographers ever stopped shooting people, but the pendulum that cyclically favors, say, formalist geometries or landscape over revealed persona, has swung back in full force this year. At least that was the takeaway at Paris Photo, the world's top photography gathering. Now in its 16th year, the fair hosted 128 galleries and 23 publishers, from 22 countries, and attracted over 54,000 visitors. Having noticed a certain density of portraits of every era and kind, I collared 16 gallerists with the most compelling ones on display and got them to talk to my camera (see videos below).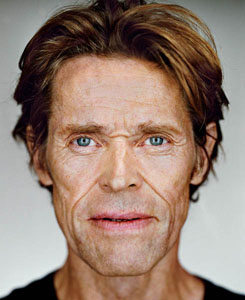 ....................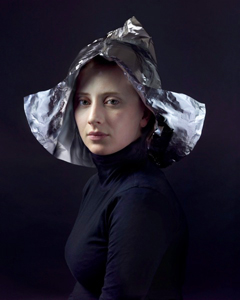 Willem Dafoe (2012), by Martin Schoeller.....................Aluminium (2012), by Hendrik Kerstens
© Martin Schoeller..........................................................Courtesy Danziger Gallery, New York
Among the lineup were Robert Mapplethorpe, Don McCullin, Martin Schoeller, Jean-Baptiste Mondino, Annie Leibovitz, Katy Grannan, Larry Sultan and possibly the first photographer to shoot his own image -- in 1848 -- Gustave Le Gray. Seen around town as well, during Paris' cornucopic Month of Photography, were portraits in Andres Serrano's ongoing "America" series, a glamified democracy; the faces of Japanese tsunami survivors blown-up into topographies of tragedy by Denis Rouvre; and the astonishing output of discomfiting auto-portraits by a teenager named Sarah N. at the Maison Européenne de la Photographie.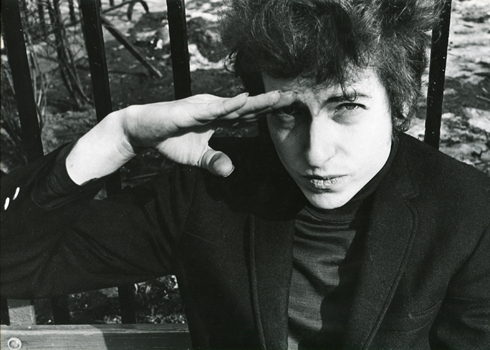 Bob Dylan in Sheridan Square Park, NYC, January 22, 1965, by Fred McDarrah.
(Courtesy Steven Kasher Gallery, NYC)
It would have been enough to offer -- under the soaring Belle Epoque steel-and-glass canopy of the Grand Palais -- the feast of images brought together by the world's top photography galleries. Added to the endless arrays of svelte, quirkily designed photography books at the chock-a-block stalls of publishers and booksellers, many of them gems of original through-a-lens alchemy. (Note to young photographers: The winner of the Aperture Foundation's Photobook of the Year award was self-published, and his girlfriend did the design.) Not to mention the usual round of parties that garnish any high-profile art fair, many in this case convening at David Lynch's still-hip subterranean nightclub Silencio over on rue Montmartre. Photography, so banal in the bigger world for being so inevitable and en masse, seduced the crowds at Paris Photo as if it were only just invented.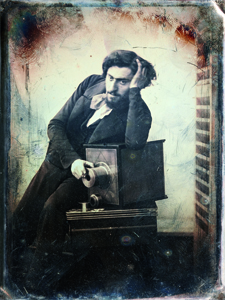 ....................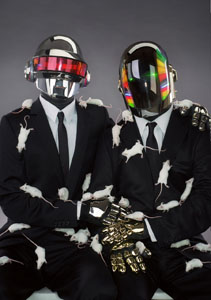 Self Portrait (1848), by Gustave Le Gray..................Daft Punk (2005), by Jean-Baptiste Mondino
Courtesy Serge Plantureux........................................ Courtesy M+B Gallery, Los Angeles
But also in the mix was the ambitious "Platform" series of on-stage panels, organized by MoMA's photography curator Roxana Marcoci, and one was on Photographic Portraiture -- which included the photo curators of LACMA, the Guggenheim and Huis Marseille in Amsterdam. (Other events included Hilla Becher, Rem Koolhaas, Martin Parr, Thomas Ruff and Taryn Simon.) Threaded into the discussion were recent psycho-neurological studies on face recognition, the concept of doubling and mirroring (pairs are inherently powerful, but also, said one curator, a ploy by young photographers to get attention), and... the punctum. Often invoked in the more rarefied reaches of the photography world is Roland Barthes' use of the Latin punctum to refer to the inciting point in a photograph that activates the visual field enough to stimulate the imagination, aesthetic frisson or extra-usual empathy. Jean Noël de Soye from In Camera Gallery, spoke to me about a portrait shot by Edouard Boubat of his beloved muse Lella, asserted that the photo's punctum was her dark eyes, echoing the dark brassiere gauzily visible beneath her blouse. I had never heard the term before -- a fusty name for what happens when eyes confront image: Magnets pull us to loci of meaning, novelty, or sensation.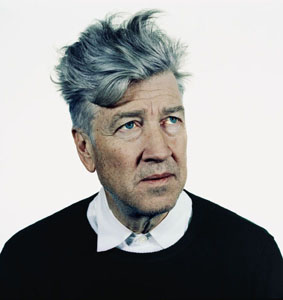 ...............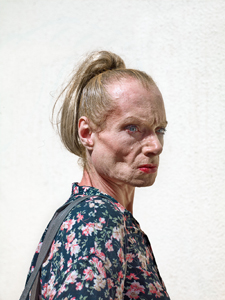 David Lynch I (2007) by Nadav Kander.................Anonymous, San Francisco (2009), by Katy Grannan
© Nadav Kander, Courtesy Camera Work Gallery.................© Katy Grannan, courtesy Fraenkel Gallery
"Platform" is the hyper-rational face of a fair that celebrates a defiantly non-verbal medium. Between hypnotic strolls in and out of booths full of vintage, notorious, or just-minted pictures, one could hear debates about the "fluidity" or "impurity" of photography, the Dusseldorf school and its influence on American photographers, that perennial puzzler, "architecture, urban photography and propaganda," or David Lynch talk about why he chose the 99 photos he was invited to choose from the 1000 submissions of attending galleries. The first in a planned series of celebrity "curators" who each year will be asked to jury their own volume of favorites, Lynch spoke repeatedly of an ineffable "thrill" that makes him pick with gut certitude one odd rectangle over hundreds of others. A visual artist himself, in film and art (Steidl published a hefty tome of his works -- everything from blithe napkin doodles to dark, layered paintings), Lynch spoke at times simply, at times cryptically, about the unique theater he creates in his mind with the cues a particular photograph affords. And he insisted that while doing so, he preferred not knowing titles or photographers' identities, so as to enter the photo's world without preconceptions. Not a great prescription for blue-chip sales perhaps -- it's the name on the shot that usually pries loose the checkbook -- but the resulting book proved intensely personal. The brass of Paris Photo hope to recreate this trick and others up its sleeve when it launches its first foreign franchise in April 2013... on the lot of Paramount Studios in Hollywood. But Paris will be a tough act to replicate.
Michael Kurcfeld is a documentary producer and journalist based in Los Angeles and Paris (http://www.stonehengemedia.com).
REAL LIFE. REAL NEWS. REAL VOICES.
Help us tell more of the stories that matter from voices that too often remain unheard.