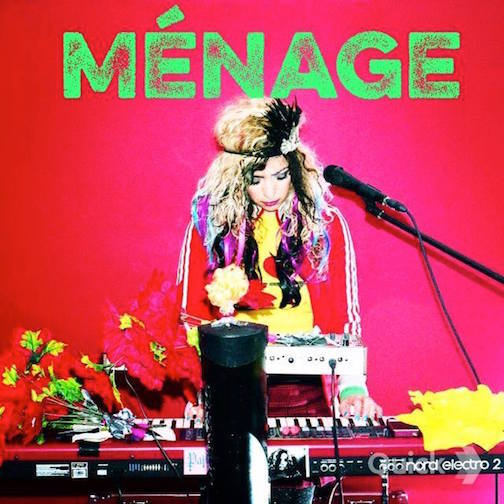 It really was an "only-in-LA" type of moment. You know, right?!
I was dining with an actor pal Robb Salovich before seeing the workshop run of another actor-friend Raymond J. Barry. His very evocative play Foreclosure officially premieres in January 2017 at the Greenway Court Theatre. Robb and I are in a bar on Fairfax Avenue and a song comes on the sound system, Shawn Mullins' 1998 hit single, "Lullaby," an ode to LA which mentions being in a bar, you know, on Fairfax.
"Lullaby's" lyrics are just so bang on about LA. We all know people who "grew up with the children of the stars." We've all seen our "share of devils in this angel town." And, anyone in the arts and entertainment business knows how spot on this verse is:
"I ain't so sure about this place
It's hard to play a gig in this town and keep a straight face
And it seems like everybody's got a plan
It's kinda like Nashville with a tan."
--Lullaby, Shawn Mullins
"Nashville with a tan" -- great tune, dead-on lyrics, and everyone here does have a plan or a script or a digital download.
Which brings me to a bunch of new music by some talented pals of mine. Who needs Nashville when there's a ton of talented musicians constantly spinning out new tunes here on the Left Coast!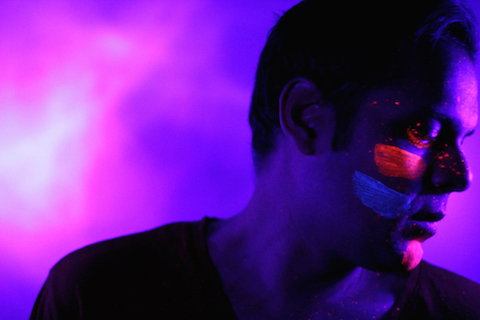 Tony Aguilar's Paris Radio - Tangled Shadow
Released this week, is Paris Radio's very seductive new single, "Tangled Shadow" -- a great hook, and cool big guitar and synth sounds from the 80s and 90s, along with a tasty dash of hypnotic electronics. Tony Aguilar, a.k.a. Paris Radio and previously of the LA band Voxhaul Broadcast, recorded all the instruments and vocals at his Highland Park studio. Aguilar says it was mixed by James Reynolds a "great producer/engineer from London" who's worked with Snoop Dogg and Selena Gomez and many indie artists.
Aguilar, who quips that he's going to try and keep a "straight face" when he plays a gig at The Satellite in Silver Lake on June 5, explains his new single:
With it, I really got to indulge in the straight up rock and roll style of playing which I've loved for a long time. After Voxhaul Broadcast broke up I started to find myself musically. I began to love listening to music with heavy synth sounds and electronic elements. So when I began writing the songs for Paris Radio I wanted to incorporate my love for all of those musical elements. [Laughs] I wrote "Tangled Shadow" after spending an amazing evening with a special lady...all the nerves, all the anticipation but loving every second of it. It's about that falling feeling. I knew I was falling way too hard for her and that I somehow had to keep this one. BTW, I'm a lucky guy, she's my wife now, ha!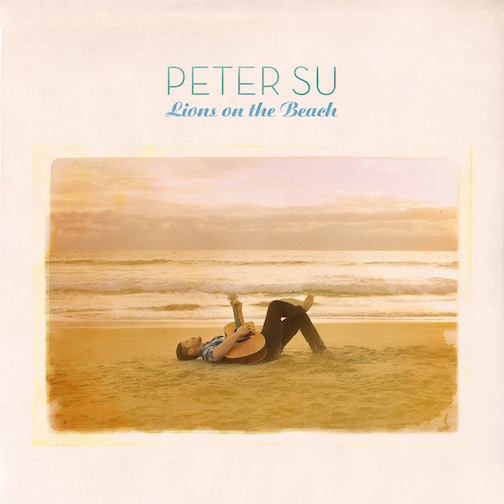 Another cool new tune out this week is "Common Sense" by Will And The Won'ts, who play at Sassafras Saloon in Hollywood on May 26. They're a hard-working trio I originally found busking outside Tiffany & Co in Old Pasadena a couple of years ago. They were talented, fun and earnest, like another brilliant busker I found on Santa Monica Pier, Peter Su, who just released his debut "Lions on the Beach" record.
Vocalist/guitarist Will Risbourg, whose bandmates include Won'ts bassist Gui Bodi and drummer Andrew Bilotti, says "Common Sense" is a song about a relationship making no sense with lyrics that go: "There were no easy answers/where she was concerned/I was clueless and careless/didn't know where to turn/up and down and right and wrong/Were all foreign to me/Intangible, un-winnable/I lost it all completely/All common sense is gone/And it's obvious to me."
Hey, we've all been there, especially in the "ships-passing-in-the-night" relationship maelstrom that is our City of Angels.
But modern dating aside, if you want music, we got music all around LA.
Ménage, a family of dynamic musicians who I met in a Los Feliz coffee shop, were touring in Europe in early April. In June, they're also dropping their newest record, "EP 2," featuring the single/video "A Beautiful Disaster." Ménage were special guests at the 2016 International Portuguese Music Awards in Massachusetts in April -- they'd previously won IPMA's Rock Song Award with "Our Time is Now." They're also doing a mini swing through Massachusetts June 16-18.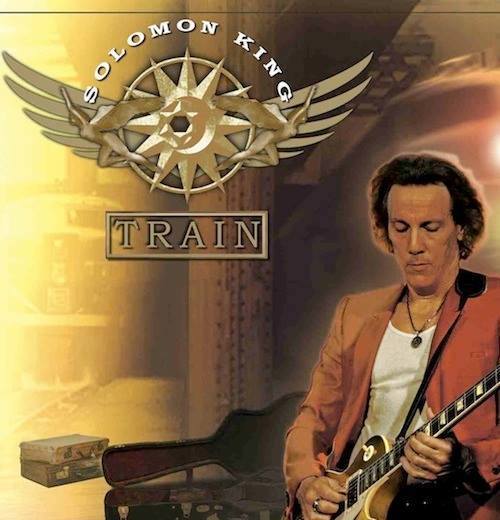 Another pal, former Grammy-entrant nominee, Solomon King is also finishing a rollicking new record. "Now More Than Ever" which has a retro 70's vibe with a nouveau 2016 approach. One song, "Pussy Cat," was inspired by LA's own celebrity mountain lion, P-22, who resides in our glorious Griffith Park. King, billed as "blues guru extraordinaire," is performing at Wang's in the Desert with singer Calista Carradine, and an all-star band of musicians in Palm Springs on May 29 -- presented by David Ross and The Coachella Valley Music Show.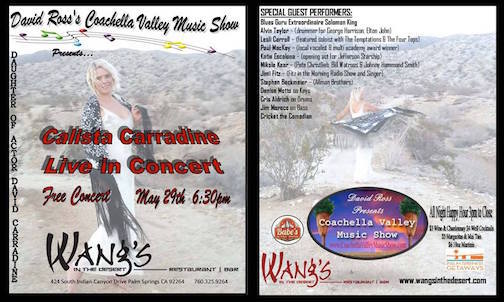 Trust me, you cannot make this stuff up. As the daughter of legendary actor David Carradine (Kill Bill, Kung Fu), Calista is one of those cool peeps that Shawn Mullins write about when he sang:
"She grew up with the children of the stars
In the Hollywood Hills, in the Boulevard.
Her parents threw big parties. Everyone was there.
They hung out with folks like Dennis Hopper
And Bob Seger and Sonny and Cher.
And she feels safe now in this bar on Fairfax."
--Lullaby by Shawn Mullins
If music be the food of love, well, rock on...
REAL LIFE. REAL NEWS. REAL VOICES.
Help us tell more of the stories that matter from voices that too often remain unheard.