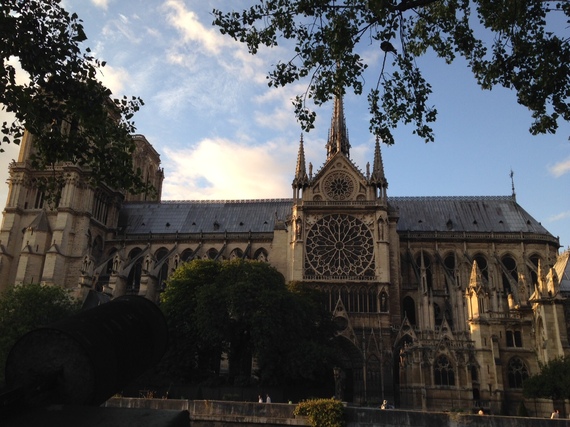 Of all the wonders that French cooking is known for - fish, fowl, and foie - vegetarian options can often be difficult to find on the typical Parisian menu. After much searching and research, we enjoyed the following vegetarian dining experiences during a recent stay in Paris:
The exuberant, vivacious Laurel, a native of Charleston, S.C., is both the owner and the chef of this lively little restaurant - and often the waitress too. Laurel, who has lived in France for 22 years - and Paris for 18 - opened 13: A Baker's Dozen one-and-a-half years ago - and business is booming! Bustling, bright, busy, this restaurant boasts a chandelier lighting the tables, long welcoming branches slung over the door frame, bright light streaming from a ceiling window surrounded by a tin roof, and Laurel singing as she hurries around her little kitchen - open for the restaurant to watch as she performs her magic with the help of only one other chef. Over the course of two fabulous meals there, I tasted: the best biscuits I've had outside Charleston, a divine strawberry salad bursting with sweet tomatoes and dotted with meaty hunks of mozzarella and sweet mint, and an artichoke and mushroom pie with a dainty, flaky crust. Salads, entrees and pies were also available with meat for carnivorous customers. Also, the freshly made juices there are not to miss! My favorite was the orange, carrot, ginger, and apple juice. As Laurel puts it, "We are genuine and we are good."
TIP - call ahead for a reservation as there are only 7 or 8 tables. Laurel will most likely answer and be happy to speak with you in French or English!
I have loved visiting "Le Pain" for years - from Tokyo to Paris to New York City! This restaurant features a wide variety of vegan, vegetarian, and meat options inside a cool and classy blonde wood paneled restaurant with both communal and individual tables. In my experience, the salads are fresh, crisp, and unique; the tartines are tasty on crunchy brown bread; the drinks are seasonal, creative, and fresh (my personal favorite is the detox tonic with grapefruit, agave, cumin, and sparkling water); the eggs and frittatas are fluffy and perfectly seasoned. If you are looking for a fresh, nutritious European meal that will consistently please, Le Pain Quotidien is the place for you.
For a taste of Italy amidst the brasseries and bars of Paris, visit this extraordinarily authentic one-man-show. The frantic owner and chef of the restaurant speaks French and Italian (with a smidgeon of English) and is a native of Puglia, Italy. He leaps about the restaurant, trotting from one table to the next and back and forth from his tiny kitchen. He meticulously explained the completely vegetarian menu item on his blackboard with comic expressions; his sincerity and passion made the meal worth the wait and full of laughter. Our table enjoyed ambrosial braised mushrooms, a light frittata, a delightful salad with melon dressing, and a great eggplant tossed pasta. If you are looking for a meal with an experience - this is the place for you!
In a modern, bright restaurant with long, tall windows lies this authentic creperie. All the savory crepes are created with buckwheat and are completely gluten-free; the sweet crepes do contain flour - but a gluten-free sweets craving can be curbed with one of their tall ice cream sundaes! These crepes, with any topping you can imagine, are perfectly crispy and beautifully seasoned - I enjoyed the goat cheese crepe with lightly poached apple slices and an arugula salad with walnuts and honey sprinkled over the top. These quintessential crepes are great for both those who do not eat gluten and for the crepe lover.
This brand new Gastropub lies on a side street in an area about fifteen minutes from Notre Dame Cathedral. The small menu brims with vegetarian options. They offer a fresh juice du jour and a regularly changing menu. Our table sampled three items: bufala mozzarella with zebra greens (we found out when it arrived that it meant green, striped tomatoes) and parmesan crisp, tzatziki with braised romaine and a savory dressing, and fresh feta cheese with greens. Their imaginative options take a fabulous modern twist on the French love of beautiful food with ample vegetarian and non-vegetarian options.
Sure bets for a quick vegetarian meal can always be found at patisseries or boulangeries, creperies and pizzerias. While it may seem like a challenge to find the healthy, lower carb vegetarian options in Paris, it is possible to enjoy creative, fresh French vegetarian ingenuity!
~ Visiting Paris soon? Check out my article on my top 5 art museums to see while in Paris at http://huff.to/1KDi49T ~