The first night I am in Morocco there is a moon. It floats like a balloon from turret to turret, mosque to mosque. It would prefer to disappear. But my wife and I are lost. We need its yellow glow to see our way through alleys. We won't allow it to go.
The beacon moon colors a café awning. It lights up Moorish tile around a wooden door. It lets us see "Casa Lalla" etched in script on a plaque. We're finally here. Our tiny Marrakech hotel, deep in the medina.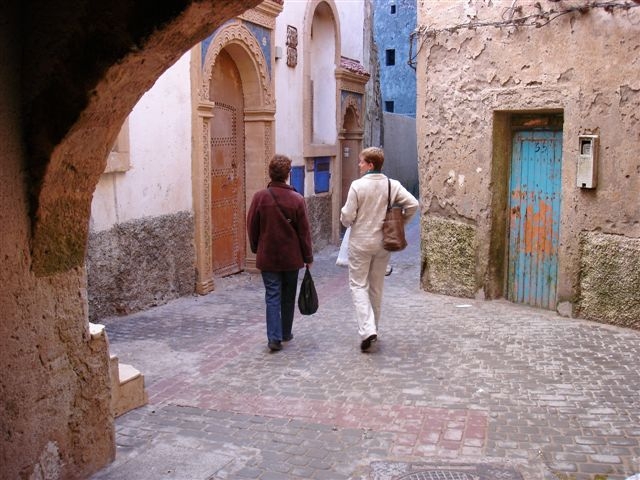 Marrakech may be a mystery in the dark. An expert's puzzle. We knew this. And we came for it. But in the maze of twisty streets and market souks, we are hunting a kind of familiarity, too.
More than a decade ago, Kathy and I lived in Paris, on rue St. Didier, for two years. We miss a lot about those days but especially the careful pace, the craft and style of small-scale neighborhood things.
Pharmacies as sleekly beautiful as spas. Artistic cakes arrayed in bakery windows. Prams being pushed, poodles petted, in elegant oasis-like parks.
Morocco, we'd heard, has glimmers of this French attempt to make life's little things look good. From 1912 until 1956, when both France and Spain finally recognized its independence, France made the Berber- and Arab-settled country a protectorate, imposing laws and language along with wave after wave of French aesthetics. Ordinances came straight from Paris like the decree that in Marrakech, itself, all buildings must be painted pink.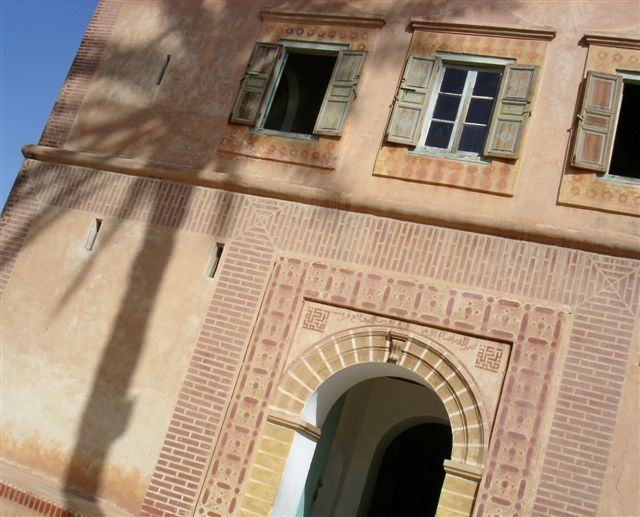 When we heard about the former paint-color rule, Kathy and I -- and our friends Kevin and Martha, who lived in France when we did -- let out a rueful laugh. We remember this sort of bureaucracy well. Still we wake up here with the goal of touring around to see what rue St. Didier reminders we can find, mixed in with 100-percent Moroccan sights, sounds and smells.
For starters we discover that our hotel has French roots. The owners, Annabel and Pierre Olivier, grew up near Grenoble. After making a fire, Pierre brings out a bowl of olives and a bottle of beer with palm trees on the label. Bogart would have been pleased. It's a cold 'Casablanca' lager. All we need is a piano, "As Time Goes By," and Sam.
"This is a traditional riad," explains Pierre, "the style of house that looks within toward its courtyard. It took years to restore. I am good with -- what is your word? Cement."
None of Casa Lalla's guest rooms look the same. Surprising spiral staircases lead to sculptural lofts. Rooms have romantic names. Kathy and I get our choice of two: we pick "Songe d'une nuit d'Eté." Dream of a summer night.
The season of our room is at least four months off. When we walk with Kevin and Martha our breath curls up like clouds from a pipe and in the distance, the Atlas mountains have snow. "Hmmm," says Martha. "If I'm an inspector from Paris I'm issuing citations to the architects around here. That building's not really pink, it's kind of purple. And that one's is sort of pinkish orange."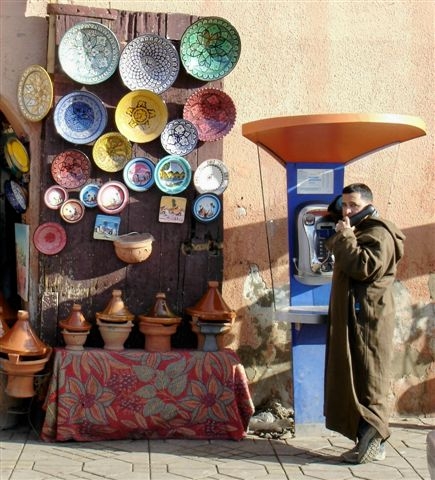 Chains we used to patronize in rue St. Didier days are here along the larger Marrakech avenues. Societe General bank. "Elf"-brand gas. All have Arabic wording next to the French. The script is slashing, emphatic -- like pictures of minarets or stars.
Pharmacies that we stop into sell French toothpaste and fizzy aspirin that you dissolve in a glass, but the green neon lights outside are shaped like Islamic crescents, not like a cross. "Come to Marrakech," invites a pharmacy sign beside a display of brushes. "Headquarters of the World for Hair Implants."
Kevin and I are almost there. Not quite. But the scent of spices wafts us into Herboristerie 'La Cigogne' on rue Berrima near the ruins of the Palais el-Badi. The owner, Mohammed Fekkak, points across the street at a lineup of enormous nests along the Palais ramparts. "Cigogne," he says, "means stork." If we were in an old cartoon, the storks would be delivering diapered babies. Instead we are in Marrakech where the birds prefer to watch us shop.
"What you are smelling is this," explains Fekkak, twisting open a jar. "Special 35-Spice Barbecue Blend."
Thirty five in one? I ask, skeptically. You sure?
"Maybe more," says Fekkak. "I used to own the restaurant in Astoria, Queens. I make lasagna and sometimes add the Moroccan spice. People ask me, what is this?"
I try some by sprinkling it on the back of my hand. It is sharp and rich and hot in a way that spices rarely are. "See?" says Fekkak. "You add olive oil. Then you eat your finger!"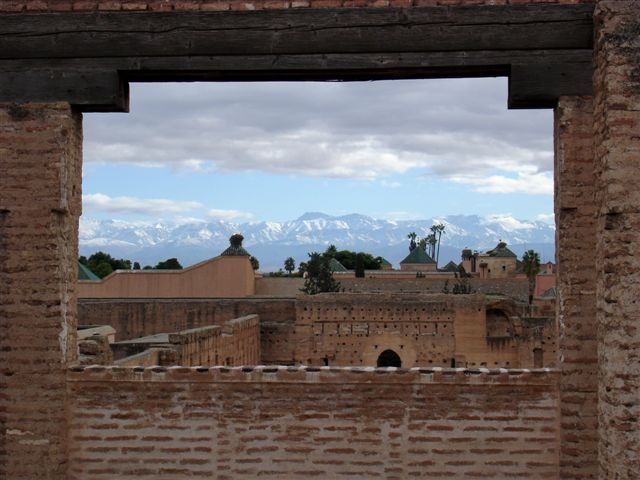 Late in the afternoon, after a double-round of minted tea, we pass through the gardens by Koutoubia Mosque that are almost French in their symmetry. If it weren't for orange trees, the rosemary ranging wild, and the roses -- reaching this way and that, and fat with blossoms -- we could be at the Tuileries or at the Jardin des Plantes.
Something is rumbling just ahead as we get near Jemaa el-Fna, Marrakech's central square. Thunder, I think. But the sun is out. Maybe we are hearing some Moroccan army on the march. We turn a corner. Then we see them.
Troups of dancers jumping and jingling. Acrobats somersaulting. Singers singing. Drums being pounded behind choruses of chants and squeaky horns that wheedle out an Arabic tune.
Jemaa El Fna isn't a square exactly. It's a pulsating crowd. It is something fluid that's in danger of becoming solid, like Pierre's cement. But it doesn't because of the drums.
Oom-oom-Poom. Oom-oom-POOM.
Donkeys haul to the beat. Locals in hooded cloaks push carts and wave their hands and shout out offers of fruit and tea.
There is so much being grilled and sautéed and steamed that, at first, I think some of the snack carts are on fire. I forget about this as soon as Kevin notices the snakes. Cobras coiled up in circular baskets. Cobras unfurling. Cobras rearing higher and higher, rising to the high notes from the Arabic horns.
We stand and stare. We toss down most of our coins.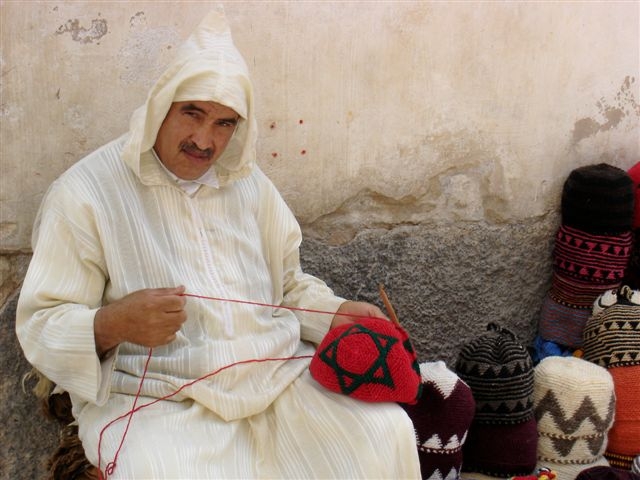 After staying in another magical Marrakech hotel -- this one a luxury riad named after a raisin (La Sultana) -- we do not want to leave. But it's time to visit other cities. Our driver, Mohammed Lafkir, parks his van on schedule and beeps.
Along the highway to Essaouira I am dozing when we squeal to a stop. Cops? A roadblock? No, says Mohammed. Look.
It is a grove of scrubby trees. A shepherd. And a herd of goats. The only part that's unusual is that the goats are not on the ground. They're climbing and scrambling in branches. "They look like they're eating olives," says Martha. "Or something." We grab our cameras and go.
"Argan tree," explains Mohammed. "It grows the kernel to make an oil for cooking. The goats climb up, they eat the fruit, then later, the pit comes out from behind. It is collected. Do you know what I mean?"
We're stepping carefully now. We know.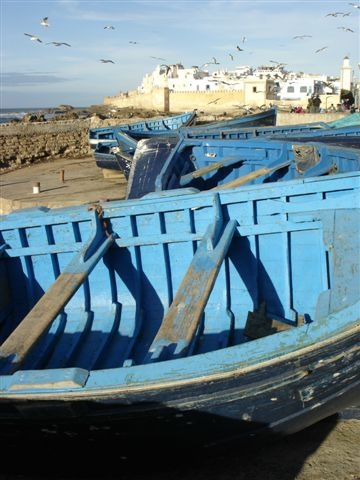 In Essaouira, a whitewashed seaside town with wind-scoured streets and craft shops around every corner, we happen to look in a store called La Rencontre. Products containing argan oil are stacked up high on the shelves. "Not just for cooking," says Kathy. There is "Serum de Beaute de Argan," "Argan Anti-Wrinkle," and "Crème de Argan" for your hands.
"Yes," confirms the shop owner proudly. "This is all for export to France. Like the cosmetics of Laura Mercier. Do you know them?" Kathy and Martha apparently do. They buy a bar of argan beauty soap for the road.
Fes, we find out, makes Marrakech look like graph paper. "This is not Manhattan," says Mohammed. "You will not go into the medina and come out alone." He hires us a local guide, Moustafa, to help us carve a path into the warren of the souks.
Moustafa knows the curbs and corners well. And he knows what's going on -- or not -- in Fes. "This is not the square where they cut the heads," he tells us. "The palace where there was a polygamy? Not here."
"In this direction," he announces finally. "There is nothing."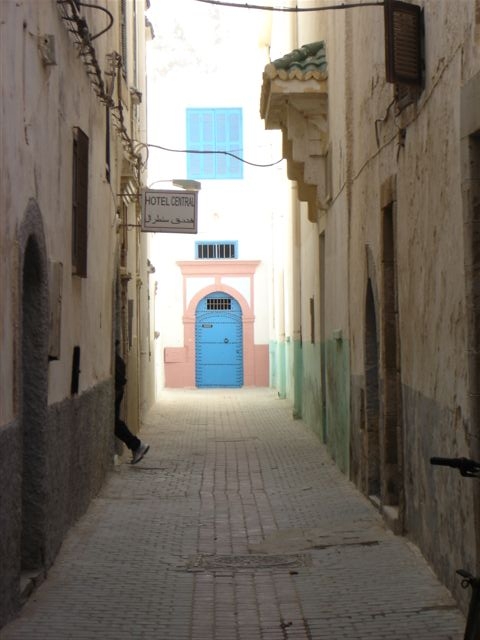 It turns out Moustafa is correct. We come to a place where all of the vehicles are stuck: horse and rider, mule with a load of blankets, bicycle piloting potted plants in a cart. Everyone is shouting. Nothing is moving. Somehow we are able to squeeze past, although I trip over a table at a stall set up with petrified wood.
I try to help the owner. Put things back. Why are there so many fossils in Fes? I ask. So many rocks and shells? There is a silence.
"People like to buy these," he says gravely. I nod.
I pick up a fossil of a crustacean that's a curly shape -- it's pinker than a flower -- and I reach for my wallet. 35 dirham. About four dollars. It's a deal.
That night we're eating couscous with lamb and figs in restaurant. We are drinking our "Cuvee du President"-brand Morrocan wine. Through the arch-shaped window I can see the moon and it is almost full.
It is the moon of our first night here. Shaped the same. The yellow moon that moved. That fled from turret to turret.
It is the same, but we are different. Storks and cobras, mules in souks, and goats in trees have made us slightly local. Not as Moroccan as the Special Barbecue Spice. But more so than before.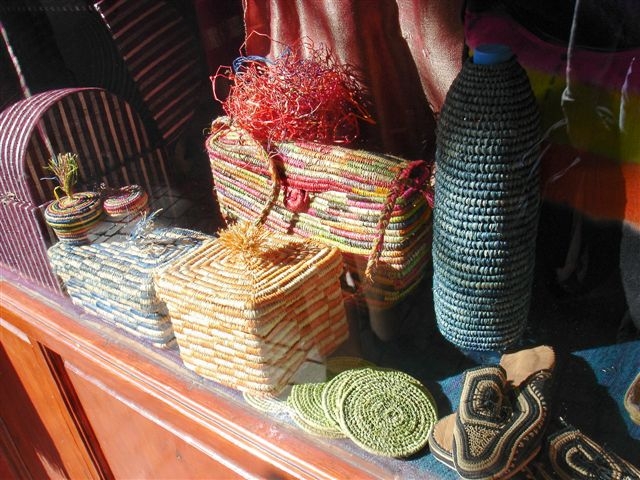 "I have a sense that we're not on rue St. Dider anymore," says Martha.
I pull out my swirly fossil souvenir and turn it over in my hand. It is as pink as Marrakech. I pass it around.
The waiter brings us tea. He sees it.
"Ah," he says. "My favorite. Just like Paris."
What do you mean, we ask?
He smiles. He is lost. He dreams of cuisine.
* * *
Peter Mandel is an author of picture books for kids, including his read-aloud bestseller: Jackhammer Sam (Macmillan/Roaring Brook), and his newest about zoo animals passing on a very noisy sneeze: Zoo Ah-Choooo (Holiday House).