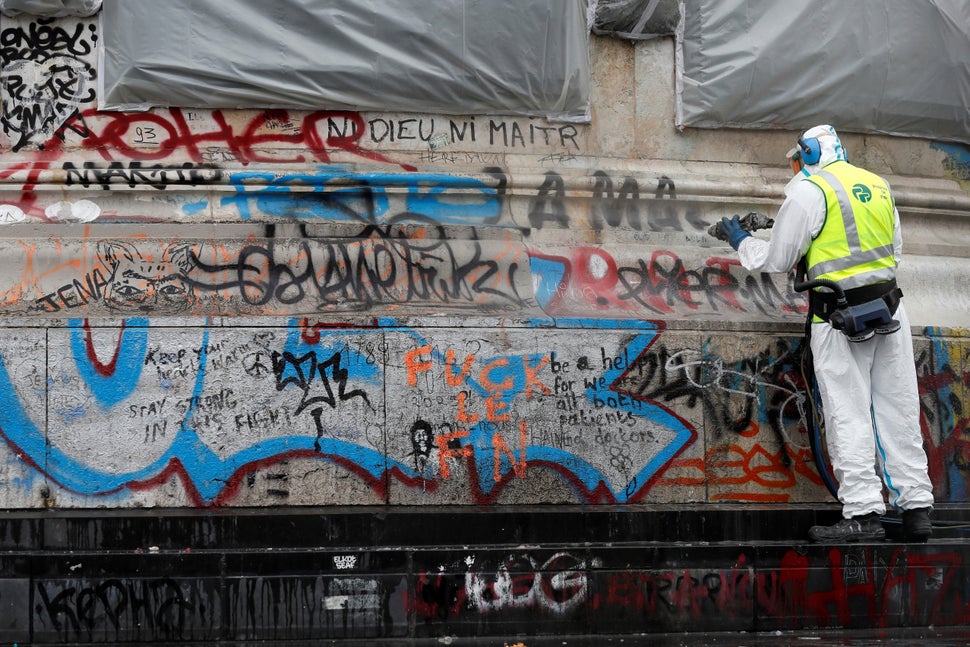 Paris' city council has begun cleaning the Place de la Republique square and its statue, where candles, photographs, hand-written letters, and other memorabilia have accumulated since January 2015 as a tribute to the victims of terror attacks in the city.
The Place de la Republique has become a living memorial, offering Parisians an opportunity to pay tribute to the victims of the series of attacks that have devastated France's capital in recent years.
In the aftermath of the Charlie Hebdo shooting, for example, hundreds of thousands gathered around the statue to mourn those killed and the attack on free speech. They placed black Xs across the lips of some of the figures and tied oversized pencils around their palms.
Make-shift memorial sites also emerged outside the Charlie Hebdo offices on Rue Nicolas Appert and in front of cafes soon after the attacks and again a few months later in November after the city-wide attacks that struck a number of restaurants and bars, a stadium and the Bataclan concert hall, but most of these have been removed. The Place de la Republique was the longest living memorial after the one at the Bataclan.
BuzzFeed France reported on Monday that the site was cordoned off by fences and security workers, to make way for the city to take down posters and remove the objects that had piled up in the area.
The mayor of Paris' 10th arrondissement, Remi Feraud, told HuffPost France that cleaning the Place de la Republique is not intended to purge the commemorative character it had gained.   
"It's not a question of removing the memorial character of the statue, quite the contrary. People will continue to honor the victims at this place, at the foot of the tree of remembrance planted a year after the attacks of January 2015," Feraud said.
In January 2016, French President François Hollande and the mayor of Paris, Anne Hidalgo, organized a commemoration for those who had been killed in terrorist attacks in the city, unveiling a memorial oak tree in the square.
"But we want the statue to be clean, that is also the will of the people," Feraud continued.
The city is planning for a 10-day operation, and Feraud says city staff will collect the drawings, photographs and other objects at the square, as they have done at other informal memorials that have popped up on Parisian streets in recent months, and will store them in the Paris city hall's archives.
"Everything will be done in coordination with the archives, which will store all documents and messages left since January 2015," Feraud said.
Scroll down for more photos of the Place de la République. 
This piece originally appeared on HuffPost France and has been translated into English. 
REAL LIFE. REAL NEWS. REAL VOICES.
Help us tell more of the stories that matter from voices that too often remain unheard.