PARIS -- On an otherwise quiet Tuesday afternoon, Parisian bar Le Carillon bustled with locals escaping the January cold -- men drinking after work, women who had just picked their children up from school.
The bar only reopened last week after closing following the attacks where terrorists gunned people down on its terrace a little over two months ago.
"Over the weekend right after we reopened, it was packed, even on Sunday," said Mohand Amokrane, whose family owns the bar. They usually close at 2am, but they extended their hours to 4am that weekend to accommodate revelers grateful to have their local watering hole back.
Not all of the city's cafes, bars and restaurants are busy like the Carillon. Many are still hurting two months later, both due to a drop in tourism and the persistent fear of going out among locals.
Yet they're slowly regaining a sense of normalcy.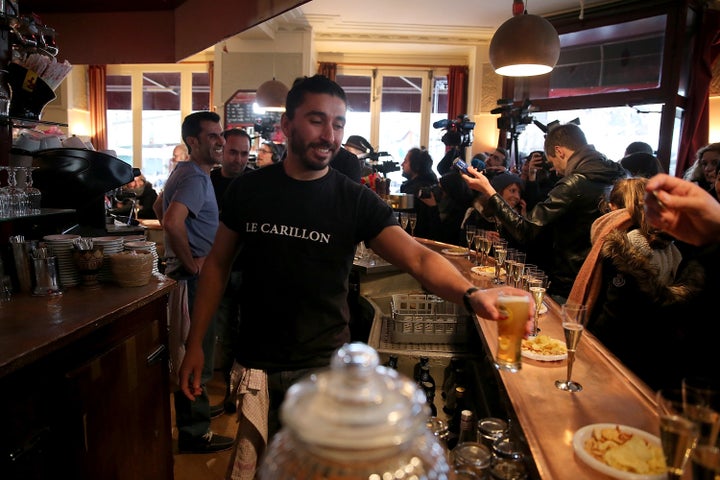 Famous cafes like Les Deux Magots, where Ernest Hemingway used to drink cafés crème and write, are usually full. Now, the crowds are more sparse.
Business has taken a major hit since November at a hipster Australian-style coffee shop in Paris' 1st arrondissement, or administrative district, called Téléscope, said Nicolas Clair, who runs the cafe.
"There are way fewer people," Clair said. "Normally, Monday mornings are packed. But look around -- there's no one here."
"Fifty percent of our clientele has always been foreign -- either expats or tourists -- and we're not seeing them anymore," he continued. "Our local clientele has also grown cold. We don't see them anymore. We're trying to figure out where they are."
He said that similar cafes and restaurants across the city are witnessing the same phenomenon.
"You can book a table for seven at the Ellsworth at 1pm no problem," he said of the usually in-demand restaurant. "It's strange, it's not normal."
Even a minor decrease in business makes it exponentially more difficult to stay afloat, he said.
Martin Bourianne is a chef at Derrière, a trendy restaurant 10 minutes away from the Bataclan concert hall, where over 90 died when terrorists held concert-goers hostage in November. He said that business is undoubtedly slow, but it's hard to say if it's directly linked to the attacks or just a product of people choosing to go out less in the winter.
The hit to Paris' tourism industry was particularly acute in the weeks following the attacks. 
Parisian hotels experienced 30 to 40 percent fewer bookings at the end of 2015, said President of France's hotel and restaurant union UMIH Evelyne Maes.
Restaurant occupancy was even lower -- a 50 percent drop in December 2015 from a year before, according to UMIH.
New York City experienced a similar economic slump immediately following the September 11 attacks. A 2004 Bureau of Labor Statistics study revealed that the city suffered 143,000 job losses per month and $2.8 billion in lost wages in the subsequent three months.
In the weeks following the attacks in Paris, "tourists didn't really know what was going on so would eat early in the night and leave quickly, while often times Parisians stopped going out entirely," Bourianne said. "After the attacks, things were really calm, almost too calm."
Yet things are already looking up.
Aside from the Carillon, other spots implicated in the attacks are also bouncing back. 
Virtually all of the tables in the terrace area of A La Bonne Bière, another one of the bars where six people were killed the night of November 13, were full on a quiet afternoon in the middle of the week.
Le Petit Cambodge, one of the most popular spots in the area that has been boarded up since Nov. 13, plans to reopen on February 1. 
Things are moving more slowly in other parts of the city, but cafes and restaurants are hopeful.
"We're getting back to normal little by little," Bourianne said. 
"Things in our world have always worked by word of mouth," Clair said. "So I'm confident that the Americans we had this week will go back to the U.S. and say 'look, Paris is great right now.'"
He added that ironically, it's when restaurants and cafes are not stock full that people experience better service and quality.
PHOTO GALLERY
Messages Of Solidarity For Paris
REAL LIFE. REAL NEWS. REAL VOICES.
Help us tell more of the stories that matter from voices that too often remain unheard.