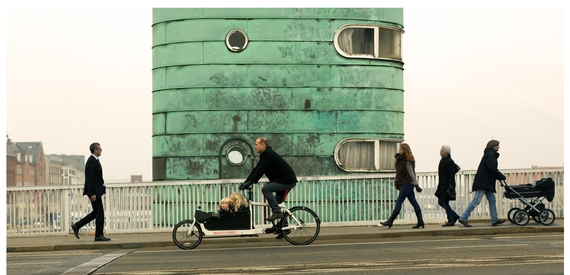 Photo credit: Larry vs Harry
Who is picking up when and where? Who will stay home with the kids when they are sick? And who is going to take care of the grocery shopping? On Sunday nights, the conversation at the dinner table will inevitably end up revolving around the logistics of next week's family activities. With three active children, my wife and I typically solve this logistical puzzle through a fair division of responsibilities. In Denmark, the notion of "fair" really means "equal", so in the case of our family schedule this basically means the tasks are equally divided between us.
This parity of family and household duties is a symbol of how deeply ingrained gender equality is in Danish culture. Similarly, Danes would expect the full participation of women in the workforce and parental work leave for both parents. I would argue that this progressive approach to gender equality not only caused Denmark to be rated as the best country for women to live in by the Wharton School of the University of Pennsylvania and BAV Consulting in January, it also helped make Denmark the world´s happiest country.
On March 16, the World Happiness Report yet again found Danes to be the happiest people in the world. The report also states that unhappiness is strongly associated with inequality, so no wonder we Danes are happy with our strong record of parity. Parity at home as well as at work.
How did Denmark become a leader in gender equality, one may ask. I have been fortunate to discuss the matter with leading gender experts from the American administration, think tanks, NGOs and diplomats from other countries.
To give you an example, I co-hosted a roundtable discussion to explore the ways Denmark can work together with likeminded actors in the US to advance gender equality here in the US as well as abroad. We agreed that empowerment of girls and women is imperative in that equation. The roundtable was co-hosted by - among others, Katja Iversen, CEO of Women Deliver. Denmark will host Women Deliver's annual summit this May, bringing global leaders together to spearhead the notion that when the world invests in girls and women, everybody wins.
That is exactly why I was honoured to host the International Center for Research on Women's (ICRW) Champions of Change award ceremony in my home. We spent the night celebrating Supreme Court Justice Ruth Bader Ginsburg who was awarded for her pioneering efforts in promoting gender equality. Justice Ginsburg is an example of a strong advocate that empowers people and paves the way forward.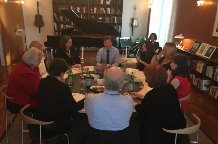 The defining role education has had to Afghan girls and women was evident during speeches, a music performance and poetry readings by Afghan women at another event I hosted last month together with the Initiative to Educate Afghan Women. In comparison, Denmark has completely closed its educational gender gap and enjoys full equality in literacy rates and enrolment in primary, secondary and tertiary education. To give you a concrete example: both my wife and I have university degrees. We have three children, and we both have careers. It is possible. Not only in Denmark. But also in Afghanistan.
With the adoption of the sustainable development goals (SDGs) last year, the world arrived at a turning point. World leaders came together in Addis Ababa and committed to a renewed ambitious framework in which gender equality is regarded not just as an end in itself, but as a key driver in development effectiveness.
The achievement of gender equality is indeed not only a core objective in its own right, but also smart economics. Multiple studies have found that economies are more likely to grow sustainably when women and men fully participate as employees, entrepreneurs, consumers, caregivers, community stakeholders and leaders. Denmark is indeed an example of that.
It is known that greater gender equality and diversity can enhance productivity, improve development outcomes and allow businesses and institutions to perform better. This has caused the private sector - in addition to public institutions - to increasingly commit to reducing gaps between women and men - not just because it is the right thing to do, but because it makes business sense.
While laws and regulations can promote gender equality in many important aspects, culture cannot be changed by decree. Improving gender equality in a sustainable way will require a series of initiatives, a long-term perspective, significant persistence and brave men and women - like Justice Ginsburg - to give voice to inequalities in our society. As the HeForShe movement encourages, men can engage professionally and personally as champions for women's empowerment.
So even though the logistical negotiations Sunday night over dinner can become heated, there is only one way to go. We should all join in as agents for parity at home and parity at work around the world.
Calling all HuffPost superfans!
Sign up for membership to become a founding member and help shape HuffPost's next chapter