In a distinguished corporate boardroom high above Park Avenue on a Tuesday night, an elite group of Japanophiles -- both Japanese and non-Japanese -- gather regularly to hear about and discuss Japanese culture.
They call themselves the Nichibei Exchange.
A recent gathering featured James Nyoraku Schlefer, a noted shakuhachi grand master -- which means he plays the Japanese bamboo flute. Brilliantly. Haunting melodies crossed the conference table, like fog rolling down the mountainside and across the rice paddies of central Honshu.
The flute came to Japan from China in the eighth century. Used originally by Zen Buddhist priests, the music creates a heightened sense of awareness of both one's self and one's surroundings.
The brittle, thin sound is at once sensual and spiritual, capable of great emotional depth. "The sound is so penetrating that it makes you feel a deep, soulful connection with the earth, the heavens, and the inner mind," James says.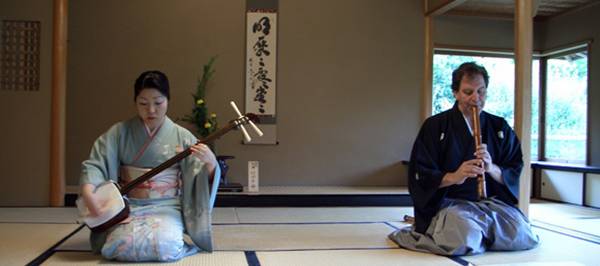 Shamisen meets Shakuhachi.
With only five holes, no reed, and no mouthpiece, this bamboo flute is technologically simple -- yet maddeningly challenging. It often takes months of study to produce a single note.
The traditional music for shakuhachi, known as honkyoku, has been the music of Zen meditation for over 1,000 years.
James received the dai-shi-han (Grand Master's Certificate) in 2001. In 2007 he received a second shi-han license, this one from Kurahashi Yoshio at the Mujuan Dojo in Kyoto, Japan.
He is one of three shakuhachi teachers in New York City and is also the artistic director for Kyo Shin An Arts in Brooklyn. He began his career as a Western flute player and holds a masters degree in transverse flute and musicology.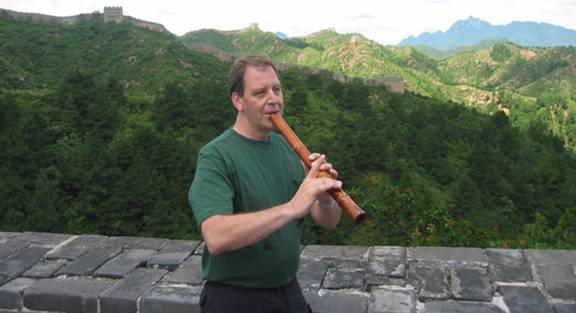 James playing on the Great Wall of China while on tour.
James has performed at Lincoln Center, the Kennedy Center, Tanglewood's Ozawa Hall, the Brooklyn Academy of Music, and the Metropolitan, Brooklyn, and Philadelphia Museums.
With three solo recordings -- Wind Heart, Solstice Spirit, and Flare Up -- James has been featured on NPR's All Things Considered. He may be viewed on YouTube.
The Nichibei Exchange that hosted James is notable for what it is not: another networking circle. Instead, it is only for those who have experience with and a true appreciation of Japanese culture. It is strictly by member invitation. Japanese interpreter and cross cultural communications instructor Michael McKenna is the moderator.
"The Nichibei Exchange tries to bring interesting people from all facets of the U.S.-Japan relationship together with a group of people who are intimately familiar with the other," Michael says. "It says much about the richness on both sides that after meeting monthly for more than 22 years, we have not come close to running out of topics."
Japanese journalist and friend Keiko Tsuyama belongs, and my old friend Diane Simpson is a founding member.
Diane says, "joining the group does not mean that one is an expert in Japanese culture or language, only that your experience living, working, or traveling in Japan has had enough of an impact on you that you want to learn more on a personal level about the Nichi of Nippon or about the Bei of the U.S. and how they have interacted, played off each other, fought each other, and loved each other over the centuries."
"In the same way for Japanese members. Yes, they are living in the U.S., but they are delighted, frustrated, and intrigued by the cultural differences. They want to communicate with like-minded mates and particularly with Americans who appreciate their culture."
"On both sides there is a yearning to communicate openly and sincerely and that was the foundational wish when Nichibei Exchange was started 21 years ago. The range of things we have considered and learned about over the years can be best conveyed by taking a look at Mike McKenna's list of speakers."
So James' Japanese music and history lessons were delivered to the right crowd. In the Edo Period (1603-1868), he continued, samurai were being decommissioned as Japanese society modernized, and many became monks. Being a monk had its advantages: one could travel without restrictions and legally beg for room and board.
Many wore head coverings to be anonymous -- the Japanese concept of ma or nothingness -- and they began to play the "non-music" of shakuhachi, which is filled with so much nothingness.
The monks would "blow the bamboo" seeking what they called enlightenment in a single sound. James Nyoraku Schlefer says, "I am fascinated by the idea of ma or nothingness in the music. What happens during that time? How does it sound? How can nothingness have sound, anyway? Does this exist in Western music, and if so where?"
During the Meiji Restoration (1868-1912), the traditional shakuhachi music was banned and the flute itself was demoted from a spiritual tool to a mere musical instrument.
Having studied Japanese Studies at Waseda University in Tokyo, I was deeply touched by my evening with the Nichibei Exchange. I was impressed by the commitment of the members to push beyond the superficial in examining Japanese culture, and by the artistic mastery of the grand master.
Shakuhachi grand master James is not only a performer, but a teacher, composer, and lecturer. He may be reached at james@nyoraku.com.
Edited by Mary Fahnestock-Thomas.
REAL LIFE. REAL NEWS. REAL VOICES.
Help us tell more of the stories that matter from voices that too often remain unheard.