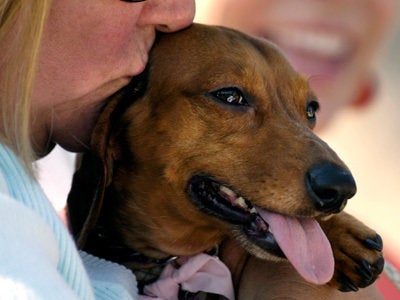 This week Lucky and I traded urban for rural -- sadly with no major rise in temperatures -- as we were off to Park City, Utah. Lucky was a bit grumpy at the beginning of the trip because she never got that four-legged, custom-made snowboard, but we did show up just in time for all the Sundance Film Festival festivities.
This year Lucky and I came out to support yet another local animal shelter, Summit County's very own Friends of Animals Rescue located right in Park City. We're so touched by the amazing work they're doing and this amazing gem of a city that I believe our readers will vote Bark City as this year's Cesar Five Dog Bone Award winner for Pet Friendliest City! In Utah, it's: Let's Bark City, not Park City...
Proving their Bark City reputation, Friends of Animals is having an event this Thursday the 22nd called, "An Evening For the Animals" at the Village on Main. Everyone in the area should stop by and support such an outstanding cause. Check out their website for more information on the event!
Right when we got in, Lucky and I skied over to the Myspace Lounge where we naturally thought we could log onto our Facebook account, but it was prohibited. I guess that's kind of like trying to order a Pinkberry at Baskin Robbins, which I have also tried doing. It didn't work out. Oh well, we hear Myspace is doing very well for themselves in these troubled economic times. Less people working, more people on Myspace. And then there's me who can't even get onto Facebook.
After giving up on the computer, Lucky and decided to attend the Rock Band Battles Hosted by Donovan Leitch with DJ Danny Masterson. I tried to get a group of people together to play Rock Band, but I realized I didn't want to sing, play drums, or the guitar. I figured Lucky would be good at the drums, but no one wants to hear me sing. While there we ran into LA real estate tycoon Brent Bolthouse, actress Eliza Dushku and our favorite police man, Sting. Sting and his wife, Trudie Styler, are proud animals lovers and pet owners. Styler just recently announced plans to turn the British children's book series,Grk ,into a major motion picture. Grk has been described as a Rin Tin Tin-esque story following a 12 year old boy and his dog as they fight evil doers across the world. If they're looking for a star, I think Lucky would be up for it -- she's spent most of her life battling evil all over the world. Or at least traveling the world.
Out and about in Park City, Lucky and I spotted a blur of pink from the distance and soon realized it was former Animal Fair cover-girl Paris Hilton sans any doggy attaché. We also ran into Ben Affleck who was reeling about his beautiful new daughter, Seraphina. He also told us about his and wife Jennifer Garner's Lab, Martha Stewert, who is just as regal as the mogul herself. And just when the wind in Park City got too much for me and I was about to complain to Lucky, we saw none other than Mariah Carey who worked the wind like it was a music video shoot. Mariah was also without her dogs, but is still bubbly about her newest Jack Russel, J.J. (or Jack Jr.) who is getting along swimmingly with his older bro, Jackson P. Mutley, or Jack -- you guessed it, also a Jack Russell.
While in town Lucky and I also chatted with LA heiresses Courtney Semel and Casey Johnson, two animal lovers who may or may not be in love themselves. Semel told me about her Yorkie Bisou, undoubtedly named after the kisses the two share. Johnson has a family of hounds including an Italian Greyhound named Gracie, and a German Shepherd named Ollie whom she got after she had a stalker. She had a choice between getting a German Shepherd or a gun, and she chose Ollie. I'd say that's a nice choice. Johnson also has a Chihuahua named Tukus, a Yorkie named Elvis and a Teacup Poodle named Zoe.
While in Bark City, Lucky and I also got to pop into the Drink Well, Live Well, Got Milk Studio where we met noted food stylist Norman Stewart who paints all the milk mustaches on the celebrities for the Got Milk ads. This means he's done everybody from Mary Kate and Ashley Olsen and Beyonce to The Fantastic Four. Norman "the Mustache Man" even painted a mustache onto Lucky and we took some adorable photos together with our matching mustaches (of milk, of course). In reality, most dogs are lactose intolerant and shouldn't be drinking milk, but a little bit didn't harm Lucky. She loved licking it off her lips. Vote for Lucky (and me) at GotMilk.com to have our ad published! After all, everyone loves a dog with a milk mustache!
Hope everyone is staying warm, Lucky and I are back to urban New York City very soon to see the exciting inauguration of PRESIDENT Barack Obama! Also check out AnimalFair.com to check out our latest issue feature both President Obama and Lucky Diamond gracing the cover.
Popular in the Community