In a parallel universe the National Park Service is preparing to celebrate its 100th anniversary as caretakers of our National Park System with a tepid outreach campaign, even as the system faces demolition on our watch. The "Find Your Park" initiative launched this year may reach those who already know about our parks, but there's a big question whether it's reaching millions more who don't know about the parks and the threats they face and are therefore uninvolved with their protection.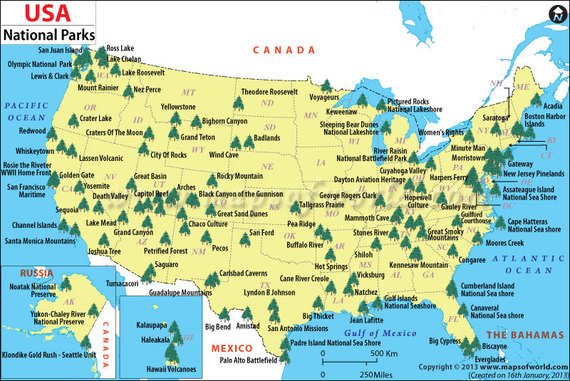 Did you know that you and every other American was bequeathed these national parks "for the benefit and enjoyment of this and future generations?" What happens to properties of "absentee landlords?"
Our publicly-owned lands are in imminent danger from an ideologically motivated cadre in Congress that is antithetically opposed to the idea of federally owned lands, rejects the science of climate change and sees our national treasures only in terms of their value as producers of timber, oil, gas and other finite resources.
The masses must be empowered to demand better. But federal agencies such as the USDA Forest Service and the Department of Interior which manages the National Park Service are failing to fulfill their mission of educating and engaging the American public so that we can push back against the onslaught.
For example, citizens from the Pacific Northwest are repeatedly reaching out to me with agonized pleas to help publicize the fact that the Forest Service is on the verge of permitting the Navy to conduct electromagnetic testing on the land and waters surrounding Olympic National Park and Forest, effectively changing the entire character of the area. (Click here to see what's happening on Vieques, Puerto Rico, more than 12 years after international protests forced the Navy out.)
The minority leader on the House Natural Resources Committee is begging the public to wake up and help him beat back the most noxious proposals by his Republican counterparts.
And every day my mailbox is inundated with appeals to help deter development that would forever despoil places such as Grand Canyon National Park.
If we do not intercede now, in its next 100 years the National Park Service will be presiding over a shell of what we inherited.
I'm encouraged that last Thursday on Capitol Hill the Center for American Progress (CAP) presented the forum, "Reflecting Our Country's Growing Diversity in America's National Parks," highlighting the need for the Park System to add more units that honor the contributions of Americans of color, women and the LGBT community.
Winnie Stachelberg of CAP started off with the fateful words, "Our national parks are the story of American democracy. . .and we are not complete."
Christy Goldfuss, Manager of the White House Council on Environmental Quality said that the 100th Anniversary of the Park Service is an opportunity to excite all Americans about our national parks. They may have started as "a wealthy white man's club," but President Obama and the First Family are connecting them to a wide swath of the American public. She said the President has used the Antiquities Act to add more diverse units and intends to continue doing so, but our public lands are even more jeopardized since Congress allowed the 50-year old Land and Water Conservation Fund (LWCF) to lapse Sept. 30.
Congressman Raul Grijalva said the National Park System should represent the full landscape of America's identity. "It's going to take a broad constituency of young people, people of color, women and LGBT, everyone to bring forth what has happened here for the last six or seven generations. But while I'd love to be working to protect our environment and create new parks, right now all I can do is try to keep the worst from happening," said Rep Grijalva.
Shantha Ready Alonso brought a powerful message of the spiritual responsibility to care for Earth from Creation Justice Ministries and Carrie Hamblen shared how her New Mexico Green Chamber of Commerce created a successful campaign to highlight the natural, cultural and economic values of their newly designated Organ Mountain Desert Peaks National Monument.

National Urban League policy executive Donald Cravins Jr. said that he thought he had all the bases covered, dealing with voting rights, justice, health care, education and issues directly affecting the Black-American public.
"Bu now I find I have something else on my plate. I'm a numbers guy, so I did a quick check of how many units of the park system are dedicated to the Civil War," he said. "I found 70. And while the Civil War was a very important turning point in our history, it only spanned four years. So shouldn't there at least be as many units dedicated to the people the war was fought over? To Latinos? To women? To Native Americans who were on the land?"
Only about 56 of 400-plus sites are dedicated to those categories. Mr. Cravins pledged his commitment to increasing the numbers and diversity and to engage the black constituency with the subject.
Mike Reynolds, associate director for Relevancy, Diversity and Inclusion Management for the Park Service admitted that more than 80% of the Service's workforce is white, but the program he shared with me later to address diversity, "Allies for Inclusion" relies mainly on internal "brown bag" dialogues.
Thankfully President Obama is leading this fight from his heart. Yesterday he launched his Facebook account with a compelling video as a tour guide to his backyard, sharing that the White House is a national park, describing the fox he's seen roaming around and the hawk the kids call "Lincoln." The President explained why he cares so much about our national parks, their benefits to climate protection, their relevance to the upcoming climate talks in Paris, and how he intends to make sure they are left intact for Sasha and Malia and their grandchildren to enjoy.
As we celebrate our veterans tomorrow with fee-free days in the national parks and forests, let us honor their service in a meaningful way. We must require the DOI and its subsidiaries as well as the Forest Service to tell us how they're educating the public about these vital issues so that we can be part of the solution. Use the links I've included in this post. Contact your representatives, or write a letter to your local newspaper. Please take some action that shows you're alive and care about our world.
Calling all HuffPost superfans!
Sign up for membership to become a founding member and help shape HuffPost's next chapter