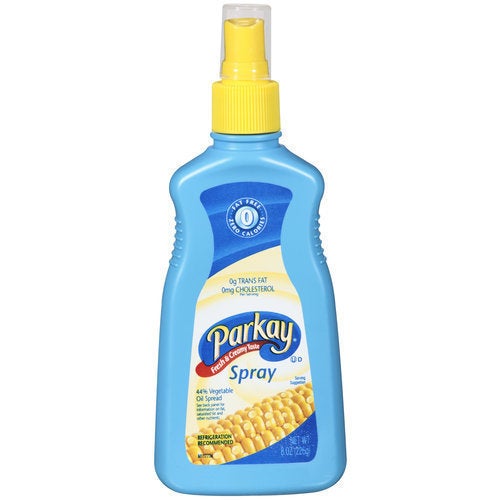 The next food battle around the corner may not have to do with genetically modified food or gestation crates, but a spray-on butter alternative.
In August of 2012, Nebraska resident Pamela Trewhitt filed a lawsuit against ConAgra Foods, alleging that the company falsely advertised the calorie and fat content of its Parkay Spray product, a butter alternative. The spray's label clearly states that the product is fat-free and calorie-free, when, Tewhitt claimed, it is not. Now, the case could get a lot bigger -- Trewhitt has partnered with consumer-protection law firm Hagens Berman in a bid to turn the case into a class action suit. The firm filed with the U.S. District Court for the District of Northern California on March 21.
The suit charges that ConAgra uses an unrealistic serving size -- up to 5 sprays -- to conceal the true amount of fat and calories in a reasonable portion of the spray. An 8-ounce bottle contains 832 calories and 93 grams of fat, the suit claims, which means that even a small serving size packs a few calories. Conversely, the Parkay website describes the product as having "zero calories per serving" and as a "guilt-free way to top vegetables, potatoes, poultry, and so much more."
ConAgra spokeswoman Becky Niiya was quick to discredit the case when reached by The Huffington Post. "We stand behind the accuracy of our labeling and believe this suit to be without merit," she said.
"For example, a contributor to (a) website ... writes, 'I could not figure out why I simply could not lose hardly even a pound, even though I was working out hard ... and monitoring calories ... for a couple of years,'" the lawsuit relays. "Well ... I was also literally taking the top of the 'fat and calorie free butter' spray and pouring it on all my carefully steamed veggies when I found out that a bottle of that stuff is 90 fat grams. I was going through two bottles a week, and working out and getting fat and unhealthy."
In an interview with The Huffington Post, Hagens Berman Managing Partner Steve Berman called the labeling "pretty blatantly misleading." Berman said he's confident that the class action classification will be approved in a few months, at which time his firm will begin searching out plaintiffs. "It'll be every person who bought Parkay [Spray]," he said. "I would expect it to be in the millions."
Berman also offered an anecdote of his own. At a recent dinner party, he said, he presented his case to the table. "All the women at the dinner table use this product," he noted. "I think that when people realize the truth, they're going to be upset ... the ladies at the dinner table were shocked."
Berman also charges that with its Parkay Spray, ConAgra is intentionally targeting a health-conscious portion of the public. "You really wouldn't buy it unless you thought it had zero calories and zero fat," Berman said. "The promise you're being presented with is false. In a company press release, Berman takes the allegation a step further, calling the product a "cynical scheme ... meant to take advantage of consumers who are trying to look out for their health, and the health of their families."
Calling all HuffPost superfans!
Sign up for membership to become a founding member and help shape HuffPost's next chapter
BEFORE YOU GO