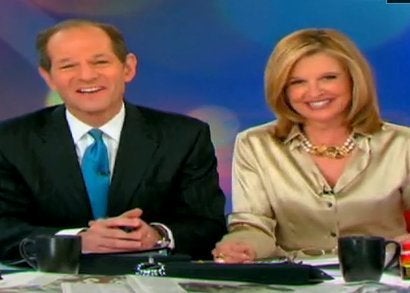 "No matter how great we are or how good a job we do, critics are going to be critics," she said.
Parker and co-host Eliot Spitzer might want to remember that when they read the initial reviews of "Parker Spitzer." By and large, television critics from around the country were scathing in their assessment of the show's first episode, which aired Monday night.
Much has been made of the flirty, playful back-and-forth between Parker and Spitzer, but many said their banter just made them uncomfortable.
Leading the way was the New York Times' Alessandra Stanley, who described the tone as "'Crossfire' meets 'Moonlighting'"-- and not in a good way:

The ickiness factor of "Parker Spitzer" may subside, but the first glimpse of CNN's latest offering on Monday was hard to watch...last week, Larry King told the duo that they had "chemistry" -- if so, it carries a queasy whiff of sulfur.
Time's James Poniewozik agreed:

First editions of cable news shows are often awkward, and the first edition of Parker/Spitzer seemed to be working hard--too hard--to create a sense of intimacy between the hosts and the audience. Especially with the male half of the team, Wall Street crusader and disgraced governor / prostitution client Spitzer, with whom the term "intimacy" carries the kind of connotations CNN would I think wish to avoid.
Though the first episode had several high-profile guests--including screenwriter Aaron Sorkin, conservative blogger Andrew Breitbart and consumer protection chief Elizabeth Warren--Eric Deggans of the St. Petersburg Times complained that Spitzer dominated the program, leaving Parker to function mostly as his sidekick:
Parker may have been onscreen to help soften and broaden Spitzer, but there was little doubt who was the star. From the business and legal terms dominating the segment names -- opening argument, unfinished business -- to the jazzy score backing the program, this felt like an urbane showcase for witty policy nerds. In this setting, the columnist was a little superfluous, like a devoted spouse throwing a dinner party for her husband's office.

Critics also bashed Spitzer's interview with former Wall Street investor Henry Blodget, whom Spitzer prosecuted when he was attorney general of New York, with the New York Post saying he "oddly fawned" over Blodget.
Perhaps no critic was as withering as David Zurawick of the Baltimore Sun. Slamming everything from Parker's wardrobe--which he compared unfavorably to Greta Van Susteren's--to what he described as the show's shallowness, he found very little to like except the set, which he praised effusively.

Calling all HuffPost superfans!
Sign up for membership to become a founding member and help shape HuffPost's next chapter