Three high school coaches killed during the mass shooting in Parkland, Florida, earlier this year were honored for their lifelong dedication to their students at the 2018 EPSY Awards on Wednesday.
The families of Scott Beigel, Aaron Feis and Chris Hixon jointly accepted this year's award for Best Coach during the ceremony, where they were met with a standing ovation and a memorial honoring the men.
"Scott, Aaron and Chris were heroes and they were coaches," Elliott Bonner, another coach at Marjory Stoneman Douglas High School, said at the ceremony. "They were also husbands, fathers and sons. I am proud to be standing here on this stage with these families."
Bonner continued: "We're all so careful today to try and stay away from anything political. But the issue of gun violence and what happened at our school isn't a political issue, it's a human issue."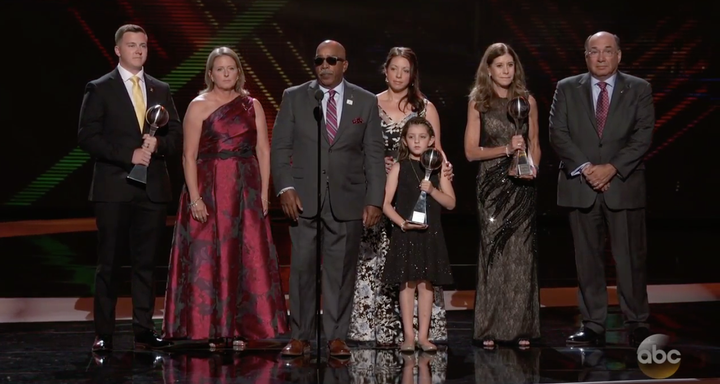 The three coaches were killed trying to defend students from the attack on Feb. 14, which left 14 others dead. Alison Overholt, the editor in chief of ESPN The Magazine, said the men were honored for "their immeasurable bravery in the face of danger and for their ultimate sacrifice to protect the lives of countless students."
The massacre has prompted a wave of activism urging lawmakers to take action on gun control and encouraging young people to register to vote in the upcoming midterm elections.
Bonner addressed the gun debate in his address.
"Lives were lost that didn't have to be; fathers, sons, brothers, daughters," Bonner said. "So one can only hope that the senseless tragedy at Stoneman Douglas is going to continue to lead to that something everybody wants. More dialogue, a deeper understanding … and ultimately action towards a solution for safe schools all across America."