The father of a student killed in the Parkland, Florida, school shooting was arrested on Capitol Hill on Thursday while protesting gun violence ― prompting one GOP lawmaker to make a troubling comparison between the grieving man and violent Capitol rioters.
Photos and video showed Manuel Oliver, the father of Parkland shooting victim Joaquin Oliver, being arrested in the hall outside a House subcommittee hearing on gun regulations after he and his wife disrupted the session as Rep. Pat Fallon (R-Texas) pushed back against gun control legislation.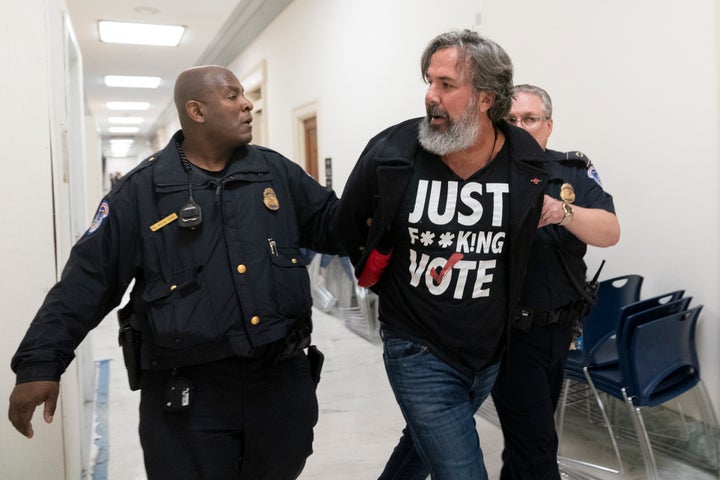 "You took my son away from me, and I'm not going anywhere! I'm going to listen to your absurd things," his wife, Patricia Oliver, can be heard yelling over Fallon, who then asked for police to remove the couple.
As he was being escorted out, Manuel Oliver shouted: "All of you are full of shit!"
Fallon then compared the grieving couple to rioters who violently stormed the Capitol on Jan. 6, 2021, demanding that Donald Trump stay in office even though he'd lost this bid for reelection.
"Is this an insurrection? So will they be held to the same. I don't want another January 6," Fallon said into his mic.
Video shared by Rep. Maxwell Frost (D-Fla.) showed police then holding the father down on the ground to arrest him outside the hearing as bystanders began chanting: "He is not violent!"
His wife, who also confirmed the arrest with The Washington Post, can also be heard yelling back at the officers, telling them they're exercising their First Amendment rights.
In a statement following the incident, the Capitol Police defended the arrest.
"Anyone who disrupts a Congressional hearing and disregards a law enforcement officer's orders to stop are going to be arrested," the statement said.
The Olivers' son was one of 17 people ― 14 of whom were students ― killed by a gunman at Marjory Stoneman Douglas High School in 2018. He was 17 years old. Though many more school shootings have followed ― including the slaughter of 19 small children and two teachers in Uvalde, Texas, last year ― Congress has made little meaningful progress on firearm regulations.
Fallon has voted against all major gun legislation since assuming office in 2021.
Popular in the Community