When the father of a girl killed in a school shooting earlier this year attempted on Tuesday to shake the hand of President Donald Trump's Supreme Court pick, he was visibly snubbed.
Now, the father says Judge Brett Kavanaugh winked at him just moments before he was detained by Capitol police.
Fred Guttenberg is a gun control activist whose daughter, 14-year-old Jaime, was killed in the February school shooting in Parkland, Florida. On Tuesday, Guttenberg attended a confirmation hearing of Kavanaugh at the invitation of Sen. Dianne Feinstein (D-Calif.). Kavanaugh does not support gun control legislation, and the National Rifle Association has spent nearly $ 1 million in support of him.
After Tuesday's morning session ended, Guttenberg approached Kavanaugh in hopes of a handshake. Kavanaugh looked at him as Guttenberg told him his name, then told him his daughter's name.
"I'm the father of Jaime Guttenberg, who was murdered in Parkland," he said.
Kavanaugh turned his back on Guttenberg and walked away.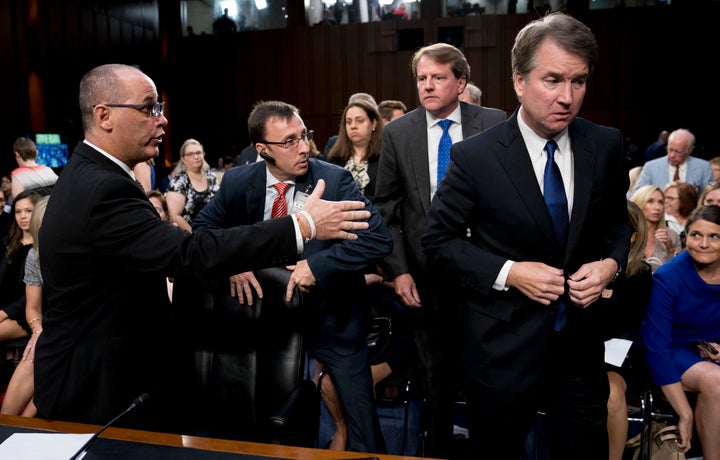 "When he started walking away, it was after my introduction. I was saying to him, 'I just want to talk to you about what happened to my daughter in Parkland,'" Guttenberg told HuffPost on Wednesday. "I think I said it twice, but he moved past. He got to a certain point, I put up my hand and waved and said 'Have a good day.'"
By the time the afternoon confirmation session rolled around, the photo of Kavanaugh's snub had gone viral. Before the session resumed, Guttenberg says, Kavanaugh shifted to look in his direction and gave him a wink.
"When I got back to my seat, I looked over to the table where he was sitting, and he winked," Guttenberg said. "And I thought that was maybe his way of saying 'We're good.' That's what I was hoping. Until a minute later, three heavily armed D.C. cops took me out of the room."
Guttenberg said he was detained and questioned by Capitol police, whom he described as "polite," for approximately 20 minutes. They inspected his ID and asked who invited him and what his intentions were. They also examined the bracelets he wears on his wrist to commemorate Jaime.
"Kavanaugh saw [the bracelets]," Guttenberg said. "He was staring long enough."
Capitol police eventually let Guttenberg return to the hearing. They did not immediately respond to HuffPost's request for comment.
White House deputy press secretary Raj Shah told HuffPost that Kavanaugh never winked at Guttenberg, and that the judge "doesn't know what happened to [Guttenberg] after the interaction and he hasn't seen him again." Shah also claimed not to know who gave the order to have Guttenberg detained.
When Shah asked to speak off the record, HuffPost declined.
During the continuation of Kavanaugh's confirmation hearing on Wednesday, Sen. Lindsey Graham (R-S.C.) offered Kavanaugh a chance to address "the father of a Parkland student who was killed."
Kavanaugh sidestepped the question and did not address Guttenberg.
Despite the snub, Guttenberg says he would still be more than willing to sit down and have a conversation with the judge.
"I don't hold grudges ― that's not who I am," Guttenberg said. "My goal is to find common ground. I absolutely would meet with him, I would be happy to. No grudges. If there's a chance for us to talk, father to father, it would be my honor to do it. That was really my goal yesterday."
Popular in the Community