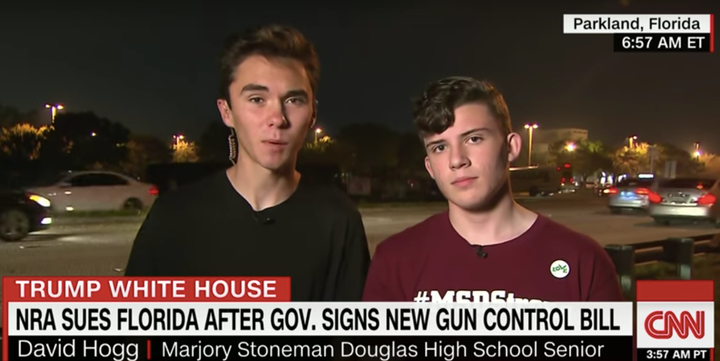 Two student survivors of last month's deadly shooting at a Parkland, Florida, high school are urging President Donald Trump to break his ties with the National Rifle Association and live up to his pledge to push for stricter U.S. gun laws. 
In a Monday interview with CNN, David Hogg and Alfonso Calderon expressed disappointment over the White House's new gun and school safety proposals, which include arming teachers to help prevent future on-campus shootings. But dropped from the plan was Trump's call to raise the legal age for buying certain firearms ― including semi-automatic rifles ― from 18 to 21 years old.
Trump endorsed changing the age requirement last month during a bipartisan meeting with lawmakers at the White House in the wake of the Florida shooting in which the suspected gunman used a semi-automatic rifle. The NRA, however, quickly came out against the age proposal.
"What President Trump showed when he said he wanted to raise the age to 21 is bipartisanship and he wanted to work together on this and save some lives," Hogg told CNN. "But the other thing that he showed after that is he is no better than the other politicians because he called out other GOP members and said essentially that you're owned by the NRA and that's why you don't want to take action."
At the White House meeting, Trump had pointedly scolded lawmakers for not having previously acted on raising the minimum age for buying semi-automatic weapons, saying they were "afraid of the NRA" and he wasn't.
But in a series of Monday morning tweets, he touted his proposal to arm some teachers and sought to justify his backpedaling on the age issue.
"Highly trained expert teachers will be allowed to conceal carry, subject to State Law. Armed guards OK, deterrent!" Trump tweeted, adding that there's "not much political support (to put it mildly)" for raising the age requirement. 
"I ask him why?" Hogg said in his interview. "Show us you're better than the other politicians, that you aren't owned by the NRA and that you want to take action. Those proposals were great, but proposals without action remain proposals."
Calderon took on one of the main NRA arguments against raising the age requirement.
"They always talk about the narrative of good guys with guns stopping bad guys with guns. But to that I say, what if the bad guys couldn't get the guns because we have comprehensive gun laws," he said. 
Watch the full CNN interview below. 
Calling all HuffPost superfans!
Sign up for membership to become a founding member and help shape HuffPost's next chapter