WASHINGTON ― The reaction to the mass shooting at Marjory Stoneman Douglas High School in Parkland, Florida, followed a familiar arc: GOP leaders offered thoughts and prayers. The media profiled fallen victims. Democrats urged action on the same gun safety bills they've been pushing for years. Republicans said none of their ideas would work.
But then the script veered off course.
Teenage survivors, angry and emotional, got in front of cameras and demanded changes to the country's gun laws. They denounced the National Rifle Association and lawmakers who take its money as the cause of inaction. They amassed tens of thousands of followers on social media. Instead of news coverage dropping off, it actually stayed on the teens as they pushed for reforms in a primetime televised town hall meeting and a listening session with President Donald Trump at the White House.
By the end of that meeting, Trump promised action on gun background checks and called for banning bump stocks, which are attachments that enable a semiautomatic rifle to fire faster.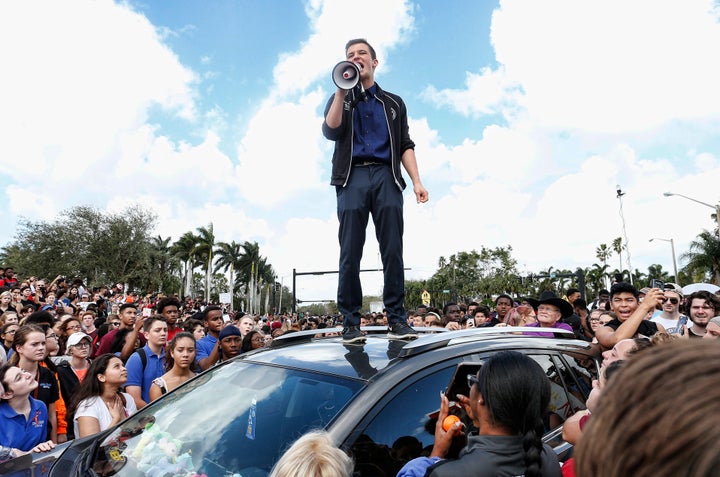 Could it be that this time ― this time ― something is different?
Gun control advocates say they see a strong new voting bloc emerging in the wake of the Parkland shooting, a cadre of people ready to wield political influence just as gun rights supporters have in the past. That bloc includes the millions of young people who have grown up in the post-Columbine era. It includes the millions more parents who fear a devastating replay at their child's school. And for the moment, it includes teenagers who don't understand why their friends were just shot to death at school, and why nobody is doing anything to prevent it from happening again.
"People are fed up," said Andrew Patrick, media director for the Coalition to Stop Gun Violence. "If you were a freshman or a sophomore in [Parkland] high school, you would have been in elementary school when Sandy Hook happened. They have grown up with tragedy…. They are saying we are tired of it, and if you are not voting for our interests in keeping us safe, we will vote you out."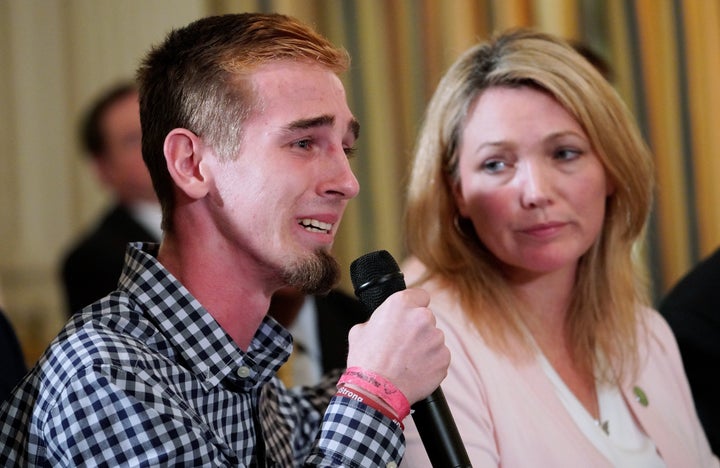 Growing Up With School Shootings
It's been 19 years since the mass shooting at Columbine High School in Colorado that left 12 students and one teacher dead. The massacre stunned the nation, yet now, it's not even in the top ten deadliest shootings in modern U.S. history. Indeed, four of the five deadliest gun rampages were in the past year and a half.
Momentum is certainly with gun reform advocates. After the 2012 shooting at Sandy Hook Elementary School in Connecticut, which left 20 children and six adults dead, tens of thousands of women signed up for Moms Demand Action for Gun Sense in America, now part of Everytown for Gun Safety. The 2016 mass shooting at Pulse, a gay club in Florida, propelled LGBTQ groups into the movement. Now the Parkland shooting is bringing in young people who have grown up with active shooter drills as a part of life.
"We know that voters are partially motivated by what feels personal to them," said Isabelle James, political director at Giffords, the gun violence prevention group former Rep. Gabby Giffords (D-Ariz.) launched after surviving a gunshot to the head in 2011.
"When kids feel like their elected leaders are prioritizing gun lobby interests over their safety, that feels personal," she said. "These high school students are the next generation of voters, and they have an incredible opportunity to shape where the politics of this issue is going."
"When kids feel like their elected leaders are prioritizing gun lobby interests over their safety, that feels personal."
Gun control groups are seizing on the Parkland shooting to generate action. In a week's time, more than 450,000 people signed a Giffords pledge vowing to only support candidates who back "common sense" gun reforms. The group raised $1.3 million in the same period. Everytown gained 1.5 million new online supporters, and took out a two-page ad in The New York Times listing members of Congress who have taken NRA money and how to contact their offices. HuffPost tweeted about it on a whim that day, and the tweet went viral.
The Parkland shooting has also, at least temporarily, affected how people say they plan to vote in upcoming elections. A Friday Marist poll found that 85 percent of registered voters said a candidate's position on gun legislation will influence their vote. Notably, 77 percent of that group said gun laws must be strengthened. A Quinnipiac University National Poll conducted last week found that Democrats are more than twice as likely as Republicans to say guns will be a litmus-test issue for them.
The NRA Still Runs The Show
But the energy of the past two weeks is a blip compared to the grip the NRA has had on the gun debate for decades. Scholars of gun politics say gun safety advocates are still nowhere near leveling the playing field with gun rights groups, politically speaking.
"The NRA has 5.5 times the budget revenues as the four top national gun control groups combined," said Kristin Goss, a professor of public policy at Duke University and co-author of Disarmed: The Missing Movement for Gun Control in America. "They are excellent at mobilizing citizen participation. They have way more money and way more members. And they have way deeper, longer-standing connections to policy makers."
The NRA also has a built-in advantage: It's a hobbyist group.
"People who own guns, who love guns, who engage in gun activities as a hobby have an emotional attachment to those activities," said Robert Spitzer, a gun policy expert and professor of political science at the State University of New York at Cortland. "For the average American, the gun issue is one on which they have opinions, but it's not a top tier issue because they don't have a personal tie to it."
So far, Democrats have no plans for a national messaging strategy on gun reform in the 2018 election cycle. HuffPost talked to officials who work on Democrats' House and Senate campaigns, and people in both camps said candidates represent areas that are too geographically and culturally diverse to put forward "a one-size-fits-all" requirement of support for gun control.
"If this is about us speaking to people who already agree with us, we're going to keep going around this awful circle again and again and again."
Some Democratic strategists say their party has been bungling its message on gun control for years, namely because it is failing to engage independent and moderate Republican voters.
"Do you want to move the needle, or do you want to try and do something that politically won't happen?" said Chris Kofinis, who has worked in academia and in Democratic politics, including for two presidential campaigns, for close to 20 years.
"If this is about us speaking to people who already agree with us, we're going to keep going around this awful circle again and again and again," Kofinis said. "I'm going to vote Democratic no matter what, so you've got people like me. The question is, can you move some of the moderate Republicans and independents who happen to have guns in their house? … This may be a turning point for us, but is it a turning point for them?"
Gun rights enthusiasts are more politically active than their counterparts, historically ― even though 97 percent of Americans support expanded gun background checks.
Gun control advocates are less likely to contact public officials, and an October Gallup poll found that conservative voters are nine points more likely to say they would only vote for a candidate who shares their views on guns. People who own guns are also more likely than non-gun-owners to only support candidates who share their stance, and to donate to groups that work on gun policy.
Gun Reform Groups Have Their Eyes On November
But those stats are up against the grim reality that mass shootings are on the rise in America. Groups like Giffords and Everytown say that tragically, their base of supporters will only grow, and point to Virginia's gubernatorial election in November as proof that a candidate's position on gun control matters. Exit polling in that race found that voters ranked gun policy second only to health care out of five issues they said mattered the most in deciding how they voted in the race, which Democrat Ralph Northam won.
The two groups are also planning to make gun issues central in a massive push to register high school students to vote. The $1 million voting drive, funded by billionaire Tom Steyer, will focus on districts and states represented by NRA-backed lawmakers.
"Four million 17-year-olds turn 18 before the midterms, including my son," said Shannon Watts, founder of Moms Demand Action. "I'm very hopeful they will vote on this issue."
Parkland students aren't letting up, either. They named their new movement "Never Again" and have a policy goal of passing stricter background checks into law. They are planning a national protest in Washington, D.C., on March 24 called March For Our Lives, with local protests happening in cities around the country on the same day. Organizers are expecting up to 500,000 attendees at the D.C. rally, and have reserved 14 Jumbotrons and 2,000 chairs.
It's a remarkable feat for a group of teenagers, who have pulled this off in under two weeks' time. But the real test will be if they can sustain this energy through the fall elections.
"Tragedies like this always shape the opinions of Americans, and ultimately how they vote," Watts said. "We believe if we can keep this momentum going, we can start to get a Congress in place who can do the right thing ― and eventually a president."
Support HuffPost
The Stakes Have Never Been Higher
Before You Go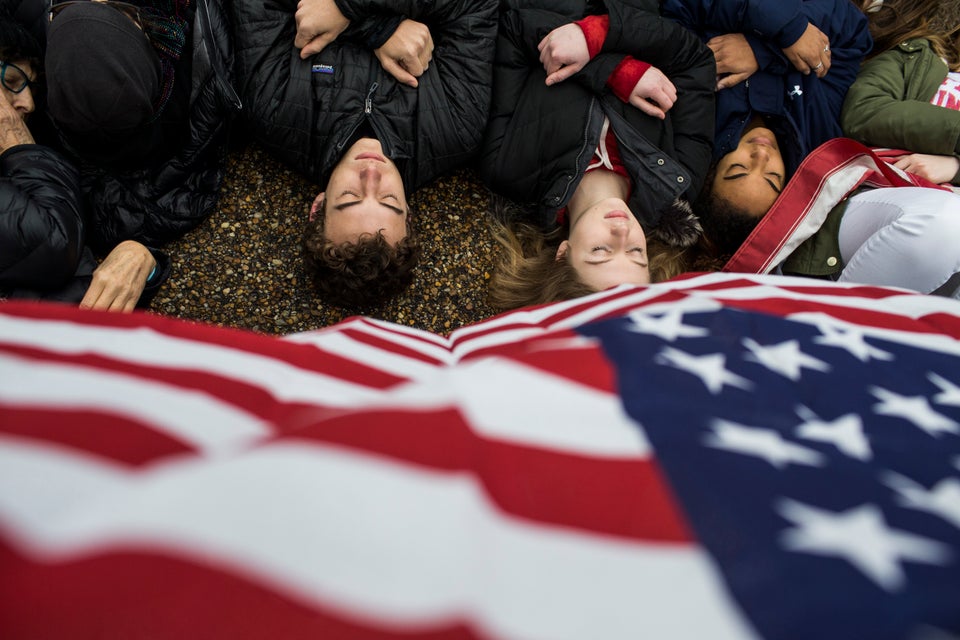 Students Protest Gun Violence At White House
Popular in the Community