On Sunday, diplomas were presented to the families of seniors Nicholas Dworet, Joaquin Oliver, Meadow Pollack and Carmen Schentrup during Marjory Stoneman Douglas High School's graduation ceremony at the BB&T Center in Sunrise, Florida.
Dworet, 17, was the captain of the high school's swim team and dreamed of one day competing in the Olympics. He planned on attending the University of Indianapolis and joining its swim team after graduating this month.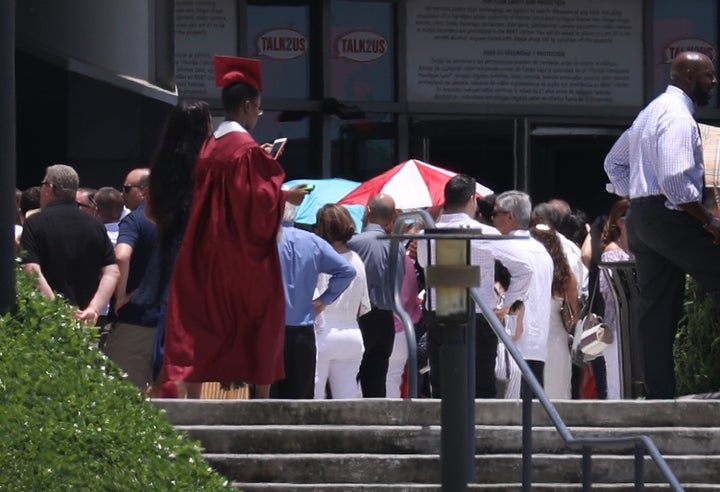 His mother, Patricia Oliver, accepted his diploma on Sunday while wearing a yellow shirt that read, "This should be my son." His father, Manuel Oliver, was seen wearing a black shirt that read, "We demand a change."
Pollack, 18, had spoken of becoming a lawyer and was planning to attend Lynn University in Boca Raton.
Her father, Andrew Pollack, told the Sun-Sentinel that he was too heartbroken to attend her graduation. He tweeted out a photo of him and his daughter on Sunday morning along with a link to a nonprofit he founded that aims to increase school safety measures.
"Today my baby should be walking across the stage to receive her high school diploma. Instead her brother [Hunter Pollack] is receiving it on her behalf because she was killed," he tweeted.
Meadow Pollack's brother, in his own tweet, described the graduation as "the day my sister has been waiting for."
Schentrup, who at 16 was the youngest of the four seniors killed, had hoped to pursue a career as a biomedical researcher after graduating. Her mother, April Schentrup, declined to attend the ceremony, tweeting that "it is too painful to celebrate [without] Carmen."
"I am proud of Carmen's friends & classmates on their accomplishments," she added on Twitter. "They've overcome so much. I know they will [continue] to make positive changes."
Two other students in the graduating class who died before this year, one of illness and the other by suicide, were also remembered during the ceremony, NBC News reported.
Seniors attending the big event wore mementos in their graduation attire that reflected their ongoing campaign to end gun violence and memorialize the victims. "MSD Strong" was also emblazoned down their graduation stoles.
Prominent anti-gun activist David Hogg, who was among those graduating on Sunday, shared a photo of an orange $1.05 price tag being used as a tassel.
During the March for Our Lives rally in Washington, D.C., in March, Hogg said the price tag represented the amount that each Florida student's life is worth to Sen. Marco Rubio (R-Fla.). That amount was calculated from the $3.3 million that the National Rifle Association has donated to Rubio's campaign, divided by the 3.1 million public and private students across the state.
The color orange has been used to symbolize the protests against gun violence. Later in the day, Hogg retweeted a message from the anti-gun-violence group Moms Demand Action that encouraged others to wear orange for "the communities that are disproportionately affected by gun violence in America."
Adding a healthy dose of laughter to the ceremony's mix, "Tonight Show" host Jimmy Fallon gave a surprise commencement speech to the graduating class.
"When something feels hard, remember that it gets better. Choose to move forward. Don't let anything stop you," he told them during a more sobering moment, thanking the students who attended the March for Our Lives rally and turned it into a global conversation.
Popular in the Community