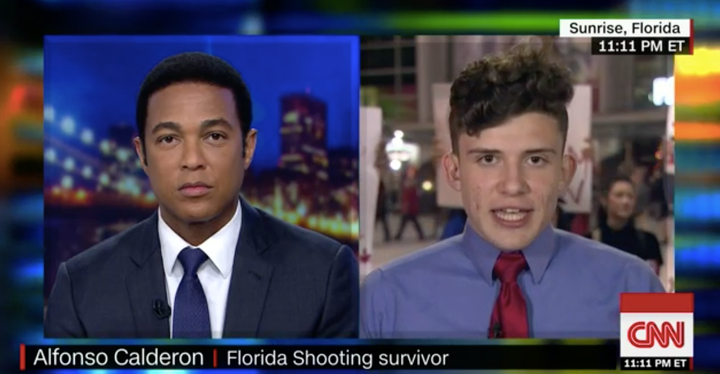 The Marjory Stoneman Douglas High School junior and survivor of the recent mass shooting told CNN's Don Lemon on Wednesday evening that Trump's plan is simply "a terrible idea."
"I don't know if Donald Trump has ever been to a public high school but, as far as I'm aware, teachers are meant to be educators. They are meant to teach young minds how to work in the world," Calderon said defiantly. "They are not meant to know how to carry AR-15s, they are not meant to know how to put on Kevlar vests for the other students or for themselves."
Seventeen people were killed when a gunman opened fire with an assault-style rifle at the South Florida high school on Feb. 14. The attack is the 17th school shooting in 2018 alone. Since then, student activists including Calderon have organized and called on Trump and legislators to enact stricter gun laws.
During a listening session at the White House on Wednesday afternoon, Trump suggested arming 20 percent of teachers with guns in order to end future school shootings more quickly.
Calderon said he's "sick" of having to discuss arming teachers.
"This is not what we stand for," he continued. "We stand for small policy changes and maybe possibly big ones in the future. Because right now I'm pretty sick of having to talk about teachers being armed. Because that is not even a possibility in my mind."
Trump elaborated on his idea in a series of tweets Thursday morning, writing that he "never said 'give teachers guns.'"
He went on to write that "only the best" teachers, as in ones "with military or special training experience," should be given guns.
"Highly trained teachers would also serve as a deterrent to the cowards that do this," Trump tweeted. "Far more assets at much less cost than guards. A 'gun free' school is a magnet for bad people. ATTACKS WOULD END!"
Many teachers and educators have pushed back on Trump's idea, writing on social media that they don't want to carry guns.
"I'm a teacher. Don't give me a gun," one teacher tweeted. "Give me the supplies I need, the salary I deserve, and the common-sense gun laws to protect my kids."
Popular in the Community