Where: The Brooklyn Zoo is a training facility in East Williamsburg, just a few blocks away from the L train's Grand St. Station
What We Did: The Brooklyn Zoo offers a multitude of classes from trampolining to "New Style Hustle." We took a women's parkour class. If you don't know what parkour is, check out these examples. Essentially, it's supposed to look like this:
There were a total of five women in the class including myself. The teacher, Alexa Marcigliano, explained that each class is focused on a specific parkour move. Our class was all about wall jumps. That is, literally climbing up a wall. She told us we were going to start with smaller temporary "walls" that looked like barriers set up in the middle of the floor and end class jumping onto the gym's 18-foot permanent wall.
The class began with a series of warm-ups. We ran around on a very bouncy purple spring floor, doing knee-ups and some backward running. Next, it was across-the-floor movement. This was very difficult. We crawled across the floor on our hands in a plank-esque position and then did the same thing in reverse. I was shvitzing like crazy by this point.
We quickly transitioned to rolls. Sadly, these were not bread rolls. Alexa showed us how to properly do a parkour roll, which was surprisingly easy. The hard part is jumping into a roll from a building, but that comes later in one's parkour career. Much, much later.
After we were warmed up, we tackled the walls for the rest of class. Alexa propped a big, slightly-triangular mat up against the biggest wall, which made it easier to climb. Not that I actually managed to get to the top. I didn't. But doesn't this picture make it look like I was well on my way?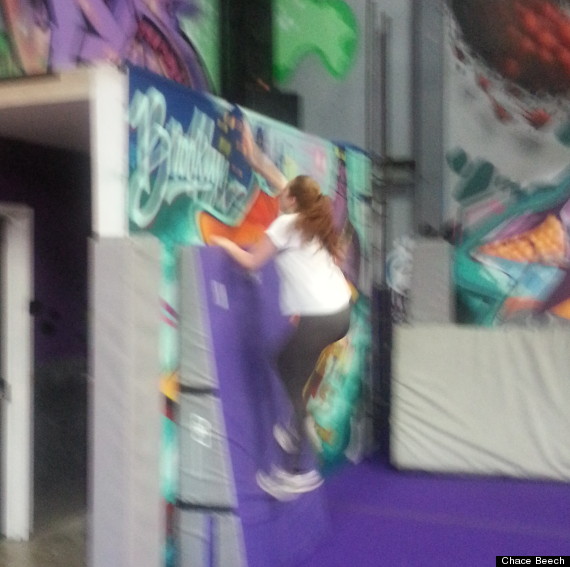 For How Long: The class was one hour.
How'd It Feel: I did not jump over walls with grace and ease. In fact, I would say jumping over walls was very difficult for me. Regardless of my utter lack of arm strength, this class actually made me feel a bit like a superhero. Alexa was totally supportive of everyone, and we were all cheering each other on. It was seriously hard work, but it was nice that we got time to rest, since we were jumping over the walls one by one.
My thighs were burning, and my bum was cramping. There was also an adrenaline-inducing aspect of the class that got me really fired up. I wanted to conquer the wall, and I wanted to look ninja-esque. I was inspired by a guy working out in another part of the gym who looked like he was literally strolling up a wall. The whole place felt like a cool circus that I wanted to join ASAP, with people walking upside down and doing crazy stunts. While I didn't make it over the largest wall, I still ended the class feeling satisfied, energized and pretty cool. This was a testament to the camaraderie in the class and Alexa's words of encouragement throughout.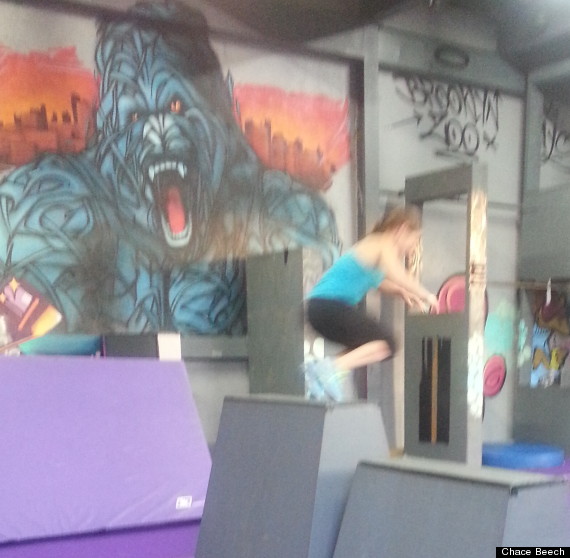 What It Helps With: I would assume that parkour is helpful if one happens to be in a situation where they need to quickly escape from vicious dogs and the only way out is jumping over a super-tall wall. For regular folks, it definitely strengthens your core, arms, legs and butt. The exercises at the beginning of class got my heart rate up fast, and I really felt my biceps when I was trying to climb up the wall. I woke up the next morning with sore legs and arms. When I asked Alexa what parkour helped with and if they focus on certain parts of the body, she said, "Every day is leg day." After taking the class, I understand.
What Fitness Level Is Required: Only one woman in the class had done parkour before. The rest of us were newbies; however, it is not easy, and it is not gentle. You don't have to be a gymnast, but I would recommend this class to someone who is moderately in shape.
What It Costs: Parkour at the Brooklyn Zoo is $20 a class.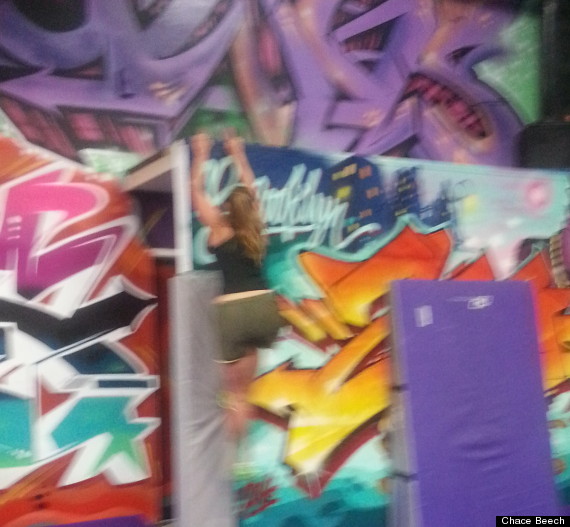 Would We Do It Again: I will say that while the down time in class was nice, it meant that I didn't end the hour with the maxed-out feeling that I enjoy after a workout class. Instead, there were moments of extreme exertion and then inactivity. Regardless, I definitely would try this class again. Parkour was fun, and it was a type of workout I have never experienced before. With easy access to a gym that taught parkour, I could see myself getting into the lifestyle.