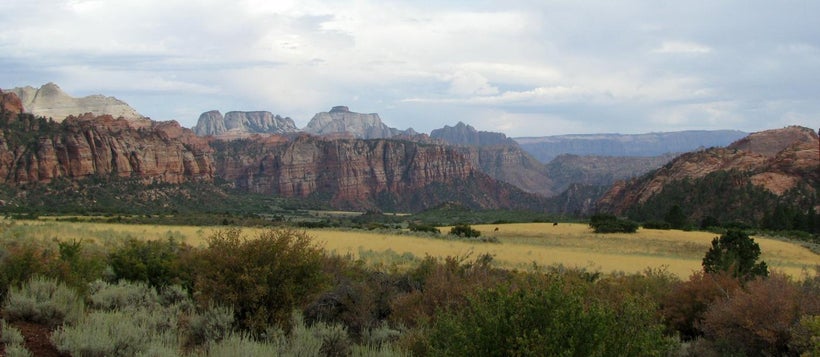 When most people think of America's wonderful public lands, from neighborhood parks to national parks, they think about time spent outside and memorable vacation trips with friends and family. But while creating those memories are among the best ways to use our lands, most Americans don't realize our public lands have an important role in helping fight climate change, the biggest environmental challenge our world faces.
That's why it was frustrating to see President Trump's recent orders which would reverse major steps our nation has been taking to blunt the impact of climate change, including using parks and public lands to reduce carbon emissions and protect our communities.
The President's short-sighted actions include rolling back the Clean Power Plan, which would have required a substantial cut in the power plant emissions that cause climate change. A second presidential order lifted a moratorium on coal leasing and other energy development on federal land, and a third proposed to eliminate an Environmental Protection Agency rule putting a dollar value on the long-term damage caused by releasing carbon dioxide into the atmosphere.
The Trump orders would take us backwards just when our nation and the world are finally moving in a positive directon on climate change. They will lead to a warmer climate, dirtier air, and set the nation on a path for more drastic weather events – bigger storms, widespread flooding and rising seas that are the signs of a warming planet.
And they would also set federal policies in the opposite direction from the innovative steps many cities and local communities are taking. If we're going to be successful in winning this fight, we'll need to all pull together in the same direction, at all levels of government.
For example, our public lands play a little-understood role in fighting climate change. Forests and grasslands can potentially capture and store millions of tons of carbon, which would otherwise worsen climate change. America's forests, farms, ranches, and wetlands offset 11% of the greenhouse gases our nation emits. And much of that happens on public land.
Some of our public land has historically been used to produce energy, but the bulk of it was set aside for other uses, such as recreation and ranching. The latest orders would upset that balance by dramatically increasing the amount of land mined for coal or drilled for oil and natural gas. And using the land for those purposes will create more air pollution.
If the goal of increasing energy production from public land is to create jobs, any equation about those economic benefits also needs to recognize that other jobs will be lost from outdoor recreation, which supports a robust part of our economy.
In Boston, our organization is helping the city deal with the potential of rising seas and stronger heat waves, including the use of parks as "green infrastructure" to buffer flooding and provide shade.
President Trump's recent budget proposals would pull the rug out from under those efforts. Instead, the federal government should be a supportive partner to local communities.
Politicians in Washington can claim climate change isn't real, but there is no disagreement among scientists, and Americans are seeing the impacts across the country. If we're going to solve the problem, we will need to take a variety of steps, using different tools, including local parks and public lands. The President should join with local communities and provide forward-looking solutions.
Calling all HuffPost superfans!
Sign up for membership to become a founding member and help shape HuffPost's next chapter
This post was published on the now-closed HuffPost Contributor platform. Contributors control their own work and posted freely to our site. If you need to flag this entry as abusive,
send us an email
.