"Parks and Recreation" returned for its seventh and final season on Tuesday night with back-to-back episodes, and it was glorious. We finally got to see what everyone was up to in 2017, and things definitely didn't turn as expected. Old friends are now enemies, there were two awesome cameos and a decent amount of spontaneous nudity. Here's what happened:
Spoiler alert if you haven't seen "Parks and Rec" Season 7 Episodes 1 & 2, "2017" and "Ron and Jammy"
Jon Hamm is back! But Leslie had to remind his character Ed that she had already fired him. (He'll be at Subway if anyone wants to hang.)
Jerry goes by Terry now, because he couldn't go by Larry (since there was another one in the office), and no one cared that his real name is Gary. So good luck keeping track of that!
Leslie's Voldermort is revealed as ... Ron! We repeat, Ron and Leslie are enemies, and have been for at least two years. What the hell is "Morning Star," which is referred to as their friendship Waterloo, and what did Ron do to Leslie? (One guess: outlaw waffles in Pawnee.)
Andy has TV show and it's called "Johnny Karate Super Awesome Musical Explosion Show." And Terry plays a mailman on it. (He gets attacked by ninjas.)


April is feeling domesticated -- and it's weird. Someone please replace her crockpot with Frisbee plates.
Tom is a restaurant mogul now and has a chopped salad bar that serves salads from a decommissioned military helicopter. We're down with 2017.
There's a new Jason Bourne movie in 2017, and it stars Kevin James. Okay, maybe we're not down with 2017.
Ben wins Man of the Year! But then his celebration is ruined by Ron and Leslie fighting.




Then Andy got naked, but no one even cared.
Yes, ladies and gentleman, that man selling the haunted house was German filmmaker Werner Herzog. And apparently all he wants is to go to Disney World.
In 2017 there are really cool tablets that compliment your skin. Sure, why not. ("Give me your skin.")
Joan Callamezzo, fresh out of rehab, has a book called "Game of Jones." Can we get a copy, please?
Oh, the Cubs finally won the World Series, apparently. (And Michael Schur threw in another baseball easter egg that you might have missed.)
Tammy has turned Jamm into a mini-Ron, and it was terrifying!
But Jamm conquered the Tammy spell after some coaching by Ron, even when she got completely naked in the library.
Can we stop for a moment and appreciate Leslie's amazing Tammy impression?
Natalie Moralas -- aka Lucy, Tom's ex-girlfriend -- is back! (She has a boyfriend now.) Can we also get Nadia (Tatiana Maslany) to come back too, please?
And at the end, Ron and Leslie are still trying to destroy each other. It's heartbreaking, and we hope someone will make them a bacon-wrapped-shrimp and waffle platter to ease the tension.
"Parks and Rec" airs on Tuesdays at 8:00 and 8:30 p.m. ET on NBC.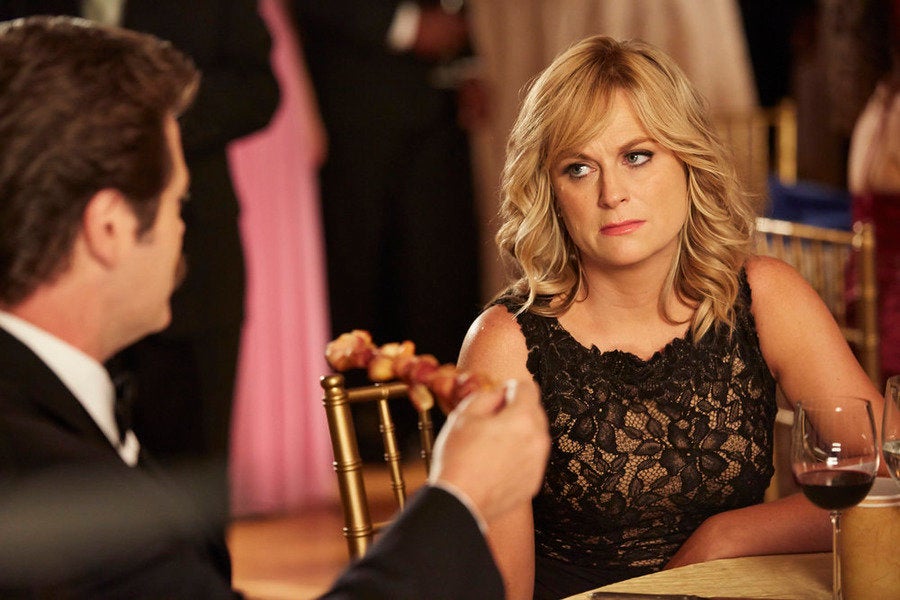 'Parks and Recreation'
Popular in the Community