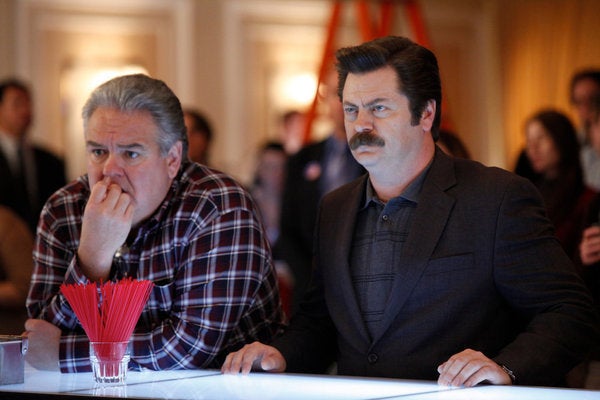 "Parks and Recreation" has secured a Season 5 and Leslie Knope has gotten her city council seat, so what's next? Lots of loving, if the stars get their way.
"Well, my big hope was to roll the cameras and have us show up and get in costume. That's looking good," Nick Offerman, who plays Ron Swanson, said with a laugh at the Peabody Awards, where "Parks and Rec" was honored. "Beyond that, I think all of us are hoping for some love interests this fall, of one sort or another. Everyone needs to get some."
Jim O'Heir, who plays the parks and recreation department's lovable oaf Jerry, said he's just happy to make more episodes of the series. "I'm just glad when my name's on the call sheet so whatever they figure out after that is fine," O'Heir said.
"Parks and Rec" executive producer Mike Schur, who called the Peabody Award "insane," talked to HuffPost TV about what to expect in Season 5.
The fan-favorite comedy returns for a 22-episode fifth season in the fall. Season 4 ended with Leslie Knope (Amy Poehler) winning the city council seat in the fictional Pawnee, Indiana, Ben (Adam Scott) getting a job offer in Washington, D.C. and Andy (Chris Pratt) toying with the idea of attending police academy. Schur said planning for the new season is just getting started, but Ben will be in D.C., even though the show might not actually film any episodes there.
"We get back to work with the writers in two weeks," Schur said. "Usually, what we like to do in our finales is throw a lot of balls in the air and then meet over the summer and figure out how to catch them. That's what we'll be doing. The plan right now is that Ben Wyatt will be in D.C. for a number of episodes. We don't know how many. There's a lot of potential storylines and possibilities and we don't know where we're going to go yet. We'll figure it out."
Could viewers see President Leslie Knope one day?
"I don't think the show will be on the air long enough," Schur said. "Season 21 -- if we beat 'Gunsmoke,' then maybe she can be president. She's an ambitious person and she's trying to move up the ladder in her chosen career path so I don't think she's going to be content just being a city councillor forever."
For a look at NBC's new series, click through the slideshow below: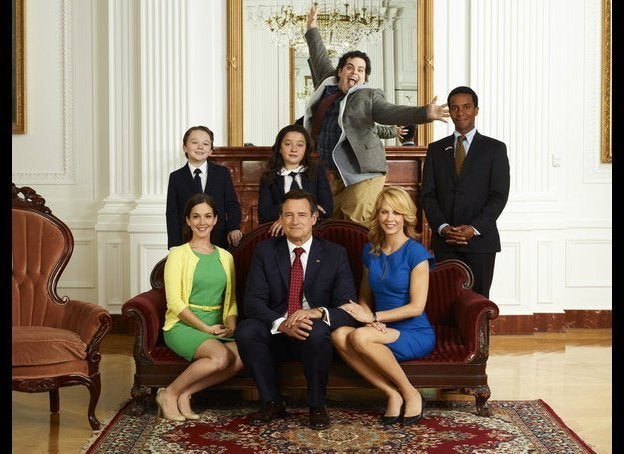 NBC's New Shows
Popular in the Community