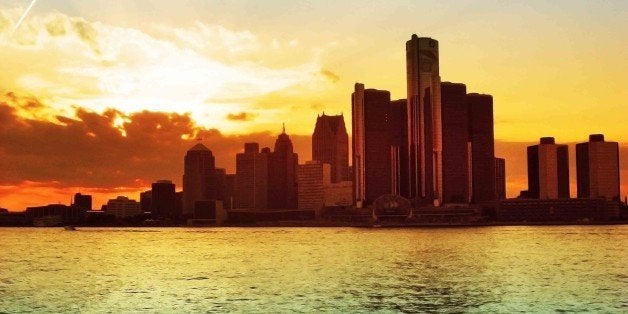 Detroit is probably the only city with a beach, lounge chairs, a full-on beach bar, grassy amphitheater, painted pianos, basketball courts, a sand volleyball court, a ping pong table, a foosball table and food trucks all in the central downtown park.
Oh, and there are concerts over lunch all week, and movies on Saturday nights. It is obvious how much such a park increases traffic and beautifies the area. But what may be less obvious is how and how much the park objectively raises the property value and economic prosperity of the area. The American Planning Association, a national authority on community development, did a study on the contribution of parks to economic development. All of the statistics in the rest of this article derive from that study.
Parks objectively increase property values. Frederick Olmsted tracked the rise in adjacent property values over the seventeen years following his creation of Central Park, a $17 million dollar project. He found there was a $209 million increase in the value of the adjacent property.
Parks also attract more homebuyers, educated workers and affluent retirees. As life expectancy increases, the retiree demographic becomes larger and more attractive. One in four Americans are expected to be a part of this group by 2050. After all, the influx of 100 retired households to an area at a retirement income of $40,000 has a $4 million dollar impact. A further ripple effect of retirees relocating to a given area is that they place assets in local institutions, which can in turn be leveraged for financing other local projects. The ripple effects of all of this, among others, include increased municipal revenues from policies such as property and sales taxes.
What does all of this mean for the beach? The extent of Campus Martius' offerings is more than creative and enjoyable. It is strategic. The basketball court attracts one group, and the Detroit Symphony on Tuesday at 6 p.m. attracts another, and the bar attracts another. A greater number of park activities thus causes a greater economic impact in all of the ways outlined above.
Calling all HuffPost superfans!
Sign up for membership to become a founding member and help shape HuffPost's next chapter