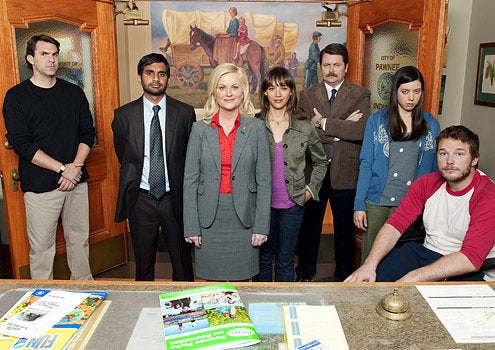 "Parks and Recreation," NBC's hotly anticipated Amy Poehler vehicle, premieres tonight and that means the reviewers can FINALLY reveal what they thought of the pilot episode they got weeks ago in the mail. In general, the reactions were not good. It seems that the show is a less bright and shiny version of the "Office." Here's a round-up of what media and entertainment critics are saying...
Tom Shales of "The Washington Post" called the show "a too-obvious imitation of the network's imported hit "The Office," and complained that "NBC has managed to come up with a prime-time network sitcom that suffers from an excess of subtlety -- a flaw so utterly unprecedented that it has considerable novelty value on its own."
Robert Bianco of "USA Today" came down hard on the show saying, "What you find in Parks and Recreation is a style in search of a show. Worse yet, it's not even a new style, or one that seems particularly well-suited to the character being played by the star, Saturday Night Live's Amy Poehler."
Chuck Barney of the "Contra Costa Times," bemoaned the lack of meaty writing for its star, saying the show "betrays Poehler by failing to provide her with material worthy of her talents. Whose idea was it anyway to take a woman gifted with a sharp comedic wit and turn her into a trite dumb blonde? She deserves so much more than that."
WATCH THE FULL EPISODE HERE:
David Hinckley writing in the "Daily News" said the show is a "summer camp for lightweight one-liners, the kind of banter that might sustain an occasional 'SNL' skit, but may have trouble supporting a whole sitcom."
Tom Maurstad of the "Dallas News" said, "The show has a great supporting cast, especially her misanthropic Libertarian boss, Ron (Nick Offerman), who wants to privatize the department and whose role model is Bobby Knight."
The "LA Times" says, "Tonight's opener starts slowly but hits cruising speed soon enough," and notes that despite being yet another mockumentary "'Parks' tells its own story on its own terms."
Ken Tucker in "Entertainment Weekly" reminds us that the "'Office' seemed 
a little flat when it premiered in 2005," and says, "One would be foolish to underestimate the series 
this early on."
REAL LIFE. REAL NEWS. REAL VOICES.
Help us tell more of the stories that matter from voices that too often remain unheard.