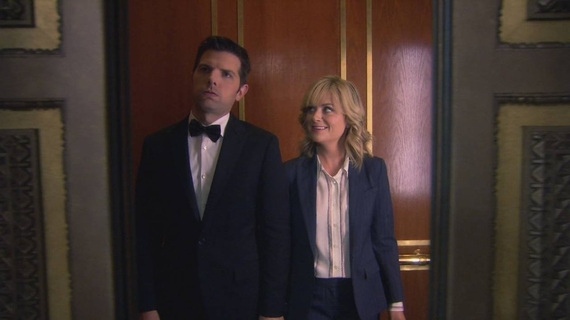 From jumping into the future three years to meeting Michelle OMG Obama, the episode was epic. Frankly, it felt more like a series finale then a season finale.
I spoke with Parks & Rec's Jim O'Heir, who plays Terry, or Jerry -- no, Terry -- I can't keep up. Anyway, we chatted about the season finale, spoilers coming up next season, and what Chris Pratt looks like naked (I asked for pics, still waiting for them).
It felt a lot like a series finale. Why?
Yeah, it really could have been a series finale. People are saying that's because we were on the bubble of not getting renewed, but that's not the case. We found out in January that we were coming back. This is the direction they wanted to go, this is where they want to begin next season. It's going to be three years later, and I think it opens up so many possibilities.
Like Leslie, Amy Poehler's character, having triplets.
What that does is gets us away from the whole baby thing. There will not be a pregnant lady walking around. We've had two pregnancies already in the last year, that's plenty. Now they're just 3-year-old people, and you can keep them around as much or as little as you want. I love the jump, and I think Amy in particular was like, I'm not doing the babies, I'm already doing that in my own life.
It's like a better written version of when Desperate Housewives jumped into the future.
I was telling people all along that there's something happening in the last minute of the episode that's gonna be shocking. I don't think it's ever been done on a sitcom, but I was careful to point out that it had been done on a dramedy before. We're going to stick to three years later, but maybe there will be flashbacks or references to what's happened in the past three years. I love people's reactions to it, they were shocked.
What's going on for Jerry now?
If you do the math, Jerry is now 70. Myself, Jim O'Heir, as a man, as a person, is 52. So already there's some issues there. Three years ago they gave me my 16th birthday party for my leap year birthday, which made me 64. So now, six years from then, I'm 70. It's working, apparently. I'm still there, I'm still dropping things. Jerry dreams of being in a cabin with his wife. I literally have no idea. The writers' theory when they do a season finale is to throw everything at it and say, "We'll work it out in the hiatus." Literally, all that crazy stuff from the last 30 seconds, from Leslie walking in yelling, "It's a press lockdown," Ben in a tux, nobody knows what any of this means.
What's a day on the set like?
We do laugh all day. The atmosphere is unlike any other show I've ever done. Everybody is friendly and happy. The work gets done, but they let us play. We're creative people, and by letting us play, creative things come out of that. Around 80 percent of the crew are the same from day one, and that tells you what kind of set it is. People don't want to leave. Once we shoot one scene and everyone is happy with it, then we should a fun run, which is anything goes. By anything I mean there have been wigs thrown off, Chris Pratt was naked once...
Wait, I'm going to have to interrupt you there to ask a very important question: What was it like to see Chris Pratt naked?
I guess it was okay? That was many seasons ago when he did the naked thing.
But it was like yesterday in your heart, right?
I think it was pre-buff Pratt.
Really? Moving on. Parks & Rec has had some amazing guest stars. Tell me about Michelle Obama.
The only actors that met the first lady were Amy and Brady Smith, the actor she shared the scene with. Imagine being a guest star and being told, "Listen, we're going to fly you to Miami, we can't tell you why, but you're going to do this special scene there, with Amy, and somebody else." Then you find out it's Michelle Obama. Amy flew to Miami because that's where Michelle Obama was.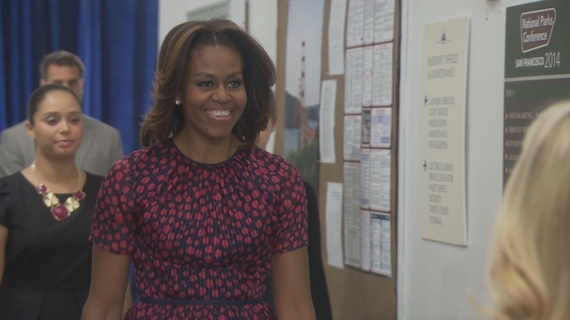 And you go wherever Michelle Obama tells you to go.
The Obamas are big fans of the show because it's their daughters favorite show. We've known that for a couple of years.
You've also had Uncle Joe Biden on the show.
If you were to meet him, would you call him Uncle Joe?
Yes. I would hug him and let him hold me in a Catholic grandpa kind of way.
The fact that the Catholic part came into that says a lot about you. How long have you been in therapy?
A long time. You're in Adam Carolla's movie, Road Hard, which was crowdfunded and raised $1.4 million. Tell me about the film.
The script is really sweet; it's got a lot of heart to it, and it's Carolla so it's got a lot of laughs. He's a former sitcom guy who had huge success but lost it. Now he's on the road doing comedy trying to maintain a certain lifestyle, so there's money issues, family issues. But it's a really sweet film. I play an owner of one of the places he goes to do stand-up.
There are female comics in the film; there's even a very well-known one, but I can't say who.
Besides Carolla's film, I'm doing a film in Chicago called Mind Over Mindy, Park & Rec is going to Comic-Con, we're going to a Nantucket Comedy Festival.
Last question, and it's the most important question that can be asked in 2014: Will you follow me on Twitter?

Calling all HuffPost superfans!
Sign up for membership to become a founding member and help shape HuffPost's next chapter