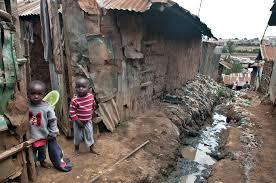 Most of the news from Kenya, recently, has been tragic. Plagued by violence from the Al Shabab terrorists from the mass shooting of Westgate shopping mall in Nairobi last summer, to a rash of attacks from the capital city to the coast this summer, have reignited ethnic divisions in a country struggling to find unity.
"Until December 2007," reports UNICEF, "when violence broke out on a national scale following a disputed presidential election, Kenya was one of Africa's success stories, a fledging democracy enjoying unprecedented economic growth with a booming tourism industry and a people full of optimism." Over 1,000 people died in the violence then; now, President Uhuru Kenyatta stands convicted of crimes against humanity during that election.
Meanwhile, the people of Kenya power on, in quiet courage, working to build a peaceful and prosperous future. Member of Parliament Ken Okoth, a son of the Kibera slums who got his "chance out," now works with thousands of students in need to give them the same. Ken literally forms a human bridge from the gleaming halls of Parliament to the sewage rivulets of the slums; and he intends to make full use of his newfound power.
The Parliamentarian Meets the Future President
Inside a dark, 10' x 10' windowless office--small, but larger than the homes in which either man grew up--a Kenyan Member of Parliament shakes the sweaty hand of a college student who dreams of being just like him. Outside, thick urban smog congeals in the streets above the din of nonstop horns. Ken Okoth, now in his 30s and recently elected to represent the Nairobi district of Kibera, chortles out loud at the sheer irony of where he's landed. Across the street sits the grand center of government, the Parliament Building; and a few blocks from there, the shack where Ken grew up.
"Politics is not good," he wags his finger at the young man staring at him with wide eyes. "Leadership is good," Ken continues. "That's a very important distinction."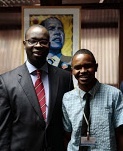 The young man's name is John Medo. The two men, a generation apart, share a conviction that education leads to power. Ken grew up as one of six children of a single mother in the exact same slum, a few blocks from here, which he now represents in Parliament. Ken got lucky: He won scholarships to a college-prep boys' high school in Kenya and then to university and graduate school in the U.S. Ken returned to Kenya to teach high-school history and then launch Children of Kibera (whose students were later adopted by Kenya Education Fund--a current partner of The School Fund), an NGO that supports slum-resident children through primary and secondary schools. Working with his brother, Jeff, Ken has sponsored 125 students per year from their inception in 2006 up until now.
Kenya Education Fund provides training in art, music, and computer science, and mentors students to prepare them for college and jobs. They assign both merit and need-based scholarships, help them qualify for full scholarships to university, and serve as "a bridge out of poverty to anywhere in the world." Some of these scholarships come from abroad: For example, currently, 21 of Ken's 125 students receive financial support via The School Fund, a U.S.-based nonprofit.
Ken talks about his student Apollo, who just graduated and won a full scholarship to study nursing at the University of Nairobi. "The bridge worked!" he exclaims. "Together with The School Fund, with our partnership, we made that bridge solid for him, and he crossed over." Ken hopes to expand to support 150 students per year.
"I've seen the power of education in my own life. It opened up the world to me," he recalls. "School really changed the trajectory of my life," Ken tells John.
John nods; he knows. When he graduated from primary school in his home county in nearby Tanzania, and passed secondary entrance exams with flying colors, John thought his only choice was to work as a grass-cutter at a hotel about a mile from his parents' mud hut. They loved John dearly and worked hard at several jobs; but they had four mouths to feed and could not raise the $150 needed for John's annual school fees.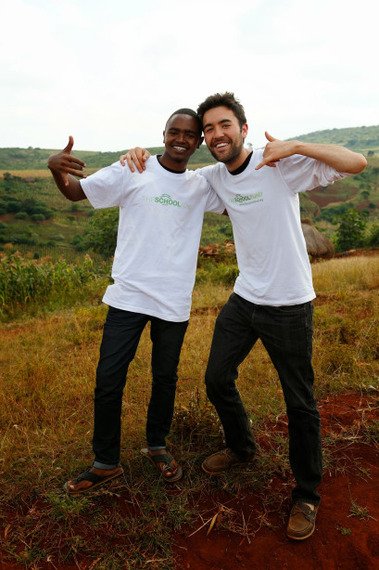 That's when John met an American teenager visiting Africa--Matt Severson--himself heading to university that fall with no fear about how to pay for it. Matt and his family easily raised the $150 John needed from the cash they had on hand. Matt then went home and launched The School Fund, an online, crowdfunding website now supporting 838 students in 16 countries, from Haiti to the Philippines to Kenya.
The School Fund is run by youth for youth: Its founders navigated their way through university while creating a program to bring others along in secondary. Now many of the original volunteers from California, Pittsburgh, Rhode Island, and Canada continue to support The School Fund's efforts, but a core full-time team also has been built in San Francisco to design online partnership models and get students connected to a supportive global community.
The School Fund supports both Ken and John's schools. The politician and the student met this summer when The School Fund visited their programs in East Africa. John was on break from university in Uganda and always wanted to meet a politician. After all, he's been planning since childhood to become the president of Tanzania. . .
The two talk about their paths, which look remarkably similar. Since 45% of youth ages 15-24 worldwide live in poverty (less than $2/day), they're just two in a billion.
Staying in School Against All Odds
A study by the World Bank showed that worldwide, only 65% of all secondary-aged students are enrolled in school (in 25 countries, fewer than half were enrolled). Kenya is considered "low-income" by the World Bank with 46% of its population in poverty, but has worked hard to achieve 100% primary enrollment. Despite a 2008 decree to support all children through secondary school, however, 1.2 million youth in the country remain out of school due to lack of access to basic school fees, according to UNICEF. And according to the World Bank, over 800,000 youth enter the job market each year. Ken jokes about being "The Boss of Kibera"; but nowhere does life in Kenya look bleaker than in Ken's new district.
Of the 3.1 million residents of Nairobi, Ken officially represents 300,000 in the Kibera district. It's an urban neighborhood that includes commercial and residential zones, one of Kenya's largest banks, and the continent's second-largest slum (after Johannesburg in South Africa): as many as 2.5 million slum dwellers (up to 50% of Nairobi's population living on 5% of its landmass), are not even recognized by the government to exist.
"Kibera is left to its own devices," reports The Economist. "Government is absent: it offers the residents (regarded as squatters) no services, opens no schools, operates no hospitals, paves no roads, connects no power lines and pumps no water into homes." Yet "Kibera may be the most entrepreneurial place on the planet . . . an advertisement for solid human ambition," the article proclaims.
"We face a lot of challenges in Kibera," admits Ken, "extreme poverty, healthcare, housing, sanitation, security--most of all, education." He smiles broadly, with a gap between his front teeth. He pushes thick glasses up the bridge of his nose.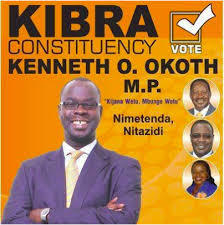 Why mix politics with education? For Ken Okoth, it's the only option. "If you have a vision you still need resources to execute that vision." He soundlessly lowers his fist onto his desk. "If you don't have power and influence, you can only do so much. . . "I got lucky," Ken shrugs. "I got the support of my teachers. My message to teachers is: All children in front of you are a gift. Nurture them, and let them succeed in different ways. Maybe this one will be the next president of the United Nations, or a Member of Parliament, the best runner, the best scientist."
"I like power," Ken admits. "I could only do so much as a private citizen. With the power, legitimacy, and status and position of a Member of Parliament, I [can] make policy, make the budget, make our priorities right with education so our boys and girls are adequately funded in quality schools. To me, that's power."
He pauses, and points to John as an example of power: both the young man's personal ambition and the work of The School Fund that got John to where he is now.
"Mr. Member of Parliament," John Medo blurts out, no longer able to contain his question, "Are leaders made or born?"
"Leadership can be made. It can be coached," Ken states. He believes everyone can grow into leadership in different ways. Citing a well-known prayer from the Christian bible that forms the foundation of all his work: "St. Francis said, 'Lord, make me an instrument of your peace.'" Ken admits: "I have so much more to learn--communications skills, listening deeply. But you don't have to wait until you're perfect to start. You start. And start. In the process, you learn."
"Start now," he begs John. "Young people should go for it--but don't see politicians as the only leaders. Serve within your school. Help your peers. If you're in the tenth grade, help a ninth-grader with their homework, and with feeling comfortable at school. If you're in twelfth grade, you can help everybody to organize community service and recycling. Those steps build up your confidence; then later, you can choose to be a leader in many ways." Leadership may matter more to the children of poverty than elsewhere in the world, according to Ken. He requires Kenya Education Fund students, upon enrollment, to sign a "Leadership Pledge" as a code of conduct for personal life.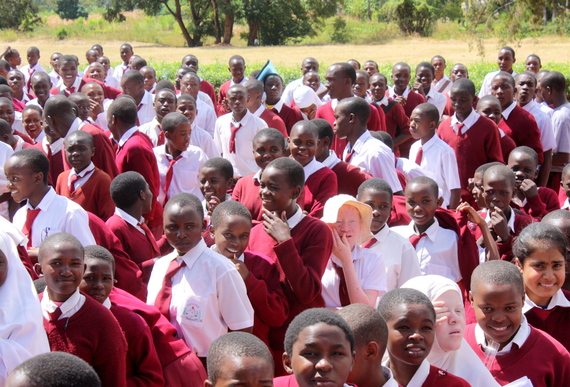 "Politics is an avenue of leadership, but it is not the only avenue. Leadership is having an impact on someone's life," he adds.
"Look at Bill Gates--he's not elected. The folks at Google--they're not elected politicians, but they have an impact in a big way because they create jobs, influence our economy, how we live our lives. Leadership makes the world a better place." To effect change in the world requires a combination of "listening and understanding properly" to his constituents, while also employing the efficiencies of technology (he carries only a cell phone and iPad and quips, "We're digital, baby.")
Power Lunching with the Mentor
Across the street from the cramped, dank office sprawls the Kenyan Parliament building. Just a few blocks beyond that, the seas of steel-shack huts of Kibera slums begin. But today is different. "Would you like to come to lunch with me?" Ken asks, and John's eyes beam yes. They navigate the ever-crowded tangle of car lanes and cacophony of horns that are Nairobi highways, and enter the heavy hush of the secured building of the privileged and the powerful.
John does not fail to notice how many people greet Ken by name, say hi or "Mambo," slap him on the back. The food is sumptuous here, and already John feels power by association. Stepping around the corner after lunch, John spots a current scholarship recipient standing on the edge of Kibera: another young student aspiring to escape poverty through knowledge.
Ken looks in two directions to find his role models: past and future. Geoffrey Griffin, the man who founded the charity high school that "gave me my chance out" and that formed the model for Children of Kibera, exemplified sacrifice and commitment to vision--how to create something from nothing. To the future he says, "I admire young people like Matt and The School Fund--they really get sh__ done," he laughs. "Five years from now, you'll be supporting thousands of students all over the world."
The School Fund, a 501(c)3 nonprofit organization, supports students in secondary school in low-income countries through education scholarships, by connecting passionate donors around the world on an innovative crowdfunding platform. They're building a world where all children, no matter where they live, have access to education.
While many valiant organizations work to create equal-opportunity education, here's what makes The School Fund different:
Crowdfunding: Supporters join forces, from high-school clubs to online donations starting at $1, that add up to a whole year's academic expenses for hundreds of students in need.
Choice: Supporters can scroll through and choose to fund a student who loves languages, or wants to be a doctor, etc.; or they can give to their general fund.
Transparency: Every dollar donated to a student goes directly to her or him--and The School Fund posts the receipt from the school right there online.
Communication: Students journal about their studies and their lives, and supporters can respond with advice or dialogue that often leads to long-term, cross-cultural friendships.
Relationship: Students can talk to one another about social such issues as education, water, and food; they learn what life is like on the other side of the planet. All conversations between students and supporters occur directly and in real time.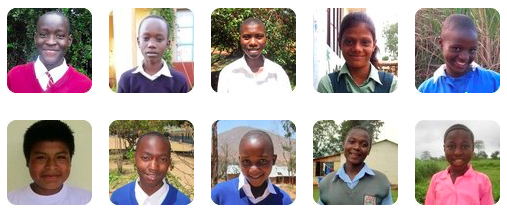 Learn about the power of education, and how you can become a member of The School Fund's global community, here.
Related
Popular in the Community