Matt Thomas believes in the power of positive thinking. Parmalee's lead singer experienced that power firsthand after his brother, Scott, was nearly killed in a shoot-out.
Even though Scott was shot three times and only given a five-percent chance of survival, Matt said there was no question in his or the other band members' minds: "He's gonna come through. We never thought he wasn't gonna come out." Their hope never wavered, he added.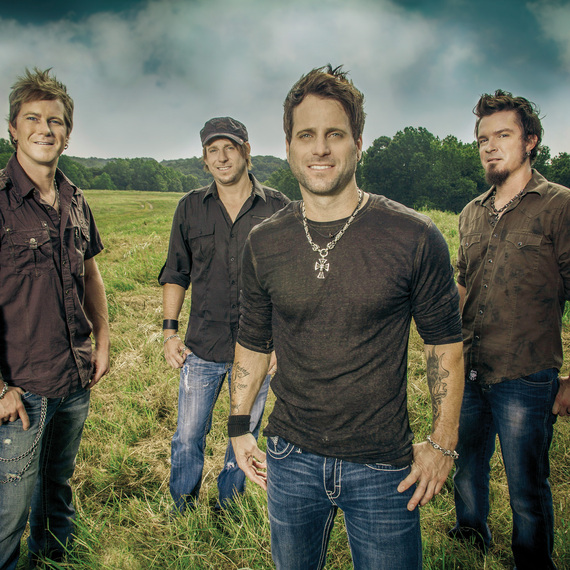 Parmalee has had a wild ride over the last four years, one that almost didn't happen, after the Thomas brothers became victims of an attempted robbery in September 2010. "They had me at gunpoint and they fired on us," Matt said, "and Scott was basically just protecting (us)."
Anyone who has followed the group's rise to fame knows about the shooting, but in case you're a new fan, this is the lowdown: after wrapping up a show in Rock Hill, S.C., Dytavis Hinton and Demario Burris broke into the band's RV and demanded the hard-earned money the band had just earned playing a nearby gig. They shot Scott, who had his own weapon and fired back, killing Burris. (Hinton later received a 20-year sentence; prosecutors determined Scott acted in self-defense.)
Despite the slim margin of survival and being in a coma for 10 of the 45 days he was hospitalized, Scott pulled through. During that entire time, Matt said, "Everything was always positive . . . "We were in (Scott's hospital room) playing music and talking and (there was) a lot of positive energy."
The tragedy has given Parmalee's music -- and their lives -- more meaning. "It made us a lot closer, more focused and," Matt said, "more appreciative of our fans."
That's because those fans came together from around the country, showing support for Scott and the entire band. That support "absolutely" contributed toward their healing, Matt said. They received "emails and posts... from all over the country," and "many people also raised money" to help with their expenses.
"When something like (the shooting) happens, as bad as it is," Matt said, "you... see the good in things you never get to see."
To this day, Matt says he still isn't sure how he made it out unscathed. "We were in a hallway. If you've ever been in an RV, you know how small they are. I don't know how I didn't get shot, really. It was a miracle."
Since then, Scott has spent years in physical therapy. While "he's still scarred up really bad (and he's) never gonna be 100-percent," Matt only sees the bright side for his big brother. "Considering the chances of survival, he had a miraculous recovery," he said.
At Hinton's July 2011 sentencing, Matt said the shooting still haunted him. Today, he admits it's not something you quickly forget. "It was tough but I think as days go by," it goes out of your mind a little more and more."
What helped band members the most? "We had a lot of good, close friends (who) helped us out. That's the good thing about our friends and the people around us. We're really, really tight," Matt said.
They're also tight with family, who for ten, long years, loans them money to go on the road. At the same time, the band amassed more than a six-figure credit card debt. They would not give up, and kept hopeful their big break was near. It was.
The wild ride that began with Scott's near-fatal shooting was followed by a contract with BBR Music Group in 2011. Then in 2014, Parmalee landed a priceless gig: the Thomas brothers, along with the two other band members, cousin Barry Knox and best friend Josh McSwain, were asked to open for Brad Paisley's 2014-15 Country Nation World Tour. And on February 17, they will play at the Grand Ole Opry.
During two recent "Country Nation" concerts with Paisley in Morgantown, W.Va., the band members gave a powerful performance the audience loved and responded to. That, says Matt, is his favorite part of entertaining. He loves hearing "the people singing back to you. Especially a song you've written and released," he said. "You can watch it grow and all of a sudden you're at a show and there's thousands of people singing a song that you came up with. That's really cool."
The band can likely expect fans at future concerts to continue doing just that, when their newest song, "Already Callin' You Mine," is released in February. It has the same catchy beat their music has become known for, with lyrics that make you feel like they're talking directly to you.

Like many of their country music predecessors, Parmalee came from humble beginnings: all four men have followed in the footsteps of musician parents. As teens, Scott and Matt joined their father when he played at college bars on weekends. Matt said Knox's mother played piano in church and he spent a lot of time around their dad, too, while McSwain traveled around in a van with his dad, who was a popular bluegrass musician.
By 2004, the group was ready to go off on their own. To do that, they needed a secluded place to play. "We had this barn out in Parmalee, which was our rehearsal spot," Matt said. "So we hauled everybody out there in the middle of the country where nobody could mess with us and we could just go to work. That's where we started the band and making our own sound."
The sound that most fans love is the #1 hit song, "Carolina," which Matt said is "about a girl (and) about home and how the people you love can make you feel like you're at home."
"We wrote it because we were always out, gone from home all the time -- and still are," Matt said. "I think anybody who lives on the road or has a job like we have (where) you miss all the birthdays, all the family events, everything that's important, pretty much," understands that feeling.
The song came to Matt almost effortlessly, after the band returned from a two-month stint on the West Coast. "I got home and... I walked in the studio... and (it) just reminded me of California," Matt said, thinking, "Man, I feel like I'm back in California. It reminds me of California, but I know I'm home. It feels like Carolina. It feels like home."
That's not the only song that came easily to the younger Thomas brother. Matt said he wrote "Day Drinking" in "just two or three hours." But most days the songs take more time. He spends days brainstorming on Music Row with other hit Nashville songwriters, some who have even written Grammy-winning songs. There, writers toss out their ideas and thoughts. And if they "have a beat or a song you've started on," Matt said, "you just throw it around the room and see what everybody's thinking."
"Nashville is amazing," Matt said. And sometimes, because there are "thousands of people in rooms writing songs every single day . . . you get great, great songs out of it."
The odds are good you'll at least get a good one, Matt said. Then, thinking positively, he added, "hopefully you'll come out with an amazing song."
Calling all HuffPost superfans!
Sign up for membership to become a founding member and help shape HuffPost's next chapter