Somehow, Jackie and I seem to eat more meat during the winter. In summertime, a week will go by and we'll realize that apart from the odd slice of salami we've been subsisting on all those great warm-weather vegetables, plus pasta and bread. But on a cold day, meat has greater appeal. I'm sure that's mostly social conditioning, though biology may play a part too, but it is none the less a fact.
Which is not to say that winter vegetables are without allure. Take parsnips, of which most of us don't eat enough. They've got flavor, they've got texture and they've got staying power: when well stored, they're even better in January, February and into March than they are when newly grown.
And when we don't feel like a slice or two of pork belly as we look out the window and see an urban snowscape, parsnips are one of the things we turn to, notably as a central ingredient in fried rice, where their chewiness (when cooked as I describe) gives the dish a texture to contrast with that of the soft eggs and the rice itself and where their sweetness gently evokes that of the Chinese-style glazed roast meats that more typically find their way into these preparations.
We had this for dinner just recently: I cooked a heaping cup of Thai jasmine rice and left it, covered, to cool (though, despite what people say, you can certainly use hot rice, so long as it isn't wet). In a 12-inch skillet, using peanut oil, I lightly scrambled three eggs that had been beaten with salt, white pepper and sesame oil; I set the eggs aside. I then peeled and julienned two fairly large parsnips, cores and all, and sautéed them in peanut oil in the same skillet with the white parts of a bunch of scallions, a lot of minced ginger and a little minced garlic - and salt. I cooked them over medium-low heat until they were a little brown and done but still chewy and the scallions had slightly caramelized. (An alternative, if you have a lot of time, is to continue cooking them until they are completely tender, and then keep going to drive off much of the moisture and intensify their sweetness - they will eventually regain texture.)
Then, the rice went in by handfuls, stirred with a wooden paddle to separate the grains. When it had heated through, I seasoned it with salt and white pepper, then tossed in the scallion greens, chopped. When all was combined, I turned off the heat and added a drizzle of toasted sesame oil and the scrambled eggs, breaking them up and folding them in with the paddle.
This is a great meatless variation on one of the most appealing dishes in the world, one that it is hard not to shovel greedily into your mouth (and no, do not eat fried rice with chopsticks: a spoon is what you want).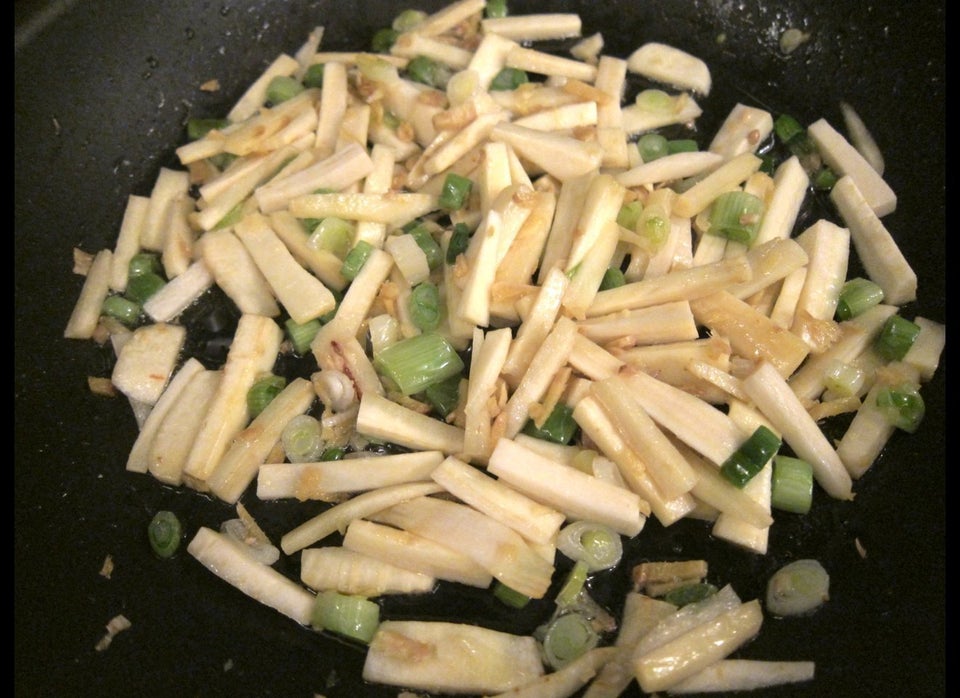 Parsnip Fried Rice? And How!